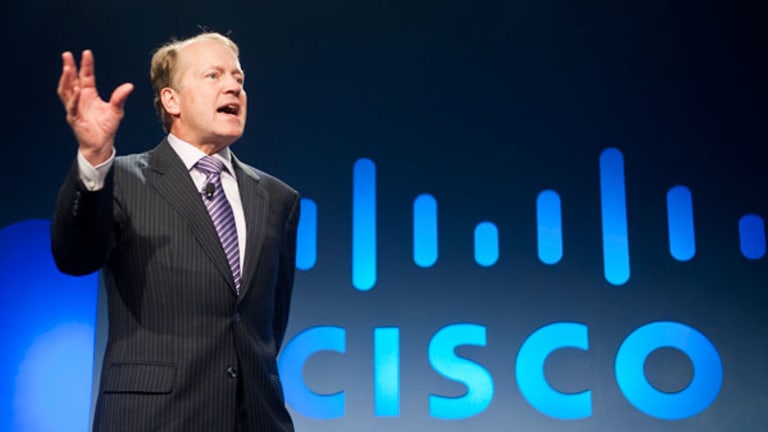 Publish date:
Cisco's Changeover Will Dominate Tech
The networking giant is one of the best bargains on the market.
The networking giant is one of the best bargains on the market.
NEW YORK (TheStreet) -- This recent earnings season hasn't been kind to techs stocks. With several companies reporting subpar quarters and lowered guidance, Cisco (CSCO) - Get Report continues to stand out. And with each passing quarter, the networking giant continues to make a case for why it is one of the best bargains on the market. And if second-quarter earnings are any indication, more gains are around the corner.
Revenue arrived 5% higher year over year and advanced 2% sequentially. And there were signs that Cisco is still working to transition out of its hardware business. For instance, its core routing and switching businesses, which suffered of late, continue to erode. This is why Cisco has spent a good portion of its $45 billion cash hoard on recent acquisition for Meraki, Cariden and most recently BroadHop.
In many respects, it's working. Although the routing business shed 5% in revenue year over year, it now comprises 1% less of Cisco's overall sales. But that's a good thing in this case since the hardware margins haven't been that great. In the meantime, Cisco's other businesses continue to pick-up the slack. Wireless revenue grew 20% year over year.
This means Cisco is doing better than holding its own against rivals such as
Aruba Networks
(ARUN)
and
F5 Networks
(FFIV) - Get Report
. Likewise, data center revenue surged 65% year over year. The company continues to outperform the likes of
Dell
(DELL) - Get Report
and
Hewlett-Packard
(HPQ) - Get Report
. But there's some struggles on the security side, which grew by only 1%.
This is the area that is dominated by market leaders
Check Point Software
(CHKP) - Get Report
and
Fortinet
(FTNT) - Get Report
. But Cisco should be able to turn this around with a few more key acquisitions. Profitability weren't that great this quarter as non-GAAP gross margins arrived lower sequentially and year over year. Quite a bit of this struggle had to do with the product mix. The company made up for it in operating income, which advanced 4%.
All in all, it was an exceptional quarter. Even more impressive, this brings Cisco earnings beat to eight consecutive quarters. And there are no meaningful signs of slowing down. In terms of guidance, the company is projecting 4% to 6% revenue growth for the third quarter. It wasn't as high as the Street would like, but it is consistent with the company's recent performances.
Likewise, Cisco's management deserves more credit than they've received. Although the company has gotten more than its share of criticism, management continues to ignore all of the noise and focus solely on execution. However, as Cisco is looking to leverage its strong services business with more cloud-based purchases, Cisco needs to make a play for
Palo Alto Networks
(PANW) - Get Report
to shore up its security business.
I've said this before and it's worth repeating here; letting Palo Alto get into the wrong hands such as
Oracle
(ORCL) - Get Report
or even F5 would be a colossal mistake. Palo Alto's recent 50% revenue growth and strong margins can't be ignored. So far, Cisco has shown that it is willing to leave no stone unturned to find growth opportunities -- regardless of how much it cost. And this is one more it needs to make.
Once enterprises start migrating fully into the cloud, there will be no company that is better positioned to deliver the level of one-stop-shop service that will be required. In the meantime, investors would be wise to add shares at current levels as the stock has a good opportunity to trade in the $25 to $30 range during the course of the next 12 months.
At the time of publication the author held no positions in any of the stocks mentioned.
This article is commentary by an independent contributor, separate from TheStreet's regular news coverage.
Richard Saintvilus is a private investor with an information technology and engineering background and has been investing and trading for over 15 years. He employs conservative strategies in assessing equities and appraising value while minimizing downside risk. His decisions are based in part on management, growth prospects, return on equity and price-to-earnings as well as macroeconomic factors. He is an investor who seeks opportunities whether on the long or short side and believes in changing positions as information changes.