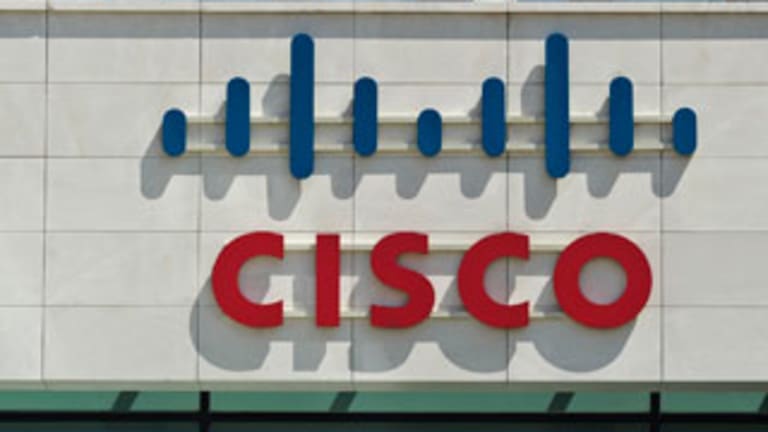 Cisco to the Woodshed, NetEase to the Moon After Earnings
Deere, Dillard's, Macy's and Valspar stock performance after earnings.
NEW YORK (TheStreet) -- I have been previewing earnings reports for many companies this earnings season. Then a few days later, I follow up on how these stocks performed in reaction to earnings beats and misses, with an eye on revenue and guidance. The purpose of this coverage is to help buy-and-trade investors capture some of the stock specific volatility both before a company reports earnings, and in reaction to these reports.
On Aug. 12 I wrote
Cisco and Buy-Rated Retailers Headline Earnings
and four of the six companies previewed beat earnings per share estimates. Even so, three traded lower after earnings, two moved sideways and one became a momentum stock.
This morning the stock market remains under a ValuEngine valuation warning with 75.1% of all stock overvalued 42.2% by 20% or more, 15 of 16 sectors overvalued, 13 by double-digit percentages, seven by more than 20%.
The technicals for the major equity averages are a mixed bag. The weekly chart profiles are negative for Dow Industrials, the S&P 500 and Dow Transports, but the Nasdaq and Russell 2000 still have overbought weekly charts.
Read: Apple, Google, Netflix, the Olympics and the NFL
Tech bellwether
Cisco Systems
(CSCO) - Get Cisco Systems Inc. Report
($24.07 vs. $26.05 on Aug. 9) reported a beat of 2 cents a share in afterhours trading on Aug. 14 earning 49 cents. The stock was sent to the woodshed the next morning and continued to move sideways to down to a low of $24.05 yesterday. Poor guidance and a 5% cut in the workforce, or 4,000 employees, was the catalyst for the stock price decline. Cisco continues to have a hold rating according to
with the stock declining below my quarterly value level, now a pivot at $24.44. My annual value level is $22.76 with this week's risky level at $25.95.
Read: Why the Uneducated Are Making More than You
Mall department store
Dillard's
(DDS) - Get Dillard's Inc. Report
($78.52 vs. $80.14 on Aug. 9) beat EPS estimates by 14 cents earning 79 cents a share in afterhours trading on Aug. 14. The stock tested my monthly value level at $78.18 on Aug. 14 pre-earnings announcement. Last Thursday the stock popped to $86.90 above my quarterly risky level, now a pivot at $84.22. Buy-and-trade investors could have bought the buy rated stock at $78.18 and sold it the next morning at $84.22 for a gain of 7.7%.
Agricultural equipment maker
Deere
(DE) - Get Deere & Company Report
($82.51 vs. $81.74 on Aug. 9) beat EPS estimates by 40 cents a share premarket on Aug. 14. Since then the stock has traded back and forth around its 50-day SMA at $83.11 staying below its 200-day at $86.70. The trading range was from a low of $81.00 last Thusday to a high of $85.07 on Monday. The hold rated stock stayed between my quarterly value level at $77.79 and my monthly risky level at $88.86 with a pivot this week at $83.50.
Read: Dividends: Great Taste or Less Filling?
Department store
Macy's
($44.93 vs. $48.52 on Aug. 9) joined the earnings parade with an EPS miss of 6 cents a share earning 72 cents premarket on Aug. 14. The buy rated stock fell from its 50-day SMA at $48.23 on Aug. 13 to a low of $44.56 yesterday still above the 200-day SMA at $43.40 with my semiannual pivot at $46.21.
Read: Is Delta Respected? Sure, but Not as an Investment, Survey Shows
The Internet technology company
NetEase
(NTES) - Get NetEase Inc. Report
($72.45 vs. $60.40 on Aug. 9) beat EPS estimates by 11 cents a share earning $1.37 in afterhours trading on Aug. 14. The stock opened the next morning above my quarterly pivot at $61.52, which began a moon-shot to a high of $74.69 on Aug. 20. This strength caused the stock to be to become a momentum trade. Buy-and-trade investors should thus consider booking profits, as the stock was downgraded to hold from buy.
Paint and coatings supplier
Valspar
(VAL) - Get Valaris Limited Report
($63.30 vs. $69.92 on Aug. 9) missed EPS estimates by 4 cents earning $1.07 a share on Aug. 13. The hold rated stock held its 200-day SMA at $64.54 on Aug. 13 then failed at its 50-day SMA at $67.46 on Aug. 14. Since then the stock has slipped to a low of $62.12 on Tuesday. My semiannual pivot is $63.88 with semiannual and quarterly risky levels at $68.80 and $70.84.
At the time of publication the author held no positions in any of the stocks mentioned.
This article is commentary by an independent contributor, separate from TheStreet's regular news coverage.
Richard Suttmeier has an engineering degree from Georgia Tech and a master of science from Brooklyn Poly. He began his career in the financial services industry in 1972 trading U.S. Treasury securities in the primary dealer community. In 1981 he formed the Government Bond Department at LF Rothschild and helped establish that firm as a primary dealer in 1986. Richard began writing market research in 1984 and held positions as market strategist at firms such as Smith Barney, William R Hough, Joseph Stevens, and Rightside Advisors. He joined
in 2008 producing newsletters covering the U.S. capital markets, and a universe of more than 7,000 stocks. Richard employs
a "buy and trade" investment strategy
and can be reached at
.