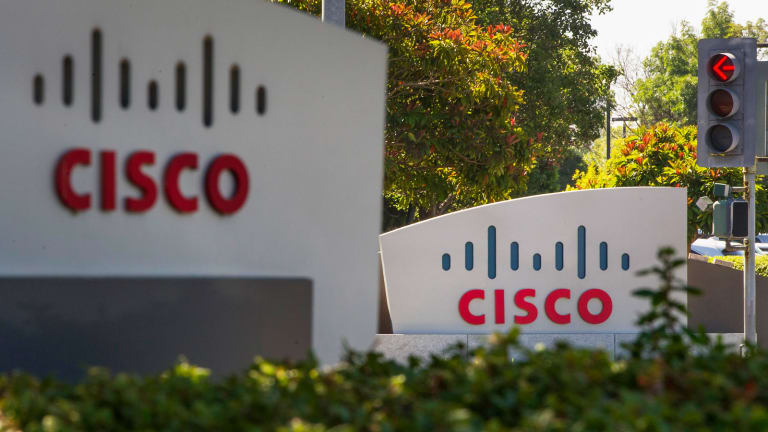 Investing in mega-trends that reshape society is a proven way to build long-term wealth.
That's why investors should consider cybersecurity, a market that's growing at breakneck pace. According to research firm Markets and Markets, the industry will balloon from a $160-billion business today to $170 billion in 2020.
Among the leaders in the space is Cisco Systems (CSCO) - Get Cisco Systems, Inc. Report . The San Jose, Calif.-based tech giant has done a good job in recent years adding to its cybersecurity services through smart acquisitions. Yet Cisco's core routers and switches business continues to perform solidly and the company is a leader in collaboration services. In addition, Cisco carries a strong balance sheet.
Cisco would be a good addition to a portfolio for all these reasons. The stock finished up nearly 2% in Friday trading. 
Cisco is a holding in Jim Cramer's Action Alerts PLUS Charitable Trust Portfolio. See how Cramer rates the stocks here. Want to be alerted before Cramer buys or sells CSCO? Learn more now.
Spending on cybersecurity has increased as threats have multiplied. Among the latest corporate victims was fast-food chain Wendy's , which earlier this year reported that hackers had stolen customer data. The company said last Thursday that malware installed on point-of sale systems had skimmed debit and credit card numbers at 1,025 of its U.S. restaurants -- or about 18% of its total. Fellow restaurant chain Noodles & Company divulged its own data breach on June 28.
Financial services organizations have also become targets with increasing frequency. In May, Mary Jo White, chair of the Securities and Exchange Commission, told Reuters that hackers are the biggest threat the financial system faces. She said that the investment community's security protocols are increasingly falling short.
"What we found, as a general matter so far, is a lot of preparedness, a lot of awareness, but also their policies and procedures are not tailored to their particular risks," she said.
Cisco is a great option for investors looking to cash in on long-term growth in cybersecurity spending. (If you'd rather avoid investing in stocks altogether right now, consider this underrated moneymaking strategy instead.)
The company's security division posted a 17% year-over-year sales jump in its 2016 third quarter, which ended April 30, following an 11% rise in the preceding quarter.
Security is a small part of Cisco's overall business, but it's on a rapid growth track, as companies spend more to head off threats ranging from thieves stealing data in real-time (such as the brazen heist of $81 million from Bangladesh's central bank in May) to phishing scams that seek to swipe users' login credentials or credit card numbers.
Acquisitions are also driving sales growth. The fragmented cybersecurity market has given Cisco many opportunities to purchase smaller firms. Its strong balance sheet, with $63.5 billion in cash and just $28.6 billion in long-term debt, gives it plenty of flexibility, too.
The company's latest deal is its $293-million purchase of privately held CloudLock, announced on June 28. CloudLock's technology lets companies monitor and analyze how users handle sensitive data stored in the cloud, so they can pinpoint data breaches faster.
Similar purchases in the past couple of years included ThreatGRID (which helps businesses combat malware), OpenDNS (network security) and Lancope (security analytics).
Cisco still gets the bulk of its revenue by selling network switches and routers. These are slower-growing operations, but they give the company a solid foundation from which to expand into new markets.
Cisco is also a leader in collaboration technology, including videoconferencing, content sharing across a range of devices and managing call centers. In the latest quarter, the collaboration segment's sales rose 10% from a year ago.
Meanwhile, buying shares today means locking in a 3.7% dividend yield, well above the average of 2.2%. The payout's also growing rapidly: Since Cisco started paying dividends in 2011, it has hiked its quarterly payout by 333%, including a 19% increase announced in April.
The stock's forward price-to-earnings ratio stands at just 12.0 today, and the time to buy is now: Cisco is slated to release its latest quarterly earnings report on Aug. 17, and the company has a history of surprising to the upside.
---
Cisco is a great play on surging cybersecurity spending, but what if I told you I've found a way you can earn a guaranteed $67,548 a year without buying a single stock? This simple strategy is the perfect antidote to today's whipsawing markets, rattled as they are by Brexit fears and the Fed's on-again, off-again approach to interest rate hikes. Best of all, it will only take you 9 minutes a week! Don't miss out. Go right here to unlock the secret now.
This article is commentary by an independent contributor. At the time of publication, the author held no positions in the stocks mentioned.