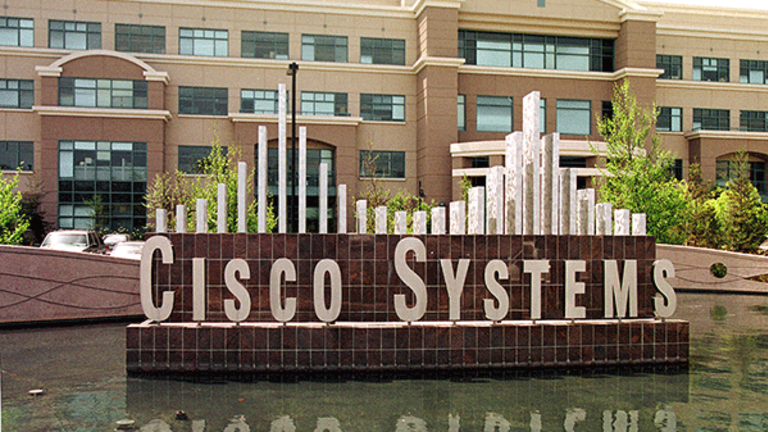 Publish date:
Cisco's Reported Software Plans Appear to Be a Pragmatic Response to Big Threats
With direct and indirect threats to its data center switch business mounting, it looks as if Cisco wants to make advanced software features available on cheaper hardware.
With direct and indirect threats to its data center switch business mounting, it looks as if Cisco wants to make advanced software features available on cheaper hardware.
As hard as Cisco Systems (CSCO) - Get Reportis trying to become less dependent on its mainstay switching and routing franchises and grow its software/services exposure, these businesses still accounted for 60% of the company's products (hardware and software) revenue last quarter. Their share of total revenue is likely above 50%, but it's hard to get a precise number since Cisco doesn't detail what portion of its services revenue is linked to switch and router sales.
With the help of software/services R&D investments and acquisitions, Cisco might be able to keep growing its top line in the coming years in spite of switch and router declines. But it can't allow the bottom to fall out of the latter businesses thanks to the pressures exerted by stiff competition, technology trends and changing IT spending habits. In that context, the company's reported plans to overhaul its switching strategy have a logic to them. But it's also worth asking if Cisco will need to go further still in time.
The Information reported on Tuesday that Cisco is "planning to sell operating system software" for users of cheaper switches running on third-party switching chips from the likes of Broadcom (AVGO) - Get Report, thus allowing them to avoid buying more powerful/costly switches running on Cisco's proprietary ASICs. Engineers are said to be working on the OS, which is code-named Lindt.
The report is a little perplexing at first glance, since all of Cisco's switches ship with one of the company's operating systems. Cisco's Nexus switches, which generally go into data centers, run on Cisco's NX-OS. Its Catalyst switch line, mostly used within campus and branch-office settings, run on some version of the IOS operating system (not to be confused with the Apple OS of the same name), as do most of Cisco's routers.
Editor's note: This column originally appeared on March 29 on Real Money, our premium site for active traders. Click here to get great columns like this.
But while all Cisco Nexus switches run the same OS, they don't all feature the same software. The company's Nexus 9000 switches, most of which run on ASICs, support the ACI software-defined networking (SDN) platform, which (with the help of controller software) lets companies quickly allocate networking resources and set policies for apps running within a data center, and get better visibility into how they're running. The less powerful Nexus 3000 line, which relies on Broadcom's Trident II and Tomahawk switching chips, doesn't support ACI.
Importantly, Cisco re-wrote NX-OS to support ACI, and Nexus 9000 switches using ACI feature a separate boot mode for it. Thus one possibility here is that Cisco plans to begin supporting ACI on Broadcom-powered switches.
Cisco is a holding in Jim Cramer's Action Alerts PLUS Charitable Trust Portfolio. Want to be alerted before Cramer buys or sells CSCO? Learn more now.
Cisco has claimed strong uptake for both the Nexus 9000 and ACI; it respectively added 1,300 Nexus 9000 and 450 ACI clients in the January quarter, raising its total bases to 10,800 and 3,100. And the Cloud Scale ASICs used by the latest Nexus 9000 switches have impressive specs. But total switching revenue fell 5% annually to $3.3 billion. Soft campus switching sales were a factor, but so was tough data center competition from Arista Networks (ANET) - Get Reportand a slew of other firms relying on switching chips from Broadcom and to some degree Cavium (CAVM) .
Arista, buoyed by strong demand from cloud giants, saw its revenue rise 34% last quarter to $328 million. Sales of "white box" switches made by Asian contract manufacturers have also been growing, as cloud giants and other service providers capable of investing in the resources needed to manage them buy them en masse, often while designing the switches themselves. This is a problem that's steadily growing in importance as cloud firms account for a larger and larger portion of IT spend.
And Arista and others have lately opened up a fresh front in their battle against Cisco by launching switches that (courtesy of Broadcom's Jericho packet-processing chip) can handle a lot of routing functions, and in doing so simplify network infrastructures. Arista hopes to have 100 customers for its R Series switch/router line by this summer.
Enterprise white-box adoption is still in its early stages, but the trend could pick up thanks to the adoption of third-party SDN platforms such as VMware's (VMW) - Get ReportNSX. NSX moves much of a network's intelligence to controller software, thus making it easier for a company lacking the technical resources of a Google or Amazon to use commodity switches. VMware reported in January NSX is now on a $1 billion annual bookings run rate. And on the carrier side, Google recently announced it will help mobile carriers adopt SDN and other networking technologies it has deployed in its data centers.
Making ACI available on Broadcom-powered Nexus switches would put Cisco on better competitive footing against SDN rivals, particularly among enterprises and carriers that have a lot of cheaper Nexus gear installed. It might also improve Cisco's standing with cloud giants, but that's less of a sure thing given the investments these firms have already made in their existing platforms.
Over the long run, it might be in Cisco's interests to go further and let ACI support third-party switches as well, given the price pressure that white-box vendors can exert. Another option for dealing with a heated competitive environment is to begin licensing its switch operating systems for use on third-party hardware, as Arista just did.
For now, Cisco doesn't seem to be planning anything that drastic. In a statement to trade site CRN, the company insisted the "tight integration of hardware and software will continue to be the basis of the networking solutions we offer our customers."
Given the billions in profits that Cisco still reaps from its switching empire, one can't blame the company for choosing a measured response to the SDN and white-box threats. But the company is clearly rethinking how it deals with a very dynamic landscape, and the strategy change that it's reportedly planning could easily be followed by others in the coming years.