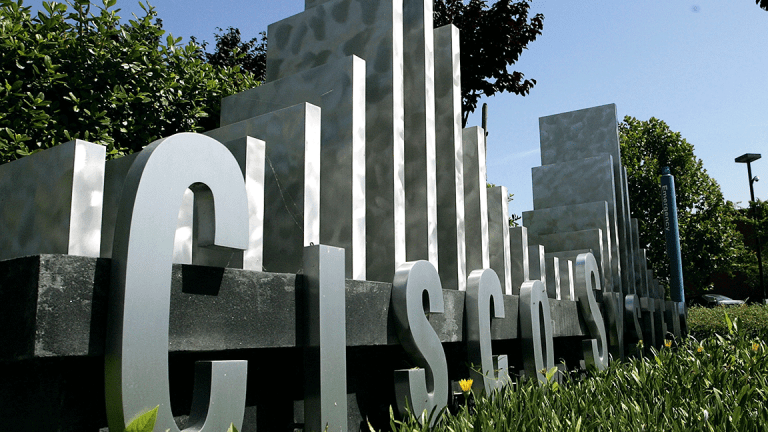 Cisco Reports Earnings on Wednesday: 5 Key Things to Watch
Product orders, switching trends and software growth are among the things to watch as the networking giant reports.
Three months ago, Cisco Systems (CSCO) - Get Report  went into earnings trading near its 52-week high, and sold off after delivering so-so earnings, guidance and order numbers.
With Cisco's shares having moved little since that selloff, expectations might be a little lower for Cisco's July quarter (fiscal fourth quarter) report. On average, analysts polled by FactSet expect revenue of $12.77 billion (up 5% annually) and non-GAAP EPS of $0.69. For the October quarter -- Cisco usually provides guidance within its report -- the consensus is for revenue of $12.58 billion (up 4%) and EPS of $0.69.
Cisco's report is due after the close on Wednesday, and an earnings call is set for 4:30 p.m. ET. Here are a few things for investors to keep an eye on:
1) Product Orders
Cisco shares its total product order growth on the call, as well as the order growth it respectively saw from enterprise, commercial (small and mid-sized business), service provider and public sector clients. During the April quarter, product orders grew 4% annually, thanks in part to the fact that orders were down 4% in the year-ago period.
Comps are slightly tougher for the July quarter, since orders were flat in the year-ago period. Also: The dollar's recent rally means that Cisco will likely get less of a forex boost this time around.
2) Service Provider (SP) Demand
Soft demand from traditional service provider clients (telcos, pay-TV providers, etc.) has been weighing on Cisco for a while: The company's SP product orders were down 4% in the April quarter, and its routing revenue, which skews towards SP clients, fell by an unspecified amount.
We might see more of the same reported for the July quarter, given that mobile carrier capex remains soft ahead of upcoming 5G network rollouts and routing archrival Juniper Networks (JNPR) - Get Report partly blamed its light Q3 guidance on the "uncertain timing" of some SP orders. Surging cloud capital spending may have provided some lift to Cisco's SP orders. However, Cisco's efforts to grow its sale to cloud giants are very much a work-in-progress.
3) Switching Hardware and Software Momentum
Cisco appears to be seeing good enterprise uptake for its Catalyst 9000 campus (office) switches, which were unveiled in June 2017 and play nice with a new subscription-based software platform (called DNA) meant to simplify and automate various network management tasks. In May, the company reported that its Catalyst 9000 base grew by 2,700 sequentially to over 5,800, with most buyers choosing its costlier DNA Advantage subscription bundle.
And in the data center, Cisco continues reporting strong traction for its ACI software platform. All of that appears to have helped Cisco's enterprise product orders rise 11% in the April quarter.
However, Cisco has also been facing stiff competition from Huawei and HP Enterprise  (HPE) - Get Report in the campus switch market, and from Arista Networks (ANET) - Get Report  in the data center switch market. Moreover, Cisco has a limited switching share within the hyperscale data centers run by cloud giants.
4) Software and Subscription Momentum
It's no secret that growing Cisco's software and services exposure has been a top priority for CEO Chuck Robbins. Recently, the company furthered this effort by inking a $2.35 billion deal to buy Duo Security, provider of a subscription-based user authentication software and services platform.
With the help of acquisitions, Cisco's "Applications" revenue rose 19% in the April quarter to $1.31 billion, and its deferred product revenue balance for software and subscriptions rose 29%. The July quarter consensus for Applications revenue is at $1.4 billion.
5) The Impact of Stock Buybacks
Cisco has been even more eager than usual to buy back stock in the wake of tax reform. The company spent $6 billion on stock repurchases during the April quarter, and forecast it would use the $25 billion it has left on its buyback authorization within the next 18 to 21 months. Chances are that Cisco's July quarter EPS will also get a healthy boost from buybacks.