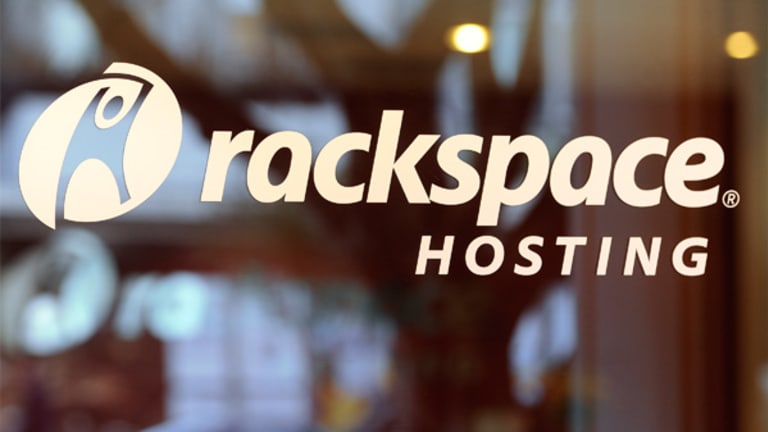 NEW YORK (TheStreet) - Network giant Cisco (CSCO) - Get Cisco Systems, Inc. Report reported fiscal third-quarter earnings results last week, which reminded investors that you can never keep a good company down. The stock closed Monday at $24.35. Shares are up 10% year to date.
Last December, the weak economic environment prompted CEO John Chambers to cut the low end of the company's revenue growth estimates for the next three to five years from 5% to 3%. The Street was stunned. It was the first time in two years that Cisco had cut its long-term outlook. So ahead of last week's report, investors were chewing their nails preparing for the worst. But what they got was a very welcome surprise.
Cisco posted revenue of $11.5 billion, down 5.5% year over year. But this was still enough to beat Street estimates by roughly $200 million. Cisco's product revenue, which accounts for 75% of total sales, declined almost 8% year over year to $8.8 billion. Services, which make up the remain 25% of sales, advanced almost 3% to $2.7 billion.
Impressively, however, product book-to-bill ratio was greater than 1 during the quarter. This is the proportion of orders Cisco received to what the company was able to deliver. This means that demand was strong across the board.
What's more, with concerns about a slowing global economy, it was impressive to see sequential growth from most of Cisco's geographic reach. The Americas, Europe, the Middle East and Africa all increased by low-to-mid single-digit percentage points. I'm not ready to say that growth has fully returned to these markets. But I'm feeling more confident that Cisco has seen the worst of this dry spell.
So is Cisco back?
I think it's still too early to say. The company is suffering from the same issues affectingIntel (INTC) - Get Intel Corporation (INTC) Report and Microsoft (MSFT) - Get Microsoft Corporation (MSFT) Report; two former high-flyers that are struggling to preserve market share amid consumer shifts to new and cheaper technologies. Cisco's management has done a decent job mitigating that decline and bridging its transition to a more software-based networking company.
However, with the company still sitting on more than $50 billion in cash on its balance sheet, Cisco has plenty of options for how to put that capital to use. The first name that comes to mind is IT-hosting and cloud-computing giant Rackspace (RAX) . As with Cisco's networking dominance, Rackspace's OpenStack standard has come under significant pressure from larger rivals like Google (GOOG) - Get Alphabet Inc. Class C Report and Amazon (AMZN) - Get Amazon.com, Inc. Report.
This is why Cisco needs to strike now. Rackspace stock has been on a tear. Since the shares bottomed at $26.28 on May 9, the stock is up 37%. The shares are still down 7% year to date. But if the company's first-quarter earnings results serve as any indication, these shares are only going to get more expensive for Cisco.
Rackspace posted first-quarter revenue of $421 million, up 16% year over year, beating Street estimates of $419 million. Even more impressive was the 6 cent per share beat in net income, which arrived at $25 million, or 18 cents per share. Despite concern about competitive threats, Rackspace management didn't guide as if they are afraid of anyone.
In fact, while discussing the company's new customer additions during the conference call, Rackspace CEO Graham Weston noted that one was "the largest we've ever landed." If Cisco is paying attention, it has to consider Rackspace to further its own cloud ambitions to return growth back to the company.
But beyond the growth Rackspace would bring, Cisco needs a way to maintain its edge in the enterprise. And Rackspace will help Cisco fight offSalesforce.com (CRM) - Get salesforce.com, inc. Report and F5 Networks (FFIV) - Get F5 Networks, Inc. Report, which have emerged as worthwhile threats in the software cloud. To date, I don't believe Cisco has done a good enough job of responding to oncoming threats.
Cisco's main challenge has been finding ways to reinstate investors' confidence. Corporations no longer need to build their own data centers, which was once the driving source of Cisco's growth. But with Rackspace in hand, Cisco will be able to offset the enterprise shift toward the cloud and outsourcing.
Given Rackspace's growth capabilities and its relatively small market cap of $5.12 billion, it would only cost Cisco $7 billion to get this deal done, or roughly a 35% premium. Even more impressive, Rackspace is not encumbered by debt. Cisco would immediately regain its status as the No. 1 IT vendor in the world. And it would only cost Cisco 14% of its cash to achieve.
>>Read More: Audi Q5 Is the Enthusiasts' Diesel SUV
>>Read More: Here's Which Beaten-Down Banks to Buy
>>Read More: Emerging Market Investors Making Up For Lost Time
At the time of publication, the author held no position in any of the stocks mentioned.
This article represents the opinion of a contributor and not necessarily that of TheStreet or its editorial staff.