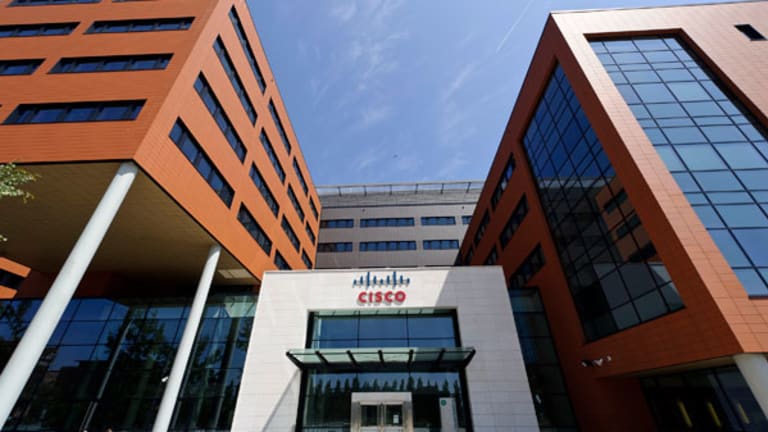 Cisco and Fifth Street Are 2 Stocks That Will Pay You to Own Them
Dividend stocks reward long-term investors, but pick carefully. I like Cisco and Fifth Street.
Dividend stocks reward long-term investors, but pick carefully. I like Cisco and Fifth Street.
NEW YORK (TheStreet) -- You can count on dividend stocks to make you money regardless of the stock price during times of uncertainty while your neighbor incessantly checks the latest quote. Every investor wants the highest yield possible, but you have to be smart or risk disappointment.
While tempting to find and buy the highest yielding stocks you can, don't allow yourself to get tricked by Wall Street's version of fool's gold. Many investors are lulled into what's known as a dividend trap. Dividend traps are stocks with a high yield because the smart money is exiting as fast as they can. That's why I like Cisco (CSCO) - Get Report and Fifth Street Finance (FSC) . More on those below.
One prime example of one to avoid is Box Ships (TEU) . It's a Greek shipping company experiencing a painful margin squeeze resulting from industry over-capacity. Box Ships paid a 30-cent quarterly dividend two years ago, followed by a reduction to 26 cents, then 22 cents and the last payment was 6 cents in 2013.
When a yield becomes too good to be true because of a falling share price, it often is. In fact, several stock performance studies of dividend-paying stocks conclude what professional stock traders have known for a long time, namely, when a stock becomes a high-yielding stock as a result of share price depreciation, a dividend cut is likely, followed by further share declines.
Fifth Street Finance is a specialty finance company that lends to and invests in small and mid-sized companies in connection with investments by private equity sponsors. Fifth Street has a market cap of $1.29 billion and trades an average of 1.4 million shares a day.

Fifth Street pays a whopping 10.7% dividend yield and, better yet, distributes dividends monthly. Normally when I see a yield this high red neon lights begin flashing in my head warning that if it's too good to be true, it probably is.
For my exact entry trade that includes a profit target and stop loss strategy, take a look at my Real Money post on Friday. (You need a subscription to access, but you can sign up for a free trial if you don't have one.)
Will the finance company be able to maintain the outsized dividend? Maybe not, but even if the dividend is cut to 3 or 4%, a bullish case to be made for investing. For starters, Fifth Street is one of three Business Development Companies (BDC) able to find a ready, high-grade market for its bonds.
Also, recent favorable amendments to its credit facilities have lowered borrowing costs and borrowing is distributed among 16 various types of lenders with a total capacity of $670 million. The company successfully issued $250 million of five year notes at only 4.875%, allowing for spread expansion.
Fifth Street has a heightened dividend-cut risk, and most of the income is distributed to shareholders, albeit, after falling from 2013 highs above $11 a share, the pullback to mid-$9 offers a reasonable risk to reward entry. The average 12-month price target from analysts is $10.38.
Cisco Systems designs, manufactures, and sells Internet protocol (IP) and other products related to the communications and information technology industry worldwide. If it's on the internet, chances are it passed through a Cisco device along the way. The San Jose company has a market cap of $124 billion and trades an average of 14 million shares a day.
Price To Book: 2.3
Forward Estimated Earnings Payout Percentage: 48%
Cisco is one of my four dividend-paying technology kings. The list of royalty features Microsoft (MSFT) - Get Report, Intel (INTC) - Get Report, and AT&T (T) - Get Report. Microsoft has soared in the last year, and I believe it is on its way to $50.
I love buying these dividend winners on dips. I'm especially bullish with Microsoft and have been for over a year compared to my bearish outlook for Amazon (AMZN) - Get Report.
The majority of analysts believe Cisco Systems continues to offer a buying opportunity; 23 of the 42 analysts covering the company give a buy recommendation.
Analysts, on average, are calling for a price target of $26.06. The company posted fantastic earnings about two weeks ago and analysts quickly raised price targets. Notable price target increases include Argus and Cowen and Company raising their targets to $30
In Jim Cramer's book Get Rich Carefully, he suggests buying stocks that beat on earnings and raise guidance. Cisco is exactly that type of company. In the last 10 years, Cisco's revenue skyrocketed from $22.5 billion a year to over $48 billion.
Anyone who says the best days for the company are over hasn't bothered to take a look at the steady rise and latest record revenue generation.
The last reported short interest is paltry and without reason to consider it a meaningful influence at only 1.4% of the average trading float.
At the time of publication, the author had no positions in stocks mentioned.
This article represents the opinion of a contributor and not necessarily that of TheStreet or its editorial staff.
>>Read more: Add the VA Fallen to Your Memorial Day Remembrances