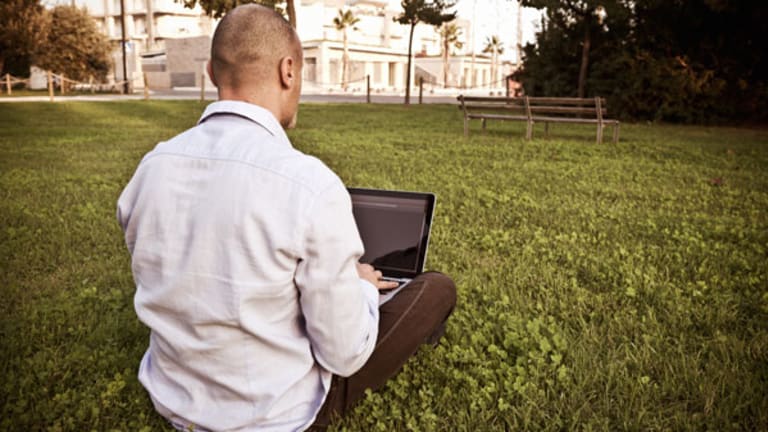 Publish date:
Ciena's Heading to $30
This strong quarter places Ciena in the spotlight -- where it belongs.
This strong quarter places Ciena in the spotlight -- where it belongs.
NEW YORK (TheStreet) -- Back in June I told you that Ciena (CIEN) - Get Ciena Corporation Report, which at the time was trading at $19.79 per share, was meaningfully undervalued.
It wasn't a popular call. But although carrier spending had not fully rebounded, management still figured out ways to get revenue and free-cash-flow growth.
To that end, given Ciena's industry-leading position in optical telecommunications equipment, I felt there was (at least) 15% upside to be had in the stock regardless of whether the likes of
Verizon
(VZ) - Get Verizon Communications Inc. Report
and
AT&T
decided to spend.
Not to mention that Ciena was coming off consecutive quarters in which the company beat estimates and raised guidance. Since the June article, the stock has soared 22%, including a 52-week high of $24.61. And following yet another beat-and-raise quarter, there's no question that more gains are on the way.
On many levels, the Ciena's turnaround is pretty remarkable. With the
made by
Alcatel-Lucent
(ALU)
, questions were raised as to whether Ciena, which also competes with bigger rivals like
Cisco
(CSCO) - Get Cisco Systems, Inc. Report
and
Juniper
(JNPR) - Get Juniper Networks, Inc. (JNPR) Report
, could ever survive the
weak carrier-spending environment
.
Read: Apple's iPhones Are Built for Collect Calls
Now, with revenue growing 14% year-over year and 19% sequentially, these concerns have been put to rest. Equally impressive, for the second consecutive quarter, Ciena showed tremendous growth in packet networking, which was up 23% year over year and a stunning 104% sequentially.
Now, with virtually no one reporting on this performance, it still seems as if the Street is unwilling to give Ciena its proper credit.
You can be unimpressed if you like. But let's not forget, that although Cisco did report a strong quarter several weeks ago, Cisco got hammered for issuing
.
So truth be told, although I was in the glass-half-full camp in the telecom sector, there were also reasons for caution heading into Ciena's report.
Essentially, this performance, which also includes a 8% year-over-year improvement in non-GAAP gross margin, validates
about the credibility that Ciena has earned. The fear of Cisco is always a concern, which is what has kept investors at bay.
I'm not at all suggesting that anyone should jump into this stock and pretend that there are no risks. One example of drawbacks to the company's growth is that it's strongly predicated on carriers choosing to not starve themselves and instead to upgrade their networking equipment.
Even so, what I do believe is that we now have more than enough data on Ciena to appreciate that the worst is over. In that process, I've become a believer in the company's management.
As
as I am at times, having faith in management is not something that comes easily for me. However, that Ciena's management continues to fight off pricing pressure and grow margin amid a tough spending climate is impressive.
I've said it before and I'll say it again, the fact that Ciena has remained independent for this long is surprising. Given the company's ability to leverage its technological advantages to grow, while showing a willingness to innovate and yet be profitable, makes Ciena an attractive acquisition candidate.
Read: Apple Laughs When It Realizes Google Makes Computers
The stock is getting more expensive each quarter, but I'm still not willing to rule out this possibility, especially given that
Oracle
(ORCL) - Get Oracle Corporation Report
was willing to
to pick-off
Acme Packet
( APKT).
An acquisition may not happen when we expect, but I believe this strong quarter now places Ciena in the spotlight where it belongs, especially given the company's strong margin performance. What this tells me is that management has shifted its focus towards returning value to shareholders. And given the resurgence in carrier spending, there is no reason to expect that this level of performance will end any time soon.
With shares of Ciena trading at around $24, on the basis of continued free cash flow and revenue growth there's strong support for the stock to reach $30. This suggests that the stock remains undervalued by at least 25%.
At the time of publication, the author held no position in any of the stocks mentioned
.
Follow @saintssense
This article was written by an independent contributor, separate from TheStreet's regular news coverage.
Richard Saintvilus is a co-founder of
where he serves as CEO and editor-in-chief. After 20 years in the IT industry, including 5 years as a high school computer teacher, Saintvilus decided his second act would be as a stock analyst - bringing logic from an investor's point of view. His goal is to remove the complicated aspect of investing and present it to readers in a way that makes sense.
His background in engineering has provided him with strong analytical skills. That, along with 15 years of trading and investing, has given him the tools needed to assess equities and appraise value. Richard is a Warren Buffett disciple who bases investment decisions on the quality of a company's management, growth aspects, return on equity, and price-to-earnings ratio.
His work has been featured on CNBC, Yahoo! Finance, MSN Money, Forbes, Motley Fool and numerous other outlets.
Follow @saintssense