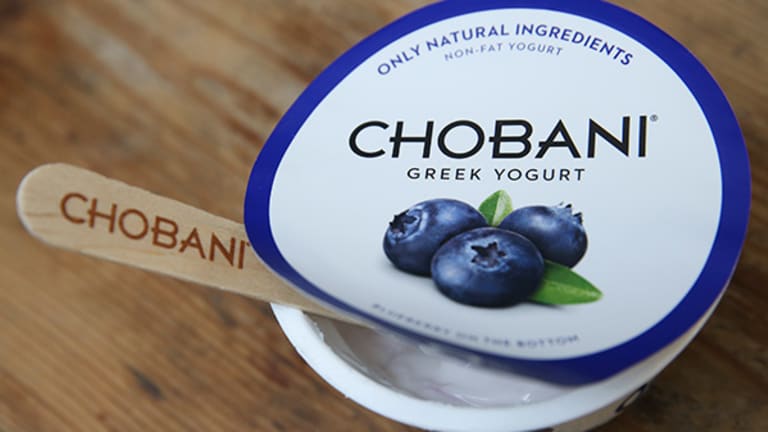 Chobani Prepares a Major Supermarket Invasion
The Chobani Greek yogurt brand is preparing a major invasion at U.S. supermarkets.
NEW YORK (TheStreet) -- The Chobani Greek yogurt brand is preparing a major invasion at U.S. supermarkets. Its plan of attack includes seasonal yogurt flavors, snack dips, and encouraging buyers to use its yogurt as an ingredient in cooking and baking.
Launched in 2007 in Long Island, N.Y., Chobani, which makes the tart, Mediterranean-themed yogurt, boosted revenue by 32% last year, and is expected to record sales above $1.5 billion in 2014, according to The Wall Street Journal. The company, run by founder Hamdi Ulukaya, has a 19% share of the $6.5 billion U.S. market for refrigerated yogurt, as compiled by Nielson. Its market share jumps to 38% if only focusing on U.S. Greek yogurt, according to Nielsen. 
The company competes in the yogurt space with heavyweights Dannon, Yoplait (owned by General Mills (GIS) - Get General Mills, Inc. Report), and Fage. 
Chobani's invasion of U.S. grocery aisles began this month.
Chief Marketing Officer Peter McGuinness said the company is looking to branch out beyond the dairy section and "inspire people to use, and eat Greek yogurt in new and different ways."
Plan of Attack
Chobani's effort to alter the image of Greek yogurt could be seen in the launch of the company's first-ever seasonal flavors of pink grapefruit and watermelon.
Then there's Chobani Kitchen, a new platform for the company that centers on "yogurt as an ingredient." Products from Chobani Kitchen will have a higher fat content (4%) than traditional Chobani Greek yogurt to aid in cooking and baking.
"It's a replacement for sour cream" said McGuinness in an interview, adding that the product "enhances the flavor of food more" relative to sour cream. 
Chobani Indulgent, whose flavors will be sourced from fat ice cream, pies, and cakes, will arrive at stores shortly. The initial flavors are mint dark chocolate chip, raspberry chocolate chip, and banana chocolate chip. The product wields fat content of 5% to 6% and the protein levels inherent to Greek yogurt. 
The Indulgent line represents Chobani's foray beyond the jam-packed Greek yogurt section. Said McGuinness: "It will be in the snack aisle of the supermarket, where Jell-O pudding is, as consumers start to see Chobani pop up in different places." Chobani admitted that its Indulgent line is not a health food, it's simply a "better" alternative.
Chobani is using the health-related properties of Greek yogurt, and the favorable perception by consumers of those properties, to shake up dairy categories that have failed to evolve through the years, including sour cream and dips.
As for dips, Chobani, within four to six months, plans to unveil a host of thick, non-shelf stable dips in flavors such as onion to tzatziki. Positioning for these new dips will be in the deli section in coolers that are now dominated by salsa and hummus. The goal with these dips, said McGuinness, is to "get consumers on the program of eating Greek yogurt throughout the day, not just for breakfast."
Sabra, which is partly owned by PepsiCo (PEP) - Get PepsiCo, Inc. Report, is the No. 1 hummus maker.

IBM Pushes the Grocery Store into the Future
Abercrombie & Fitch Installs Mobile Charging Stations
-- By Brian Sozzi CEO of Belus Capital Advisors, analyst to TheStreet. This article represents the opinion of a contributor and not necessarily that of TheStreet or its editorial staff. A the time of this publication, Belus Capital Advisors rated Starbucks at a hold. Brian Sozzi is the CEO and Chief Equities Strategist of
. He is responsible for developing and managing an equities portfolio of mid- and large-cap positions, in addition to leading the firm's digital content initiatives. He is also a personal finance columnist for
Men's Health
magazine.