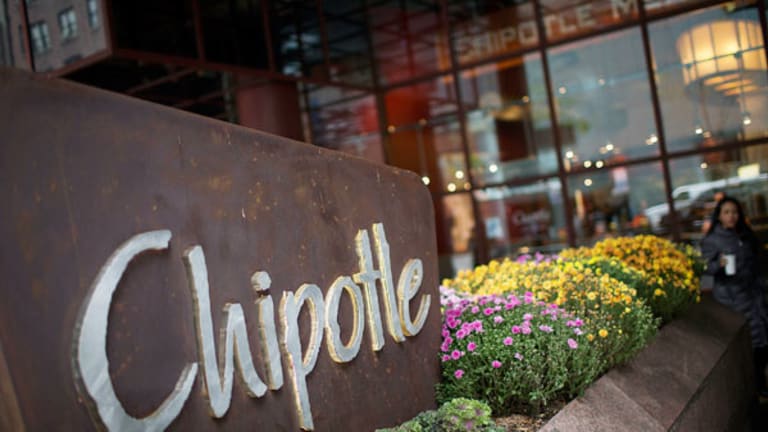 Chipotle's a Tasty Investment Prospect Thanks to Higher Prices
Higher prices and better margins are on the menu.
Higher prices and better margins are on the menu.
NEW YORK (TheStreet) -- Ready to pay more for Mexican? That's what Chipotle Mexican Grill (CMG) - Get Report has on its menu as a way to fatten its margins and whet investor appetites.
The company has outperformed its restaurant competitors but has struggled with profitability because of increasing food costs. So unless consumers kick about it the hike in its prices can help the company continue growing revenue at double-digit rates.
Chipotle's shares are up 2.7% year to date based on the closing price of $547.09 on Friday. It has been just a couple of weeks since the company started introducing the higher prices, but so far the results are encouraging. There has been no indication of a consumer backlash.
According to a study by RBC Capital, Chipotle has increased prices on average by 6.5% on its core items and by 7% on its non-core items in nearly 550 locations across the United States.
Moreover, in a conference held earlier this week, company officials said they have not seen any negative impact on sales related to the price increase. In the previous round of price increases, which occurred three years ago, the company did not encounter any resistance from consumers. The drop in sales that followed was mainly due to the recession, they claimed.
In its previous quarterly results, Chipotle's revenue increased by the highest levels over the last two years, 24.4%, to $904.2 million due to strong same-store sales growth of 13.4%.
Chipotle's emerging markets-focused rival Yum! Brands (YUM) - Get Report and the biggest player in United States, McDonald's (MCD) - Get Report, reported 7% and 1.4% year-over-year increases in their quarterly revenue, respectively. The two companies reported declining same-store sales in the U.S, in stark contrast to Chipotle's performance.
Chipotle's net income climbed 8.5% from last year. That is not as good as Yum! Brands, which is eying a recovery in China, but considerably better than McDonald's, whose net income dropped by 5%.
Besides the same-store sales, Chipotle impressive performance is also due to the company's focus on growing its store count at an annual rate of more than 10%. In the previous quarter, Chipotle opened 44 new stores, taking its total store count to 1,637.

Chipotle is clearly benefiting from a favorable business environment in which fast casual restaurants such as Panera (PNRA) , are reporting better growth than their peers in the quick-service restaurant sector or the larger restaurant industry. This was shown in two separate reports from Technomic and GE Capital.
On the other hand, Chipotle's restaurant margins dropped by 40 basis points due to the 150-basis-points increase in food costs, particularly beef, dairy and avocados, from the same quarter last year. The food costs used to be 33% of sales in the first quarter of 2013; they rose to 34.5% of sales in the same quarter this year.
Moreover, beef costs could climb on supply constraints, cheese is expected to get 10% more expensive this year and the avocados will remain expensive due to the expected 30% drop in production from California. The U.S Department of Agriculture has also said the price of beef and poultry will increase this year.
As a result, the company said food costs will start increasing from 36% of sales from April and could continue going higher throughout the next two quarters. That puts Chipotle's margins under additional pressure.
But that can be relieved by price increases, which will continue through the beginning of the third quarter. Its full impact, however, won't be felt until the end of the year.
For the full year, Chipotle has forecast comparable sales growth in the high single digits and that does not include the positive impact coming from the price hikes. The company will also open between 180 and 195 new restaurants this year, which will give an additional boost to its top line growth.
That should give investors an appetite for revenue that could grow at double-digit rates.
At the time of publication, the author held no positions in any of the stocks mentioned.
This article represents the opinion of a contributor and not necessarily that of TheStreet or its editorial staff.