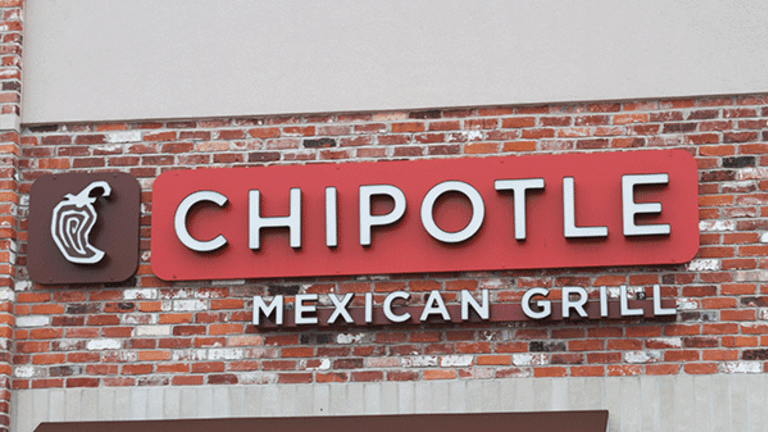 Chipotle, Wu-Tang Clan's RZA Join Forces to Help Entice Waning Customer Base
Chipotle's had a rough year, so it can't hurt to recruit the icon behind Wu-Tang Clan's C.R.E.A.M. philosophy.
Chipotle's had a rough year, so it can't hurt to recruit the icon behind Wu-Tang Clan's C.R.E.A.M. philosophy.
Chipotle Mexican Grill 's (CMG) - Get Report trying to woo customers back to the fast casual franchise with a new BOGO promotion, so lend an ear if you're still brave enough to dine at Chipotle because this one's for you, loyal customer.
Following the norovirus episode in Virginia, Chipotle launched the "SAVOR.WAVs" promotion, a gig that marries music and food with Wu-Tang Clan's RZA at the altar. The 1:55 minute advert features RZA pooling over a medley of plates featuring a Chipotle spread. The Wu-Tang Clan leader is shown reaching for a plate filled with sliced avocado, pops one into his mouth, and naturally begins to spin some beats -- or rather, mix some Chipotle ingredients.
The partnership is no doubt unusual, but with the recent catastrophes that Chipotle has undergone, that may not necessarily be a bad thing. 
"First. RZA is an extremely talented producer who had a really solid grasp on what we were looking to do with this, so he brought a lot of passion and enthusiasm to the project," said Chris Arnold, a spokesperson for Chipotle. "And, as a vegan, he's also really food aware, so he had something of a philosophical connection to all of this. His creative approach to this was really amazing."
To participate in the promotion, consumers are prompted to visit the website, which floods their screen with an array of psychedelic burrito ingredients stretched out into amorphia. Advertised as "a musical and visual experience inspired by Chipotle's real ingredients", a button invites users to "make your mix".
Surging Avocado Prices Are Chipotle's Dirty Little Secret Behind Its Queso Launch
An array of Chipotle ingredients are laid out on a pastel background. Choose your base, protein, filling, and toppings -- just as you would with your normal Chipotle order and voila: press "wrap it up".
A personalized soundtrack derived from the ingredients the user selected will pan out on the screen. The screen is 360 and user-interactive, thrusting the user into a matrix-like virtual world infused with items that resemble Picasso paintings rather than actual food ingredients. At the songs conclusion, the user is invited to enter the information to receive their BOGO burrito.
Shares of Chipotle have fallen 25% over the last three months, though the chain is facing larger problems in the distant future with its index problem.
The promotion launched on July 18 and is scheduled to end on Aug. 31 at 11:50 p.m. CDT. The promotion is only available in the United States.
Chipotle shares increased by about 1% to $350.97 midday Wednesday.
More of What's Trending on TheStreet: