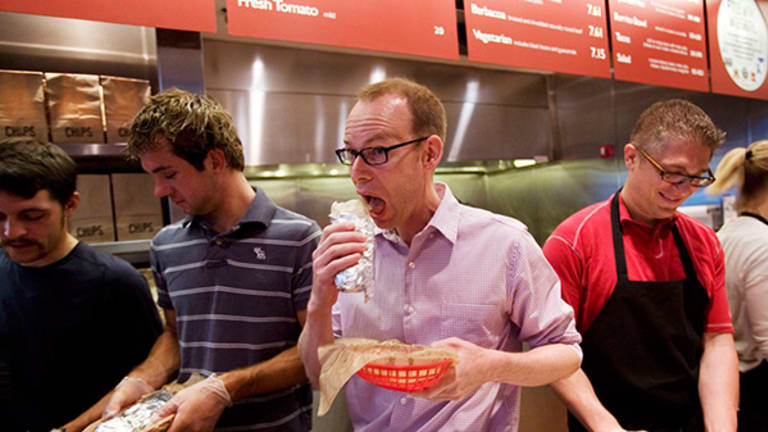 Chipotle Testing Significant Changes to One Part of Its Menu
The beleaguered burrito chain is testing several new drinks, both alcoholic and non-alcoholic, in one of its locations in its hometown of Denver, Colorado.
Struggling burrito chain Chipotle (CMG) - Get Chipotle Mexican Grill Inc. Report may have one solution to dwindling customer traffic in the wake of its recent high-profile food safety incidents -- an expanded drinks menu. 
This week, Chipotle began testing a new craft beverage program in its home market of Denver, Colorado, aChipotle spokesman confirmed to TheStreet.  The alcohol component of the new program is in concert with master sommelier Richard Betts, a winemaker who has roots in nearby Aspen, Co. 
The company's margarita, which has been a menu staple since its founding, will see a new frozen version made with Astral tequila, agave syrup and real lemon and lime juices. Asangria from Eppa Sangria, a certified-organic winemaker in California has also been added, as has a draft beer playfully called Oskar Blues Beerito, which would join new Modelo Especial in cans.
Alcohol has typically represented about 2% of Chipotle's business, said the Chipotle spokesman. 
As far as Chipotle's non-alcoholic beverages go, there's a new watermelon-infused water and an iced tea from loose leaf tea maker In Pursuit of Tea. Chipotle also tossed its soda supplier, Coca-Cola (KO) - Get Coca-Cola Company (The) Report , a bone with its drinks menu overhaul.
New fountain drinks include Coke Life (a lower-calorie version of Coke sweetened with stevia and cane sugar) and Blue Sky Soda, a maker of all-natural soft drinks that is partially owned by Coke. This is the first time either Coke Life or Blue Sky Soda have been available in fountain versions.
The Chipotle spokesman said it will evaluate the performance of the new drinks and that there's no set timeline for rolling them out beyond the test location. 
Historically, Chipotle has been reluctant to make any changes to its menu in the fear of upsetting customers and slowing up busy lines. This stands in marked contrast to many fast food companies that routinely introduce new items to drum up publicity and buzz. In April 2013, Chipotle debuted margaritas with Patrón Silver tequila, a more expensive offering compared to its "house" version.  
Then, in 2014, for the first time in its history Chipotle added a new food to its menu with its sofritas -- shredded organic tofu braised with poblanos, chipotle chiles, and spices. 
"We do check in with our customers every now and again through research and try and find out how they are experiencing us, what are they liking, what are they not liking -- the answers come back quite consistent: don't change a thing, don't muck things up, don't over-complicate the menu and change the food materially," Chipotle co-CEO Monty Moran explained to TheStreet in a Sept. 2015 interview. 
A broader roll-out of the more natural fountain sodas does seem inevitable, at the very least. 
"With respect to beverages, some of the beverages we serve are sweetened with corn-based sweeteners, which are typically made with genetically modified corn," Chipotle pointed out in its latest annual report. This conflicts with the company's non-genetically modified menu that it announced last year.