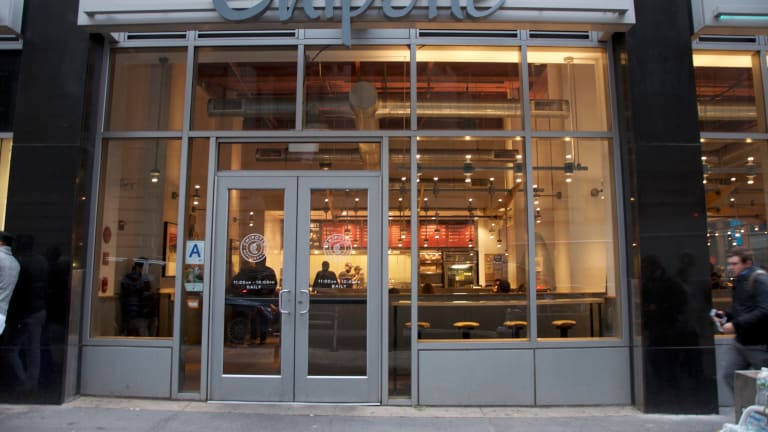 Chipotle Stock Chart Shows a Potential 10% Bounce
The market doesn't factor in Chipotle's possible stock buybacks in the next few weeks.
It might be time to bite back into shares of Chipotle Mexican Grill (CMG) - Get Chipotle Mexican Grill Inc. Report .
Shares of the burrito maker saw a modest rise last week, reaching as high as $447.46, gaining more than 6% before ending the week with a 3.1% increase.
If you're looking for a beaten-down stock that could deliver a 10% upward move in the coming the weeks, Chipotle stock looks like a winner.
Chipotle shares closed Friday at $433.81, down 0.27%. Based on Friday's closing price, Chipotle stock has now risen 4.5% since falling to $415 on April 27, and it has risen 8.6% from its 52-week low of $399.14 reached five months ago. Chipotle shares, which have fallen almost 30% in the past six months, are down 9.5% year to date, compared with a 0.65% rise in the S&P 500undefined index.
Revenue and profits have been hard to come by for Chipotle, which has lost customers amid its bouts with food-borne illness. But that shouldn't prevent Chipotle stock from going higher in the near term. Plus, Chipotle assigned $584 billion for buybacks in the first quarter of 2016, a massive rise from only $23.3 billion a year ago.
Combined with Chipotle's technical metrics, this sets up for a nice trade. Take a look at chart below, courtesy of TradingView.
There's several ways to asses where Chipotle stock may land next. How Wall Street views the stock remains one factor to consider. Analysts still maintain their consensus 12-month price target of $495 for the stock. And from a technical perspective, the chart says Chipotle stock is poised to reach $470 in the next couple of weeks.
As you can see from the two solid blue lines, the shares have maintained a somewhat predictable range between $440 and $470 since the beginning of the year. The bottom blue arrow can also be considered the stock's area of support. This is especially important given that the shares currently trade below all three key moving averages. Both the 50-day (pink line, at $469.53) and 100-day (yellow line, at $469.53) are priced within our target range.
How to execute the trade: Buy Chipotle stock between $433 and $435, using $430 as near-term support. If it falls below $430, buy more and average down. The bad news is already priced in. What's not known is how much of its own stock Chipotle might buy back in the few weeks. The bet is that the stock will regain its $470 support area (top blue line) in the next couple of weeks.
This article is commentary by an independent contributor. At the time of publication, the author held no positions in the stocks mentioned.