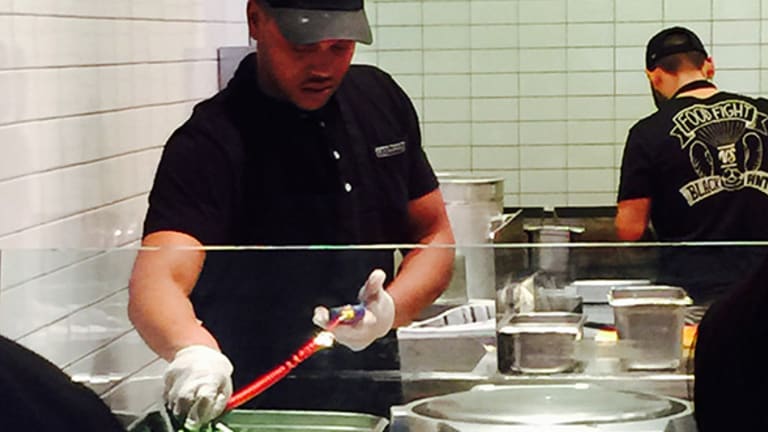 Chipotle Shuts Down a Restaurant as Health Issues Resurface
A new incident involving norovirus at a Chipotle in Massachusetts may prove costly for the burrito chain as it aggressively tries to win back customers.
Updated to include comments from analyst.
A new incident involving norovirus at Chipotle (CMG) - Get Chipotle Mexican Grill, Inc. Report may prove costly for the burrito chain as it aggressively tries to win back customers.

On Tuesday, Chipotle said it temporarily closed a restaurant in Billerica, Mass. after several employees fell sick due to norovirus. According to the Billerica Board of Health, one employee at the restaurant is confirmed to have contracted norovirus and two more are suspected. No customer illness were reported, and the restaurant is now closed for a full cleaning. 
Norovirus is a virus that can be spread to others by infected individuals. The news comes on the heels of over 120 people in Boston getting hit with norovirus last December from a sick worker, which followed a full-fledged E.coli outbreak. 
Said ITG restaurant analyst Joe Fersedi, "No press is good press these days for Chipotle when it comes to food-borne illness -- so this is not helpful."
Fersedi added, though, that the fallout may be limited if it's found that Chipotle's new food safety procedures prevented the norovirus from spreading to customers.
A Chipotle spokesman did not immediately return an email seeking comment.
In early morning trading Wednesday, Chipotle shares were trading down 3.6% but by the afternoon, they had recovered slightly.
Ultimately, the news is embarrassing for Chipotle on a multitude of fronts.
First, the burrito joint is fresh off closing all its restaurants during lunch hours for one day last month to hold an employee pep rally, and since then has littered urban areas such as subway stops with playful new marketing messages.  
The company has instilled a litany of new processes in its restaurants to ensure its food is safe, from moving lemons behind the counter (were historically sliced and left out by the well-trafficked condiment section) to putting barcodes on vegetables to track their origin.  
In the first quarter, Chipotle expects to shell out a whopping $50 million on its promotional and marketing efforts, a number that it deems the most significant in its history, in an attempt to win back customers. Starting on Feb. 8 and running to May 15, Chipotle began to reach out to consumers with deals on food via direct mail, mobile and social media in an effort to jumpstart its plunging sales.
The company says these types of efforts have proven effective in the past, and had anticipated them driving "substantial traffic" this time as well.
"We are optimistic for the next few months," said Chipotle's CFO Jeff Hartung to analysts on a Feb. 2 call.
Chipotle disclosed in its recently filed annual report -- filed before the latest norovirus incident -- that it expects to break even in the first quarter as a result of its promotional efforts.  
But Chipotle risks delivering a first quarter loss if the latest norovirus incident causes the company to lose any momentum it has managed to rebuild with consumers owing to its marketing efforts. High costs and weak traffic to its restaurants are not exactly a winning recipe for any company.
Added David Henkes, senior principal at research firm Technomic, "While it's just one case, anything that reminds the consumer of the food safety challenges that they had should be seen as a big negative for Chipotle -- there was a big deal made about how this is behind them, so having something happen so soon after will certainly cause some consumers to pause."