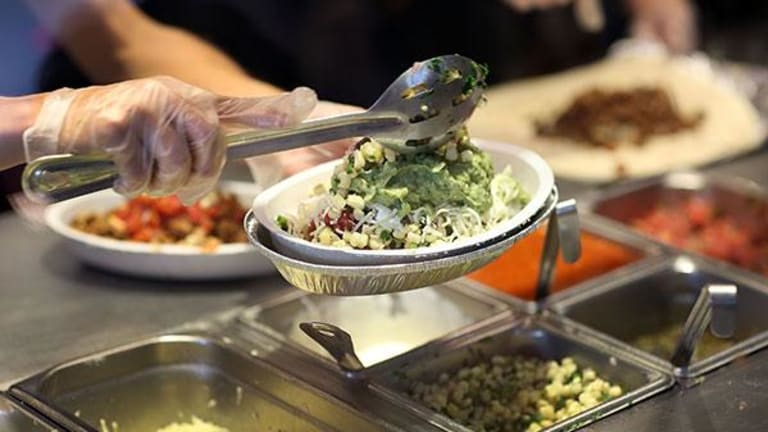 Chipotle Shows Likely Improvement, but Faces Ongoing Challenges and a Potential New One
The restaurant chain is expected to report a smaller decline in same-store sales in its fourth quarter than over the same period last year.
Burrito chain Chipotle Mexican Grill (CMG) is scheduled to report earnings on Thursday, and after several quarters of depressing declines in comparable-store sales, investors are feeling cautiously optimistic.
According to the company's preliminary results, same-store sales for the holiday quarter are likely to have dropped by 5%, a marked improvement from the 15% decline Chipotle suffered in the third quarter, and even more exciting because it reflects monthly progress, including 15% growth in December.
But the beleaguered company remains a stock to avoid. Chipotle is still rebounding from the food-borne bacteria episode in late 2015 that sent the company's sales and stock price downward. In December 2015, same-store sales plunged by 30%. Moreover, Chipotle has yet to demonstrate any long-term traction, despite a range of promotions to generate traffic. 
To be sure, there are positive signs. In an analysts' note last week, The Buckingham Research Group forecast that same-store sales would rise as result of the company's efforts to improve "processes and and focus on the customer experience." The research group also said that it expected the company to benefit from increased online sales, "catering and new menu introductions." 
Chipotle generated less than 8% of its sales via digital channels. But the company is introducing a new order interface that it says will improve efficiency and cut wait times from 30 to 10 minutes.  
Buckingham has a price target of $547, which would represent a nearly 30% increase from Chipotle's current level.
Still, the company faces big challenges, even aside from restoring the integrity of its brand. The potential 20% tariff that the Trump administration has vowed to impose on Mexican imported goods to pay for a border wall could increase the price of avocados, a key ingredient for Chipotle. 
Chipotle uses about 97,000 pounds of avocados per day to make its guacamole. Unless a customer orders a vegetarian entree (without sofritas tofu), Chipotle charges about $1.80 for guacamole as an extra. 
Last summer, a growers' strike in Mexico (now over) led to a shortage of the fruit and a price raise of -- in some cases -- more than 200%. According to Chipotle, the company paid $80 per case of avocados in October, versus just $30 per case in the first half of 2016.
Chipotle refused to pass the additional cost on to consumers, which hurt the company's revenue in the past quarter. Chipotle has now partnered with Mexican trade group Avocados from Mexico to present a promotional game that customers can play to win free chips and guacamole. 
Investors who are allergic to any bit of risk should continue to stay away from Chipotle's stock. Analysts expect the company to post earnings per share of 56 cents, down from $2.17 over the same period a year ago. 
Although the entire restaurant industry is in trouble thanks to what some analysts are calling a "restaurant recession," investors looking to play the popularity of the fast-casual food segment should stick with safer plays such as Panera Bread, which has managed to perform well and which doesn't rely on avocados for its marketing. As well, pizza delivery chains such as Domino's Pizza and Yum Brands's Pizza Hut are safe plays whose sales have grown.
Panera is a holding inJim Cramer's Action Alerts PLUS Charitable Trust Portfolio. See how Cramerrates the stock here. Want to be alerted before Cramer buys or sellsPNRA?Learn more now.
---
Chipotle is still a dangerous play for investors. However, the beleaguered burrito chain isn't the only risky investment out there. A blistering financial storm is about to hit our shores. When it hits, weak companies-and their investors-will be washed away. You need to put yourself on solid ground. And that doesn't just mean changing your investment allocations or loading up on cash.
I'll show you how to protect yourself - and prosper - when you click here.
The author is an independent contributor who at the time of publication owned none of the stocks mentioned.