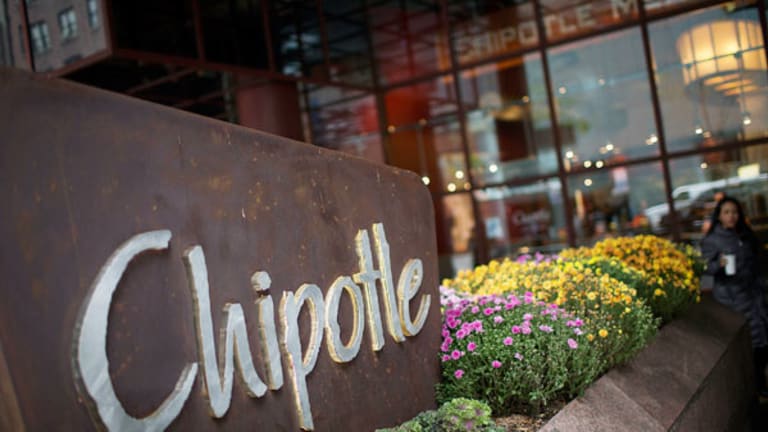 Chipotle Shareholders Don't Like the Taste of Executive Pay
Chipotle shareholders are likely to reject the executive pay proposal at the company's annual meeting today. Here's why.
NEW YORK (TheStreet) -- Chipotle Mexican Grill (CMG) - Get ReportCMG burritos may have a cult-like following among its customers, but investors in the company have soured on the pay of top executives.
According to The Motley Fool, investor groups such as the California State Teachers' Retirement System and the Florida State Board of Administration have disclosed that they will each vote against executive pay at today's annual shareholder meeting.
Companies are required to seek shareholder approval each year for compensation of their CEO and other executives.With Chipotle, the issue is that two CEOs are getting paid generously.
The company said it paid co-CEO Steve Ells $25.1 million in cash and stock last year, while the other co-CEO, Montgomery F. Moran, received $24.4 million.
Each CEO made more than all but the country's highest-paid CEO -- Oracle's (ORCL) - Get ReportORCL Larry Ellison, who brought home close to $78.4 million in the fiscal 2013.
Supporters of Chipotle's pay package say that the company's rising stock price is positive for both investors and executives. The company's revenue and profits have doubled since 2009, while its stock has more than doubled during the past three years.
"It's still the best growth story in the restaurant industry of any size," Jason West, an analyst at Deutsche Bank, told The New York Times.
Meanwhile, those who oppose the executives' salary say that the pay structure doesn't provide proper incentive for what is in the company's best interest.
Chipotle offers its co-chiefs stock appreciation rights that do not require the executives to hold the stock for very long, meaning they can cash out quickly upon receiving their compensation.
Ells has received more than 600,000 Chipotle shares during the last four years and has sold more than 548,000 during that same time, according to the Times.
Columbia University law school professor Robert Jackson said that stock appreciation rights were flawed because they let executives ride the soaring stock market without putting any of their own money on the line.
"We can't call it pay for performance if it rewards rising tides and lets the execs cash out as soon as they're ready," Jackson told the Times,"they're really using an outdated, antiquated structure. It's not a common or preferred corporate governance practice."
data by
>>Read More: Geithner's Most Candid Crisis Moments as Told to Jim Cramer
>>Read More: Gannett Turns the Page and Continues the Transformation
At the time of publication, the author had no position in any of the stocks mentioned.
Follow @macroinsights
This article represents the opinion of a contributor and not necessarily that of TheStreet or its editorial staff.