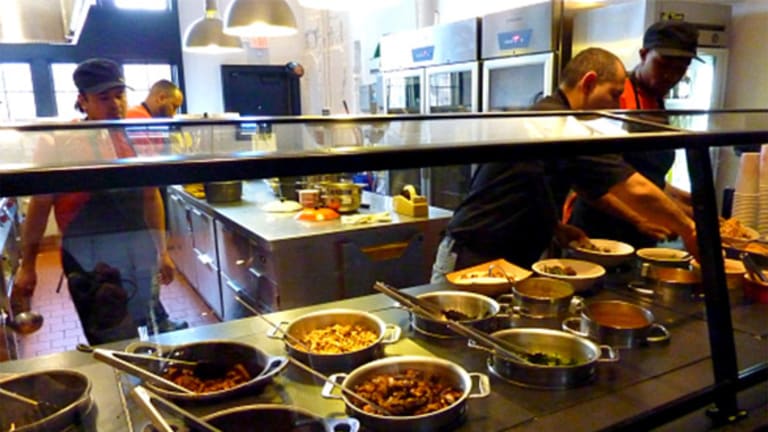 Free Burritos at Chipotle Didn't Help as Much as Expected
The burrito chain showed some signs of life in February with an aggressive marketing campaign, but still expects to post a loss in the first quarter.

Updated to include comments from Chipotle and an analyst.
Giving out coupons for free burritos helped Chipotle (CMG) - Get Report last month, but not as much as investors likely expected. 
Shares of Chipotle were down close to 3% in morning trading before recovering on Wednesday as the burrito joint reported late Tuesday that sales plunged 26.1% in February, compared to a 36.4% nosedive in January. According to Chipotle, sales began to recover on Feb. 8 after it started to text digital coupons to customers in an attempt to regain their trust following several food safety incidents.
While investors frowned on Chipotle's results, its co-CEO saw it from a starkly different perspective. "We recognize that this [turnaround] will take some time, but the recovery is off to a good start," said Chipotle founder and co-CEO Steve Ells at an investor conference Wednesday.  
Despite the month-to-month improvement in sales trends, there was a lot left to be desired from Chipotle's latest sales update. TheStreet runs through four top concerns.
1. Consumers are still highly sensitive to Chipotle's problems.
Chipotle says its sales continued to recover into March. For the week ended Mar. 7, sales fell 21.5%. But following news of a fresh norovirus issue at another Boston restaurant which had to be closed on Mar. 8, sales quickly reversed course. Same-store sales in the second week of March declined 27.3%.
The swift reaction by consumers to the latest news underscores the challenges Chipotle faces to regain the trust of diners. 
"Anything that reminds the consumer of the food safety challenges that they had should be seen as a big negative for Chipotle -- there was a big deal made about how this is behind them, so having something happen so soon after will certainly cause some consumers to pause," said David Henkes, senior principal at research firm Technomic.  
2. Once mighty Chipotle produces...a LOSS?
Owing to investments to bolster its food safety procedures and increase staffing to handle customers redeeming coupons and increased marketing, Chipotle said it expects to post a loss of $1.00 a share or more during the first quarter. Meanwhile, a year ago Chipotle posted earnings of $3.88 a share.
The result is significantly worse than Chipotle's guidance in its recently filed annual report. "As a result of the sales impact from the food-borne illness incidents and the additional costs described above, we believe that our net income will be at approximately break-even levels in the first quarter of 2016," wrote Chipotle in the report filed Feb. 5.
Given the sales setback in March, one big question is whether Chipotle will reduce employee hours and staffing levels to better match demand and possibly deliver profits in the second quarter. The company staffed up in February in anticipation of people coming back to the restaurants with coupons for free food.
When reached for comment, a Chipotle spokesman said the company has not started to reduce employee hours or staffing levels given the sales setback seen in March.
3. Not everyone redeemed their free burrito coupons.
According to Chipotle, only 67% of the coupons that were sent to consumers were redeemed. The number is rather low considering that pricey Chipotle items, from burritos to salad bowls, being given away for no charge. Now, Chipotle may be ready to launch a new wave of coupons to bring people back into the restaurants.  
"There may be more offers like [the one recently offered] coming," said Chipotle's chief creative and development officer Mark Crumpacker.
4. Traffic remains soft.
After the initial burst of coupons arrived in early February, Chipotle's transaction counts spiked. But since then transaction counts have leveled off, suggesting people are still staying away from the chain (that is unless they have a coupon).