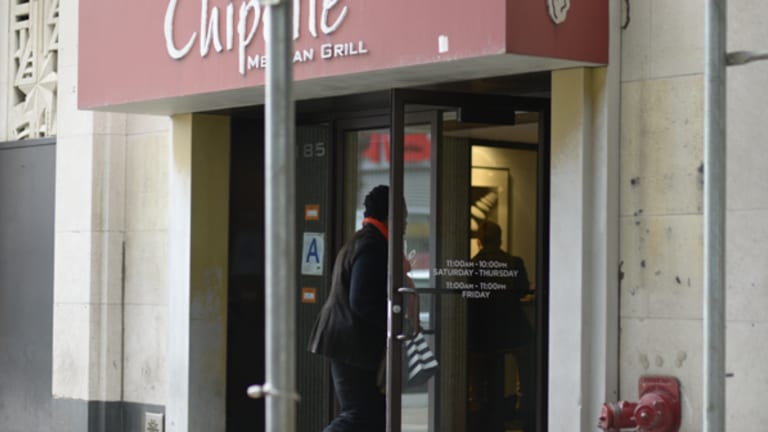 Chipotle's New Rewards Program Unlikely to Stir Its Stock Price Much in the Near Future
The beleaguered restaurant chain faces a long-term project in restoring its reputation.
The beleaguered restaurant chain faces a long-term project in restoring its reputation.
Chipotle Mexican Grill (CMG) - Get Report  showed signs of life today, rising slightly after the beleaguered restaurant chain unveiled its summer "Chiptopia" loyalty program. The company finished trading at $391.38 a share, off nearly 50% from its high of 11 months ago.
Chipotle is counting on the lure of free burritos and other initiatives to lure back its once loyal customer base. 
However, the company faces a tough challenge to restore its brand, damaged by a much-publicized, 2015 food contamination scandal. Chipotle operates in an increasingly competitive part of the restaurant sector, and the scandal is still fresh in many people's minds. Chipotle is not a stock to buy for immediate gains -- there are better options -- although it is likely to offer long-term benefits. 
Not long ago, burrito-hungry customers would form lunch lines snaking out the door at Chipotle locations. The company was the leader in the fast-casual space, outranking rivals Panera Bread and Shake Shack. As recently as last August, Chipotle was trading at nearly $758 per share. Given the rise of fast casual dining and the company's increasing popularity, Chipotle seemed to have significant growth potential. 
But last October, people started getting sick with E. coli after eating at Chipotle locations in 14 states. This was especially harsh for a company that had prided itself on the integrity of its ingredients and methods. The outbreaks didn't lead to fatalities, but made Chipotle a toxic stock.
Chipotle has lost more than half its value since and turned off some of its fans. During the first quarter of fiscal 2016, same-store sales plummeted by nearly 30%.
The company has been aggressive in trying to repair its relationship with customers and its reputation. Specials such as coupons for free burritos and complimentary chips and guacamole now regularly hit the text inboxes of the once faithful. However, the freebies haven't done much to inspire repeat visits. In fact, according to the latest report from the American Customer Satisfaction Index, Chipotle fell in favor by a huge 6% in March. 
Customer rewards are currently among the hottest trends in the restaurant sector. Chains such as Dunkin' Brands and Starbucks have used these types of programs to boost their bottom lines. Customers take these programs seriously. This spring, Starbucks upset customers by changing its loyalty program. Starbucks lost 50% on its brand buzz score in the eight days after announcing the changes. 
Chipotle's program will run from July through September. During these months, customers will receive rewards for the sheer volume of Chipotle products they order. Customers who order at least 11 entrees in each of the three months will earn nine free burritos, bowls, or other entrees, as well as a voucher for "Catering for 20," a $240 feast.
Chipotle will send out loyalty cards beginning on Friday, and fans signed up for text alerts have already received mobile coupons for free chips and guacamole upon registration.
Still, it's unlikely that the share price will return to its 2015 highs for a while. Analysts aren't expecting the stock to recover to those levels until 2018. 
That said, if you're feeling bullish on Chipotle, believe that this rewards program will be successful and don't mind holding for the long term, the stock could provide decent growth and gains. 
There are better picks in the fast-casual space. Panera is especially attractive, especially with its successful, growth-driving 2.0 initiative, complete with its own loyalty program.
Meanwhile, take Chipotle's summer burrito binge challenge. It won't thicken your wallet, just your waistline.
---
As you can see, Chipotle is not a great stock for right now. But what if I told you there is a way to make $67,548 per year - or more - without stocks at all, just by following this simple step-by-step process? The trader who is sharing this secret has been right more than 8 out of 10 times, turning $5,000 into more than $5 million for himself. Click here to see how easy it is to follow his lead and collect thousands of dollars in "Free Money" every month.
This article is commentary by an independent contributor. At the time of publication, the author held no positions in the stocks mentioned.