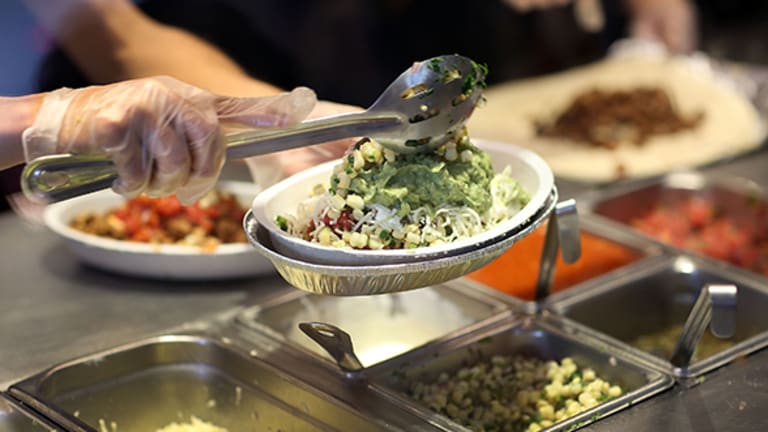 Chipotle's E.Coli Woes Continue With News of Another Outbreak
The latest developments will not help build the burrito chain's credibility with the general public -- and investors.
Chipotle (CMG) - Get Report can't seem to cook up any good news for investors burned by the continued emergence of E.Coli cases.
The latest disclosure came on Monday, as the Centers for Disease Control and Prevention (CDC) said it was investigating another, more recent outbreak of a different, rare DNA fingerprint of toxin-producing E. Coli linked to eating Chipotle. Five new ill people were identified in Kansas, North Dakota, and Oklahoma, on dates ranging from Nov.18 to Nov. 26, 2015.
The CDC said because it is not known if these infections are related to the larger, previously reported outbreak of E.Coli, these illnesses are not being included in the case count for that outbreak. In the initial outbreak first disclosed in early November, a total of 52 people have officially fallen ill from E.Coli tied to eating at Chipotle.
"We have indicated before that we expected that we may see additional cases stemming from this, and CDC is now reporting some additional cases," wrote Chipotle spokesman Chris Arnold to TheStreet via email on Monday. Arnold added that "since this issue began, we have completed a comprehensive reassessment of our food safety programs with an eye to finding best practices for each of the ingredients we use -- we are now in the process of implementing those programs." 
Shares of Chipotle dropped 3.3% on Monday, falling to a 52-week low of $508.10 at one point before rebounding slightly.
Arnold was quick to point out that the most recent of these cases visited one of Chipotle's restaurants over a month ago. Nevertheless, the new developments will not help build the burrito chain's credibility with the general public, and investors. "I will say though, that we can assure you today that there is no E. coli in Chipotle," founder and co-CEO Steve Ells told TheStreet's founder Jim Cramer on CNBC last week.
Ells added, "We have thoroughly tested our food, we have thoroughly tested our surfaces and we are confident that Chipotle is a safe place to eat." The interview came on the heels of another one Ells did on the "Today" show with Matt Lauer to help win back customer support.
"The procedures we're putting in place to eat are so above industry norms that we are going to be the safest place to eat,'' Ells told Lauer.