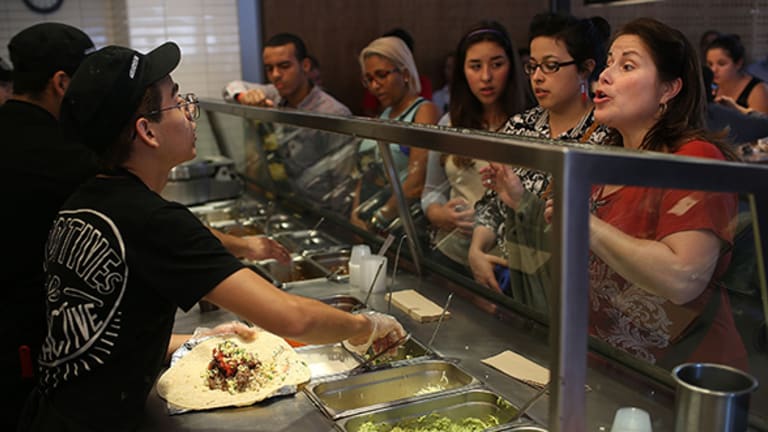 Chipotle's E. Coli Scare Is Scary News for Investors
The closure of 43 restaurants due to a reported outbreak of E. coli highlights a key vulnerability for the giant burrito chain.
Having shot to popularity in the U.S. for its healthier take on fast food -- and on Wall Street for its consistently fast growth -- burrito giant Chipotle (CMG) - Get Chipotle Mexican Grill, Inc. Report  may be showing some vulnerability as it seeks to expand aggressively across the country.
Chipotle closed 43 of its restaurants, or about 2.3% of its total U.S. locations, in Oregon and Washington this weekend due to a reported outbreak of E. coli. The Oregon Health Authority said three cases of E. coli in Oregon and at least 19 in Washington have been linked to eating at Chipotle restaurants since Oct. 14, with the ages of those affected ranging from 11 to 64.
According to a news release from the Washington State Department of Health, eight of the cases have resulted in hospitalization. The statement said that local and state health officials in Washington and Oregon are investigating the outbreak to determine the exact source of contamination.
Cases could jump over the next few days as more people hear about the news and go to the doctor to get checked.
"This issue may be linked to six of our restaurants in the Seattle and Portland, Ore., Areas," said Chipotle spokesman Chris Arnold to TheStreet. When asked if more locations in the U.S. were poised to close on fear of tainted food supplies, Arnold said, "There are no links beyond those six restaurants."
Shares of Chipotle fell about 4.5% in premarket trading on Monday.
The news comes on the heels of a salmonella outbreak in August related to tomatoes Chipotle served in certain Minnesota restaurants. That impacted 64 people. In its annual report, Chipotle notes that its business model may make it more vulnerable to food-borne illness -- "We may be at a higher risk for food-borne illness outbreaks than some competitors due to our use of fresh produce and meats rather than frozen, and our reliance on employees cooking with traditional methods rather than automation." 
Now, amid the flurry of high-profile negative headlines on its food quality, consumers may reconsider a visit to Chipotle in the fourth quarter. And that would only add fuel to another issue Chipotle has been dealing with this year -- slowing sales growth. 

Chipotle's same-restaurant sales rose 2.6% for the third quarter, marking a considerable slowdown from a 19.8% gain delivered a year earlier. The company admitted that sales in October have been "very, very choppy" and cooled in August and September following a burrito giveaway promotion in July. Furthermore, Chipotle forecast a low-single-digit same-store sales gain for 2016, which could risk not being met if consumers shun Chipotle in the wake of the food quality scare. 
"Instances of food-borne illnesses, real or perceived, whether at our restaurants or those of our competitors, may subject us to liability to affected customers, and could result in negative publicity about us or the restaurant industry that adversely affects our sales," says Chipotle in its annual report. 
In part, the weaker pace of sales from Chipotle this year stems from a food supply-related issue as well. In January, Chipotle suspended sales of pork at about a third of its more than 1,800 restaurants after finding a key supplier didn't comply with its strict animal-welfare standards. The decision impacted sales of Chipotle's popular carnitas, which came off the menu at 600 or so locations. It took until April for Chipotle to secure a new pork supplier. By early October, Chipotle had returned carnitas to 90% of its restaurants nationwide.
Investors have taken notice of Chipotle's mounting operational challenges this year, which have weighed on performance. Those problems seem to be increasing in number as the chain aggressively expands.
Shares of Chipotle are down about 6.5% this year, underperforming the S&P 500's gain of 1%. Chipotle will open a whopping 215 to 225 new restaurants in 2015, and the company plans to unveil 220 to 235 new spots in 2016. 
The growing number of food quality issues suggest that Chipotle's structure, as it stands, may be inadequate to support its expansion plans. Chipotle may have to put its protocols for monitoring food safety under review and temper its new restaurant growth plans to ensure it's delivering quality food to consumers, and quality results longer-term for investors.