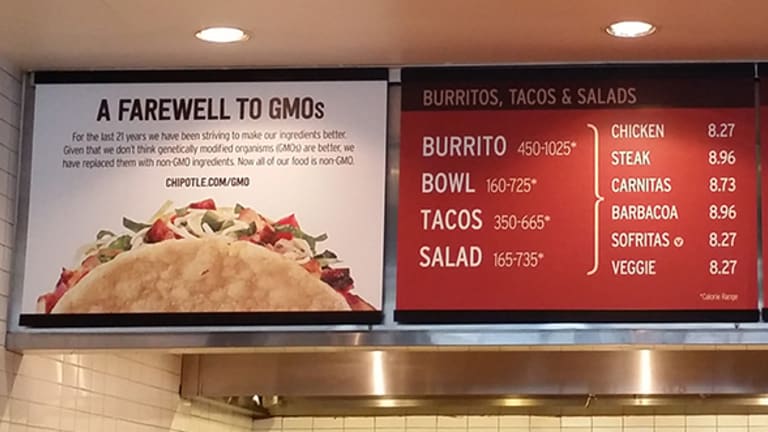 Chipotle's Worst Quarter in Its History Could've Been Much Worse
Chipotle's first quarter was pretty ugly as the fast-casual giant reported its first-ever quarterly loss as a public company, but the results wasn't quite as bad as many feared.
Updates from 4:56 p.m. ET with details from earnings call.
Chipotle's (CMG) first-quarter performance wasn't pretty, but it could have been much worse. 
The better burrito chain, battling the continued fallout from several high-profile food safety incidents in the past six months, reported on Tuesday a loss per share of 88 cents for the first quarter, compared to a profit of $3.88 a share a year earlier. It was the first time in its history as a public company that Chipotle has reported a quarterly loss.
Profit was mostly hurt by the company's aggressive coupon mailers and marketing done in an attempt to restore customer loyalty. Chipotle reported its worst sales growth ever as same-store sales plunged 29.7% vs. estimates for a 28.4% decline as the company continued to see tepid traffic to its restaurants despite its efforts.
Shares initially fell 3% after-hours, came back slightly but are currently down 4.4%. The out-performance on profit relative to estimates spurred hope that Chipotle's bottom line had reached an inflection point in the first quarter, and may improve later this year as consumers move beyond the food safety issues. Wall Street expected Chipotle's first-quarter loss to reach $1.05 a share, while Chipotle anticipated a loss per share of $1 in the quarter.
To improve its sales later this year, Chipotle said on a call with analysts it will add chorizo sausage to its menu after a successful test of the item and introduce a form of loyalty program for its most frequent customers.