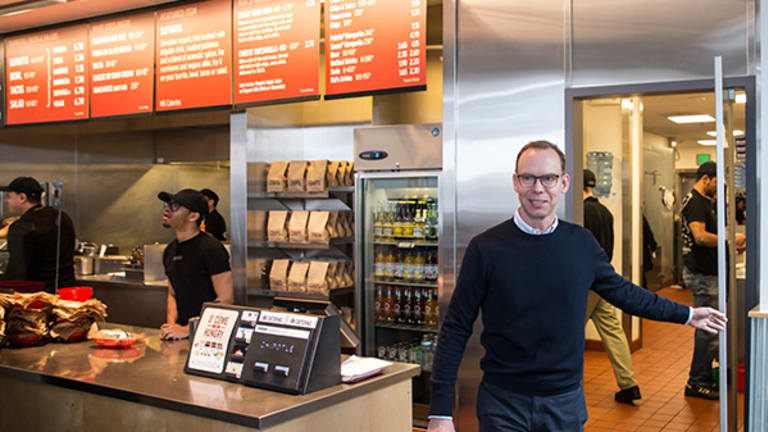 Chipotle Is About to Do Something Very Rare: Introduce New Foods
Chipotle's menu has not changed much since its inception. That is until now, as the company tries to win back customers.
Chipotle's menu has not changed much since its inception. That is until now, as the company tries to win back customers.
In an unusual move, Chipotle (CMG) - Get Report  is increasing the size of its menu, slightly, as it tries to win back customers following several high-profile food safety incidents.
Chipotle said it will move forward with the introduction of a chorizo, which is a combination of spicy chicken and pork, in an effort to win back once-loyal customers. The item was previously tested in certain markets, said Chipotle.  
"It was very popular, it quickly because customers' most favorite protein," said Chipotle Founder and co-CEO Steve Ells on a call with analysts. The news comes on the heels of Chipotle debuting a new craft beverage pilot program in its home market of Denver in late March.
As part of the beverage program, the company's margarita, which has been a menu staple since its founding, now has a new frozen version made with Astral tequila, agave syrup and real lemon and lime juices. A sangria from Eppa Sangria, a certified-organic winemaker in California, has also been added, as has a draft beer playfully called Oskar Blues Beerito, which would join new Modelo Especial in cans.
Historically, Chipotle has been reluctant to make any changes to its menu in the fear of upsetting customers and slowing up busy lines. This stands in marked contrast to many fast-food companies such as McDonald's (MCD) - Get Report that routinely introduce items to drum up publicity and buzz. In April 2013, Chipotle debuted margaritas with Patr¿n Silver tequila, a more expensive offering compared to its "house" version.
Then, in 2014, for the first time in its history, Chipotle added a new food to its menu with its sofritas -- shredded organic tofu braised with poblanos, chipotle chiles, and spices.
"We do check in with our customers every now and again through research and try and find out how they are experiencing us, what are they liking, what are they not liking. The answers come back quite consistent: Don't change a thing, don't muck things up, don't over-complicate the menu and change the food materially," Chipotle co-CEO Monty Moran explained to TheStreet in a September 2015 interview.