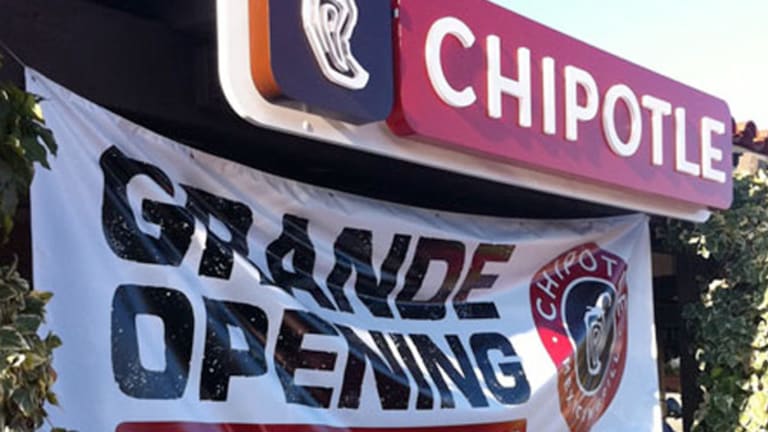 Chipotle in the Clear? Coca-Cola Bids in Africa -- Retail Roundup
The CDC says the outbreaks are over for Chipotle Mexican Grill, while Coca-Cola goes on the acquisition trail in Nigeria.
Shares of Chipotle Mexican Grill (CMG) - Get Chipotle Mexican Grill, Inc. Report are climbing Monday, up 4.3% percent to $472.64 after the U.S. Centers for Disease Control and Prevention said the company's E. coli outbreaks appear to be over. 
The report brings both good news and bad news to investors. On the one hand, the outbreak, which spread across 14 different states, seems to be over with. That's good. On the other hand, regulators were never able to find the source. Without knowing the source, it leaves uncertainty -- something investors never like to see.
Shares climbed to nearly $480 in the session, a far cry from the $400 price it traded at just last month. Still, the stock is currently down more than 38% from its 52-week high of $758.61. 
RealMoney'sBrian Sozzi said "Big Questions Remain Unanswered" at Chipotle, and that's true. Originally, investors weren't expecting the company's business to slow that much from the E. coli outbreak. But if Sozzi's pictures showed us anything, it's that Chipotle had a lot of lonely nights in the fourth quarter. 
The company reports earnings on Tuesday, and investors will want to know what the real damage is going to be going forward. In early January, the company shocked investors with its fourth quarter guidance of $1.70 to $1.90 per share compared with analysts' expectations of $2.55. Comparable store sales also plunged in December, estimated to come in with a decline of 30%.
Investors and management alike are hoping the rest of the year will improve, but a near 20% rally in the stock from the recent bottom could make the stock vulnerable going into earnings. 
_______________________________________________________________________________________________________________
Shares of Lumber Liquidators (LL) - Get LL Flooring Holdings, Inc. Report are up 4% on the day, but climbed more than 7% on news that the company has reached a deal with the Department of Justice in regards to wood sourcing. 
Like Chipotle, this news is good and bad. While there's one less thing for investors to worry about, this isn't the issue that crushed the stock last year. Over the past 12 months, shares are still down 80%, as fears persist of whether the company intentionally allowed for sub-par products to be sold with unsafe amounts of formaldehyde in them. 
Whitney Tilson was the notable short-seller in the stock, but back in December, he publicly wrote why he covered his position. 
Among other reasons, Tilson explained that senior management very well may not have been aware of the formaldehyde issue, which makes the short case less rewarding. In any regard, it's good to see the company taking steps in the right direction, helping to improve its sourcing and its public image. 
_______________________________________________________________________________________________________________
Coca-Cola (KO) - Get Coca-Cola Company Report investors probably remember that management has an adventurous bone or two in its body. As a result, it shouldn't come as much of a surprise that the company purchased a 40% stake in Nigeria-based Chi Limited.
The company makes soft drinks, juices and dairy products for its customers. In the same announcement, Coca-Cola also noted that it "intends to increase ownership to 100% within three years, subject to regulatory approvals." 
It may remind investors of Coca-Cola's more recent venture stakes in Monster Beverage (MNST) - Get Monster Beverage Corporation Report and Keurig Green Mountain (GMCR)  -- the latter of which was eventually bought out by JAB Holding Company for $92 per share. It is noteworthy however, that the buyout occurred as shares had declined to sub-$40 prices in the weeks prior to the purchase. 
A similar situation looks unlikely with Chi, because of Coca-Cola's intent on purchasing the remaining position itself. Coca-Cola looks to be taking the M&A/investment route in an attempt to boost its growth going forward, something that likely won't bother many shareholders. 
This article is commentary by an independent contributor. At the time of publication, the author held no positions in the stocks mentioned.