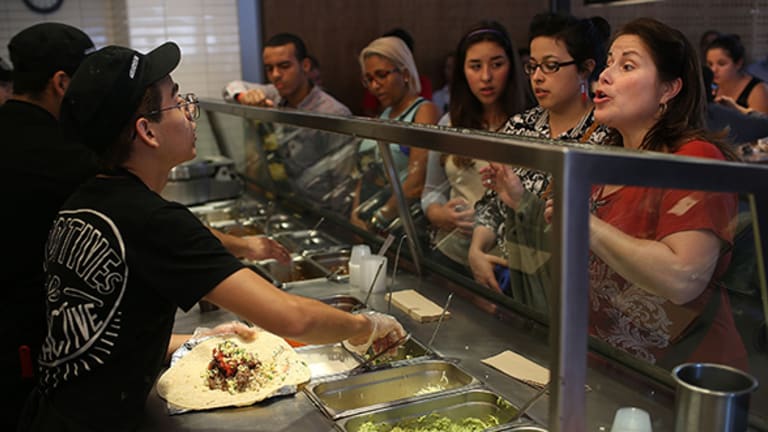 Chipotle Earnings -- Can You Stomach Chipotle Stock Now?
Chipotle Mexican Grill stock has suffered a 40% fall from its 52-week high. But is it time to get back in?
Is it time to bite into Chipotle Mexican Grill (CMG) ? After a 40% decline from the 52-week high of $758, shares of the burrito maker -- down 6% year to date -- appear too tasty to ignore.
Sure, there are still risks with buying Chipotle stock at current levels. Once the darling of Wall Street, the Denver-based fast-casual restaurant has suffered hits to its image, thanks to multiple outbreaks of E. coli which have forced the company to shut and revamp several of its restaurants. But Chipotle has taken steps to repair its brand and regain the trust of its customers, including closing its doors systemwide for food-handling training. But how much will that matter to investors?
Chipotle reports fourth-quarter fiscal 2015 earnings results after the closing bell Tuesday. Chipotle's stock has lost 38% of its value over the past 12 months. The company will need to deliver an upbeat outlook for 2016 to put a floor on this decline. And if management can quell analysts' fears about weakening profit margins and declining same-store sales growth, it's possible Chipotle stock, which reached a 52-week low of $399.14 on Jan. 12, has already reached bottom.
For the quarter that ended in December, the average analyst earnings-per-share estimate anticipates $1.86 a share on revenue of $1.01 billion, marking a decline of 51% and 6%, respectively. For the full year, earnings are projected to climb 5% to $14.83 a share, while full-year revenue of $5.89 billion would reflect growth of 43%.
After shuttering and reopening as many as 43 restaurants (as of November) amid the E. coli scare, Chipotle has lost tons momentum since the start of the quarter. Earnings estimates for the just-ended quarter and full year have declined 57% and 14%, respectively, in the past three months.
But expectations having fallen so low, it's possible Chipotle has seen the worst already.
Assuming Chipotle's willingness to give away free food lures in customers, the company can regain its store value and boost traffic if and when customers eventually decide to forgive and forget. Even as fiscal 2016 estimates of $12.92 imply a 13% decline, there could still be some upside in Chipotle shares, especially for investors who aren't averse to near-term risks.
So, while Chipotle stock has drastically corrected from its all-time high, what management says on Tuesday -- particularly about the company's business outlook for fiscal 2016 -- will dictate how the market values Chipotle stock for the next 12 months. At around $450 a share, it's an 11% move to put the stock back at $500, where its revenue growth rate suggests it belongs.
This article is commentary by an independent contributor. At the time of publication, the author held no positions in the stocks mentioned.