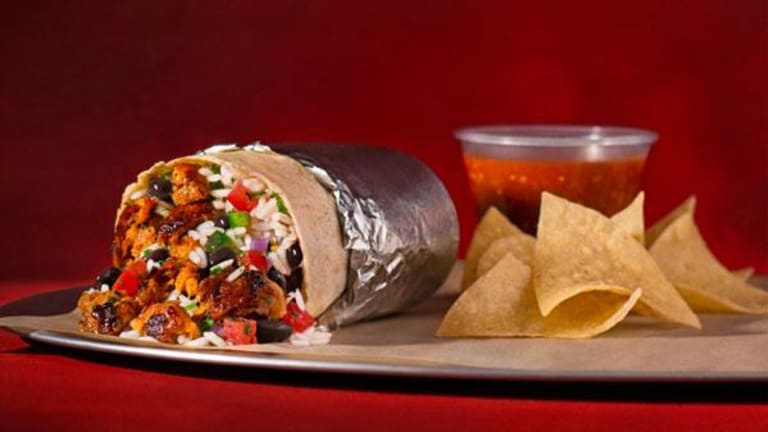 Chipotle Does Something It's Only Done Once Before in Its 23-Year History
The fast-casual giant is releasing a new food item -- spicy chorizo -- for only the second time in its history as it tries to win back diners' favor.
The fast-casual giant is releasing a new food item -- spicy chorizo -- for only the second time in its history as it tries to win back diners' favor.
Embattled Chipotle (CMG) - Get Report is hoping that a new menu item will help lure back in customers that have been reluctant to return because of a high-profile E.Coli outbreak and other health issues at the fast-casual giant last year.
Chipotle will introduce spicy chorizo, which traditionally is made from seasoned pork but in Chipotle's version will include white meat chicken -- starting Wednesday at restaurants in Columbus, Ohio; New York City (Manhattan locations); Sacramento and San Diego, Calif.; one location in Denver, Colorado; and at Dulles International Airport in the Washington, DC area. The company expects to expand chorizo to all of its U.S. restaurants this fall.
The fast-casual chain had previously tested chorizo in markets such as Kansas City back in June 2015. "It was very popular, it quickly became customers'... favorite protein," said Chipotle Founder and co-CEO Steve Ells on an Apr. 26 call with analysts when he teased the upcoming launch.
Chipotle's chorizo is made with a blend of pork and white-meat chicken and is seasoned with paprika, toasted cumin and chipotle peppers, according to the company. It will be cooked in each individual restaurant by searing it on a hot grill, and will be available in the company's burritos, tacos, burrito bowls and salads.
Historically, Chipotle has been reluctant to make any changes to its menu in the fear of upsetting customers and slowing up busy lines. In fact, it's only added one new food to its menu -- sofritas in 2014-- in its entire 23-year history.
This stands in marked contrast to many fast-food companies such as McDonald's (MCD) - Get Report  and Yum Brands' (YUM) - Get Report Taco Bell that routinely introduce new items to drum up publicity and buzz.
Chipotle has added new drinks from time to time, however. In April 2013, Chipotle debuted margaritas with Patrón Silver tequila, a more expensive offering compared to its "house" version. And more recently, the company debuted a new craft beverage program in its home market of Denver, Colorado.
But, with sales and traffic likely still sluggish, Chipotle may see little risk in betting that people will want to give its new chorizo a taste.
"Since we opened the first Chipotle 23 years ago, our menu has changed very little, and our focus has been on constantly improving the quality and taste of the food we serve," said Ells in a statement Wednesday, adding, "While we have never been opposed to changing our menu, we only do so when we think there's an opportunity to add something that is really unique but that fits within our overall menu, and where we can find ingredients that meet our high standards."
Chipotle's sales and stock price have been hammered by its health issues. During the first quarter of fiscal 2016, same-store sales plummeted by nearly 30%, and the company's stock has declined by almost 50% since last October.
And if customers don't want to visit Chipotle for chorizo, perhaps a new summer loyalty program will whet their appetite. Under the new program, which will be launched this Friday and could be extended beyond the summer, customers are rewarded for how many times they visit Chipotle and purchase a burrito or other entrée.
Customers will earn free meals after their fourth, eighth and eleventh entrée purchases each month. They can also earn additional rewards, such as free meals and catering, when they reach certain status levels.