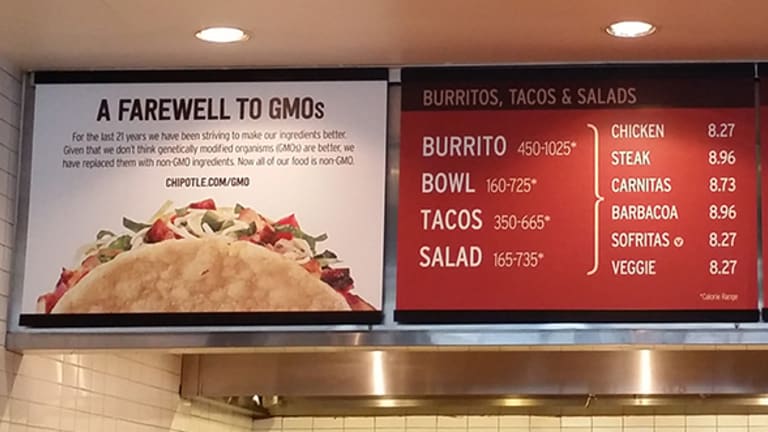 Chipotle Confident It Will Win Customers Back with New Marketing Blitz
The beleaguered burrito chain will spend $50 million in the first quarter on ads and promotional offers, and has no plans to slow down its aggressive expansion plans.
Updated to include additional comments from earnings call.
Despite its highly-publicized food safety issues that have badly damaged its reputation and sales, Chipotle (CMG) - Get Chipotle Mexican Grill, Inc. Report execs are fully expecting a speedy return to the glory days of packed restaurants.
"As we aggressively work to welcome our customers back, labor-management and P&L [profit and loss] controls in general will not be a priority -- instead our teams will schedule labor assuming a steep recovery [in sales] because we would much rather be overstaffed and offer greater customer service than to risk being shorthanded as a result of trying to over manage labor costs," said Chipotle CFO John Hartung on a call with analysts Tuesday evening.
Hartung was referring to the company's preparation for a significant step up in marketing starting on Feb. 8 in a bid to regain customers that were lost following outbreaks of E. coli and a norovirus incident.  
The marketing bonzana will take several forms.
From Feb. 8 to May 15, Chipotle will reach out to consumers with deals on food via direct mail, mobile and social media.  
Accompanying the free food giveaway will be marketing messages across print, radio, digital and outdoor media that will stress the taste and quality of Chipotle's food, rather than mention recent safety issues. 
And on Feb. 8, the company will launch a new website outlining measures it's taking to ensure food safety.  
In the first quarter, Chipotle expects to shell out a whopping $50 million on its promotional and marketing efforts, a number that it deems the most significant in its history. The actual cost could be higher if people redeem a larger number of coupons than anticipated. The company said these types of efforts have proven effective in the past, and they expect them to drive "substantial traffic" this time as well.  
"We are optimistic for the next few months," said Hartung. 
Chipotle is so sure that its marketing blitz will work -- and that its new food safety procedures are being implemented according to plan -- that it's not slowing down the pace of new restaurant openings. The company said it will open a whopping 220 to 232 new restaurants in 2016, on top of 229 openings in 2015.  
And execs remain aggressive in looking for new locations to open in 2017. "We expect that we're going to bring our customers back, and we would not want to be in a position where we slow the pipeline for 2017 [new openings] finding that our sales have recovered and then not have the opportunity to satisfy the demand as we have had in years past," said Chipotle co-CEO Monty Moran. Moran added, "we feel it's prudent to stay on course with our existing plans of expansion."
But based on Chipotle's fourth quarter results, execs may be overly optimistic on a near-term sales rebound.
For the quarter, Chipotle reported earnings of $2.17 a share, beating estimates for $1.81 a share. On Jan. 6, the company forecast earnings in a range of $1.70 to $1.90 a share. Same-store sales plunged 14.6%, in line with Chipotle's guidance, as consumers shunned the brand following multiple outbreaks of E. coli that first surfaced in October , as well as incidences of norovirus. 
In January, sales plunged 36%, Chipotle said on the call, plagued by perception issues and inclement weather in the Northeast. Sales were down about 40% in some weeks depending on the weather.  According to Hartung, Chipotle will continue to update investors on its sales trends. "Expect updates throughout the quarter," said Hartung.   
For the full year, Chipotle sees its operating margin being down compared to a year earlier. No exact target was divulged. 
Even as it tries to turn the corner from a dark page in its history, Chipotle will be reminded this year of its costly stumbles.
Shares of the burrito joint initially spiked 2% in after-hours trading on Tuesday following much better-than-expected earnings. But shares gave back some gains as the company reported it is now the subject of a broader investigation of its food safety measures dating back to January 2013. The new subpoena supersedes the one served to Chipotle in December 2015. Shares were down about 6% in pre-market trading on Wednesday.
Chipotle says it's cooperating with authorities on the investigation.