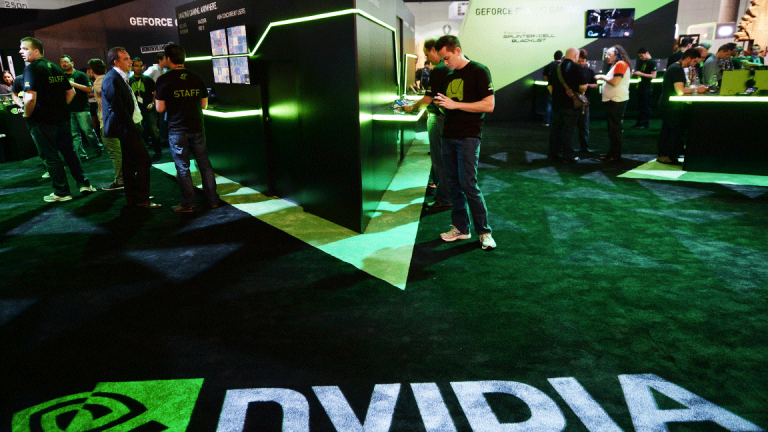 Publish date:
Chip Stocks May Have Sold Off Too Much On Recent Spate of Bad News
Valuations for chip industry firms often seem to be pricing in a full-blown cyclical downturn. That's not a given at this point.
Valuations for chip industry firms often seem to be pricing in a full-blown cyclical downturn. That's not a given at this point.
A spate of disappointing -- but not truly terrible -- news is leading many chip stock investors to flee to the sidelines.
In some ways, this heightened level of risk-aversion is the polar opposite of the euphoria that has propelled many Internet and software stocks to the stratosphere. For value-oriented tech investors willing to accept a measure of uncertainty, that spells some opportunities.
The Philadelphia Semiconductor Index (SOXX) - Get iShares PHLX Semiconductor ETF Report fell on Friday after GPU giant and Action Alerts PLUS holdingNvidia (NVDA) - Get NVIDIA Corporation Report  and chip equipment giant Applied Materials (AMAT) - Get Applied Materials, Inc. Report both beat estimates but issued below-consensus quarterly guidance. Nvidia, which continues to see very strong server GPU sales and healthy gaming-related demand, put the blame for its outlook on plunging demand for products meant for cryptocurrency miners. That meshes with crypto-related outlooks from AMD  (AMD) - Get Advanced Micro Devices, Inc. Report and others.
Applied, whose outlook might be doing more to weigh on chip stocks than Nvidia's, noted that in addition to a previously-expected mid-year slowdown in demand from memory makers, it's for now seeing lower demand from chip contract manufacturers (foundries). However, the company is maintaining a forecast for industry wafer fab equipment (WFE) spend to top $100 billion during the 2018/2019 timeframe.
Nvidia shares closed down almost 5% on Friday to $244.82. Applied Materials, meanwhile, ticked down almost 8% to $43.77 per share by Friday close.
Applied's outlook, which follows a July capital spending budget cut from top foundry Taiwan Semiconductor (TSM) - Get Taiwan Semiconductor Manufacturing Co., Ltd. Sponsored ADR Report , has led several chip equipment makers, including Lam Research (LRCX) - Get Lam Research Corporation (LRCX) Report , Teradyne (TER) - Get Teradyne, Inc. Report and Axcelis  (ACLS) - Get Axcelis Technologies, Inc. Report , to join Applied in selling off. Some of these firms delivered more upbeat earnings reports in recent weeks, often predicting demand will rebound in calendar Q4.
Nvidia and Applied's outlooks follow a handful of other events that had put chip stock investors on edge. Specifically:
NAND flash memory prices have begun slumping, as major production ramps for high-density 3D NAND chips begin impacting the market's supply/demand balance. DRAM's supply/demand balance still looks a lot better, but pricing has stabilized in recent months following a giant rally that started in late 2016.
Microcontroller (MCU) and analog chip supplier Microchip Technology  (MCHP) - Get Microchip Technology Incorporated (MCHP) Report offered soft calendar Q3 sales guidance. Thought the outlook was partly blamed on efforts to lower customer and distributor inventories for recently-acquired chipmaker Microsemi, Microchip also blamed a handful of other issues -- including, notably, the impact of tariff worries on orders from some Chinese clients.
Collectively, these issues provide some reasons for concern. What they don't do, however, is signal a major cyclical downturn is on the way.
As noted earlier, Applied and other major chip equipment makers still expect demand to rebound following a mid-year slump, although there are differences regarding Q4 expectations. Applied, for its part, says the fact that current foundry equipment demand is being driven by orders for equipment with very long lead times for delivery, and that this paves the way for demand to improve in 2019 as the fulfillment of demand for items with long lead times paves the way for orders featuring shorter lead times.
Notably, Applied CEO Gary Dickerson also reiterated his view that the chip equipment industry has become less cyclical. "More diverse demand drivers spanning consumer and enterprise markets, combined with very disciplined investment, has reduced cyclicality," he said. "We're not seeing the large fluctuations in [WFE] spending that we did in the past."
On the memory front, things will probably get worse for the NAND market before they get better, and -- though the extent of the damage could be restrained if lower prices help boost solid-state drive (SSD) penetration rates -- slumping prices are bound to weigh on the capital spending of NAND makers. But the highly consolidated DRAM market still looks fairly healthy for now, given limited supply growth and the fact that we're entering the seasonally strongest part of the year.
And for equipment makers, the memory industry's growing capital-intensity (i.e., the amount of capex needed to drive a given amount of bit supply growth) remains a positive going forward. As do planned investments by foundry and logic (processor) clients in next-gen manufacturing processes supporting EUV lithography.
Chinese trade tensions are very much a risk for both demand and M&A. But there might be a light at the end of the tunnel. On Friday afternoon, not long after the White House confirmed that trade talks with China have resumed, Dow Jones reported that U.S. and Chinese negotiators are trying to hammer out a plan to end their countries' trade dispute. It goes without saying that both sides are well-aware of the damage that would come from a protracted dispute between the world's two largest economies.
Meanwhile, valuations for chip developers, chip equipment makers and foundries have all become quite reasonable -- in many cases, the multiples seem to already price in a full-blown cyclical downturn. And while the industry does face pressures in areas such as mobile hardware, NAND and crypto mining, other end-markets, such as data center hardware, cars and IoT devices, look a lot better.
For a tech investors on edge about the steep valuations that many Internet and software high-flyers now sport, that makes the chip industry worth a look.