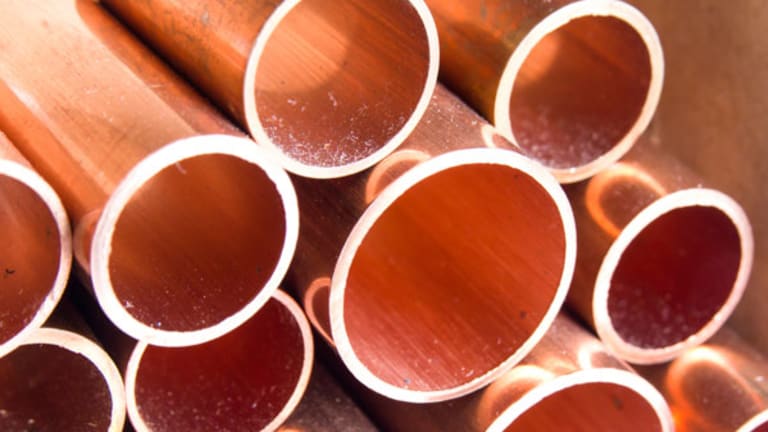 Chinese Reforms Dampen Copper Outlook
Capacity restrictions imposed by China and rising surplus levels should lead to lower copper prices by year-end.
Capacity restrictions imposed by China and rising surplus levels should lead to lower copper prices by year-end.
NEW YORK (TheStreet) -- The recent short-term rally in copper sent prices to new monthly highs, but the metal is starting to give back some of those gains on news that China has announced plans to make significant reductions in obsolete production capacity into the latter half of the year.
China is the world's largest copper consumer, so this development is critical in assessing the long-term outlook for the metal.
The announcements this week are being viewed alongside the country's broader economic slowdown, which comes as global supply levels in copper remain healthy and rising.
These unfavorable supply and demand conditions suggest a weak road ahead for copper prices, and it is time for those invested in base-metals ETFs such as the
iPath Dow Jones UBS Copper Total Return Sub-Index ETN
(JJC) - Get Report
to start reducing exposure.
The Chinese economy accounts for roughly 40% of global consumption in refined copper, and early indications of slowing GDP growth have already sent spot prices 12% lower on the year.
The preliminary Purchasing Manger's Index (PMI) released earlier in the week came in at 47.7, suggesting Chinese manufacturing activity has fallen to its lowest levels in 11 months.
A PMI number less than 50 indicates economic contraction, and the continued weakness seen in these types of surveys suggests that the official GDP targets for the year (now in the range of 7%-7.5%) are starting to look overly optimistic.
These trends will only create more challenges for an economy that is already in trouble, as year-on-year growth rates have seen declines in nine of the last 10 quarters.
Reform Elements
Given its central role in construction, copper markets will need to see sustained Chinese demand in base metals in order to close higher on the year.
But reforms announced by the Chinese industry ministers this week will place limitations on more than 1,400 companies in 19 industries (including copper and other base metals such as steel and aluminum).
These requirements call for major reductions in production capacity in the third and fourth quarters. Canceled warrants (which are orders to send copper from LME warehouses) dropped to less than 317,000 tons this week, the lowest level in more than a month. Canceled warrants in Asia fell to less than 195,000 tons.
This week's proposed programs require that excess capacity be discontinued before September and completely eliminated by the end of 2013. These plans likely will close more than 654,000 tons of copper capacity, according to the ministry's announcement.
The shutdown of factory production lines will come as the global surplus in copper surges (and could nearly double in the next two years).
Consensus expectations in metals markets suggest that global copper surpluses could reach 153,000 tons in 2013 (a substantial increase from estimates seen earlier in the year), and this number could reach 368,000 in 2014.
These factors combined do not paint a positive outlook for copper markets.
China's attempt to make the transition toward slower growth rates that are more sustainable suggest that the 2013 highs in copper have already been seen.
Increases in market supply and the possibility that government stimulus programs in China will fail to stop the drop in Chinese metals demand only add to this bearish outlook.
From a fundamental perspective, supply additions and elevated inventory levels create limited scenarios that could result on copper rallies in the next few months.
To be sure, the pickup in industrial growth, home sales and business spending in the U.S. and Europe should give some balance to the market and prevent an all-out collapse in the base metals space.
But these positives are likely to generate only limited upside potential. The real story here is China, and this week's developments suggest lower copper prices by the end of the year.
At the time of publication the author held no positions in any of the stocks mentioned.
This article is commentary by an independent contributor, separate from TheStreet's regular news coverage.
Richard Cox is based in China, and has lectured at several universities there on international trade and finance, focusing primarily on macroeconomics and price behavior in equity markets. His articles appear on a variety of Web sites, including MarketBulls.net, Seeking Alpha, FX Street and others. Investing strategies are based on technical and fundamental analysis of all the major asset classes (stock indices, currencies, and commodities). Trade ideas are generally based on time horizons of one to six months.