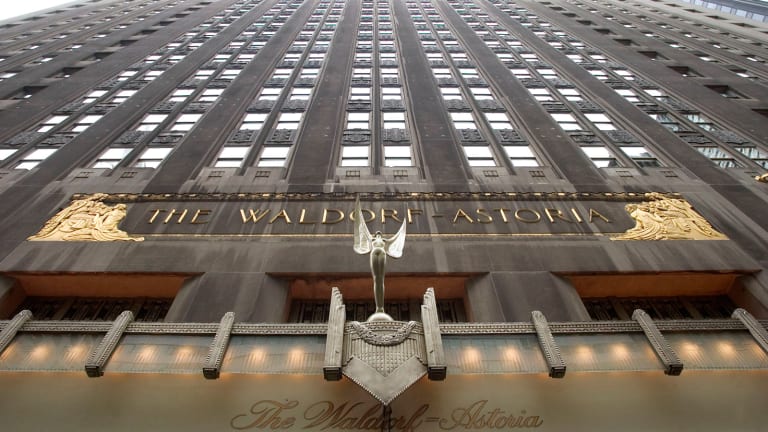 Chinese Could Spend $50 Billion on New York City Real Estate Over Next Several Years
Chinese investors are spending more money than ever on U.S. real estate. But activity could just be scratching the surface, experts say.
NEW YORK (TheStreet) -- Chinese cash injected into New York City real estate reached record levels in 2014. That could be just the beginning. 
"Over the next several years, we'll see -- potentially -- over $50 billion injected into the market from China," said Cushman & Wakefield's Chairman of New York Investment Sales Bob Knakal, who has engineered some of the splashiest sales of New York properties to Chinese buyers. 
The U.S. has long been a popular destination for foreign real estate investors, historically dominated by Russian and Middle Eastern buyers. Last year saw a wave of new buyers from China as Chinese investors gobbled up trophy assets of all sizes -- most notably Anbang Insurance's record-breaking $1.95 billion cash purchase of the Waldorf Astoria.
"Believe it or not, they've been testing the market over the past two years," said founder of luxury New York real estate developer JDS Development Michael Stern, who has worked on some of the biggest high-rises in New York, most notably the Walker Tower and Stella Tower. "They're very, very measured and calculated, in a good way."
His current project, 111 W. 57th Street, stands to be the tallest residential tower in New York with select units hitting the market for over $100 million, rates that could threaten the record for priciest New York City condo. 
While the sums are mind-blowing for the average home shopper, such lofty price tags don't scare some Chinese buyers. Another new high-rise on the same street, One57 at 157 W. 57th, recently sold an apartment to a Chinese buyer for $30 million. 
"The scale between our market and the Chinese market is vast," Stern said. "We pale in comparison from a dollar and transaction volume perspective."
Investor activity has been moving up year over year since 2012. In 2014, Chinese investments in New York real estate eclipsed $3 billion, a 43% climb from 2013.
"There's going to be an uptick. I think it's just beginning," Stern added.
They certainly have the budget. Chinese insurance groups have been given the green light to spend their $1.6 trillion of assets.
With U.S. treasury bond yields plummeting to all-time lows in 2015, trophy real estate assets have become increasingly desirable for foreign investors.
"They're looking not necessarily for the best deals, but for the best assets," said Amir Korangy, publisher of The Real Deal, a trade publication that covers the world of real estate. "If you're an entity with an unlimited amount of cash, like the Chinese insurance groups are, you can actually go buy the Waldorf Astoria at market price with a yield of 1.5%-to-2%, which is below market."
The Chinese interest in real estate echoes the ill-fated $78 billion shopping spree headed by Japanese investors between 1989 and 1995. After scooping up a series of trophy assets at sky-high prices, real estate values collapsed, forcing buyers to sell at big losses.
Korangy pointed out one key difference between then and now.
"The Japanese buyers had debt," he said. "Chinese buyers don't have debt. They're buying these places in cash. If you can afford to get into the trophy assets, that's the place you want to be in to watch your investment grow."
This initial wave of activity was sparked by an unexpected ruling by the Chinese government to encourage outbound foreign investment in 2012. That led to a series of high-profile transactions -- including a historic $54.2 million sale that marked the first time anyone outbid the Hasidic Jewish community in the Williamsburg section of Brooklyn, New York.
The buyer? Xinyuan (XIN) - Get Xinyuan Real Estate Co. Ltd. Report, a Beijing-based developer and the first Chinese real estate company to trade on the New York Stock Exchange.
In 2014, restrictions were eased further.
"Over the past few years, we've sold to buyers in 56 countries," said Cushman & Wakefield's Knakal, who engineered the Williamsburg deal. "The greatest number of those investors have come from China."
"We're seeing the institutional capital of China coming out in very significant amounts, with billions of dollars literally targeted at investments in U.S. real estate," he said.
This article is commentary by an independent contributor. At the time of publication, the author held no positions in the stocks mentioned.