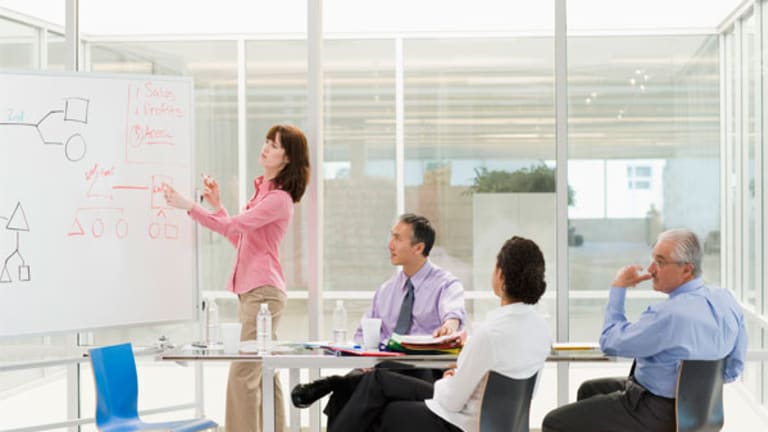 China's Shortcuts to Economic Growth: The Innovators
China's efforts to become a leading economic power are marred by a culture of cheating.
China's efforts to become a leading economic power are marred by a culture of cheating.
The following commentary comes from an independent investor or market observer as part of TheStreet's guest contributor program, which is separate from the company's news coverage.
NEW YORK (
) -- China's 2001 accession to the World Trading Organization opened up China's wares to the world.
It kicked off a growth party that was so astounding that a 2011 Gallup poll found that 52% of Americans thought China was the leading economic power. Only 32% of American's knew that the U.S. GDP in 2010 of $15.157 trillion was bigger than China's $6.42 trillion.
Maybe 52% of Americans were aware of China's 1,400% growth in its per capita income between 1990 and 2010. In the U.S., the rise was just 142%. The actual dollar gain tells a little different story. Per capita income in China rose from $312 in 1990 to $4,382 in 2010. In the U.S. it grew from $19,534 in 1990 to $47,284 in 2010.
Or maybe they were thinking about the future. China's high economic growth combined with a population of 1.3 billion virtually ensures China the future top economic spot. Or does it? Most Americans are well aware that economic growth is never a sure thing. ,
One giant growth challenge facing China was articulated by the Boston Consulting Group's recent prediction that the cost advantages of producing in China would be disappearing around 2015. That's a red flag for an economy built on exports produced with cheap labor.
Another challenge is China's inexperience with competitive commerce, as we know it. Mao's Cultural Revolution (1966-1976) purged the country of entrepreneurs and merchants, wiping out their business experts. It was only after the death of Mao that the country began rebuilding its skills in commerce within the parameters of socialism with its highly touted unique Chinese characteristics that can change without notice.
The leaders of the Chinese Communist Party (CCP) are aware of the new challenges. In the 2011-2015 plan, they are preparing the country to be a competitive powerhouse by focusing on innovation and education that will facilitate increasing incomes that can inspire domestic demand and drive economic growth.
If you look under the covers of the tightly controlled media, it looks like their unique preparations could cause a wobble hear and there -- maybe worse.
To facilitate innovation the Chinese announced a National Patent Development Strategy (NPDS). The goals are to produce 2 million patent applications annually and to be first or second in patent ownership by 2020.
With only 6 million active patents today globally, this is an ambitious task, but China's ambitions are always big. As usual they are pulling out all the stops to reach their goals. Rewards for submitting and approving patent applications, most of which are not verified for uniqueness, is working. According to China's Intellectual Property Office, in 2010 there were 1.2 million patent applications, of which 814, 825 were granted. While the patents may not be unique, this system surely is.
The NPDS has made getting a patent even easier by "encourag
ing enterprises to acquire patent rights through innovation on the basis of digesting and absorbing imported patent technology."
Many hope that China's interest in patents will encourage them to honor their commitment to respecting the intellectual property of other nations, although that last sentence from the NPDS isn't promising, nor is their record. China is the undisputed world leader in counterfeiting, especially in software and music piracy. Somewhere between 8 and 14% of China's GDP is believed to be based on goods piracy.
Ecommerce is taking off and China is again at the fore -- in piracy.
Baidu
(BIDU) - Get Report
, China's Google and Taobao, China's eBay are leading "notorious piracy markets."
Baidu, which wisely works with the CCP to administer censorship directives, is known to be a CCP favorite. Many say this relationship helped Baidu compete against Google, which felt forced to retreat from China. It has apparently also given it a license to sell illegal goods, for all intents and purposes legally. Call it quid pro quo with Chinese characteristics.
The Chinese government also knows that a skilled and scientifically educated workforce is vital to innovation and economic growth. Recent top honors by Shanghai in the Program for International Student Assessment (PISA), are impressive. A question of cheating has not come up. Maybe it won't, but there is ample evidence that cheating in schools and on standardized tests is pervasive and condoned by parents and teachers alike. From many accounts it is clear that cheating in China is big business and the Chinese may be the world's leading innovator in cheating devices and services.
It's no wonder parents condone cheating. Test scores determine where a student will attend university, which determines future employment and a parents "pension" source. The best bet for getting ahead is a job with the government (a.k.a. the CCP) where the tradition of cheating continues. Corruption is so common in China it is said to appear like a transaction tax on any service that is required from official sources.
The 72 million members of the CCP run any organization of any importance and they profit handsomely even if their organizations do not. To address this imbalance, in 2007, the CCP passed The New Company Law. Here is a sample of common actions that it made illegal: misappropriating company funds; depositing company funds into an individual account; seeking business opportunities for oneself and taking commissions.
Little has changed since enactment because adoption and enforcement by the CCP has been slow. Who cuts off the hand that feeds them? Besides, regulations in China are generally used for reference purposes.
China will soon discover that an environment for innovation encompasses more than just filing and granting patents and focusing on grades and test scores. Most important to this environment is the rule of law.
Attracting immigrants who are anxious to live in a land with superior opportunities for their talents will be another key. This will take some work. In ethnically homogenous China there is no immigration policy and the requirements for permanent residence and citizenship are not immigrant friendly. It's just as well. Inventive foreigners might question China's unique ways and earn a trip to a labor camp to be re-educated.
Last week, a senior member of the CCP, Li Zhongjie said that "most countries in the world are extremely envious" of the outcomes of CCP management, ensuring its longevity. I quickly checked his title to see if he was from the CCP's Central Propaganda Department. He's not. He's in charge of historical research. He also holds 49 patents in a range of areas from optics to pharmaceuticals to heavy equipment.
Institutionalized democracy, capitalism and the rule of law are at the core of nations that have enjoyed sustained economic growth. Can the CCP, with its constitutional commitment to socialism with unique but changing Chinese characteristics, muddle through a culture of cheating to become overnight the next economic superpower? Or is it time to think about a long short on China?
Readers Also Like:
Top Stocks to Buy and Hold Through 2011