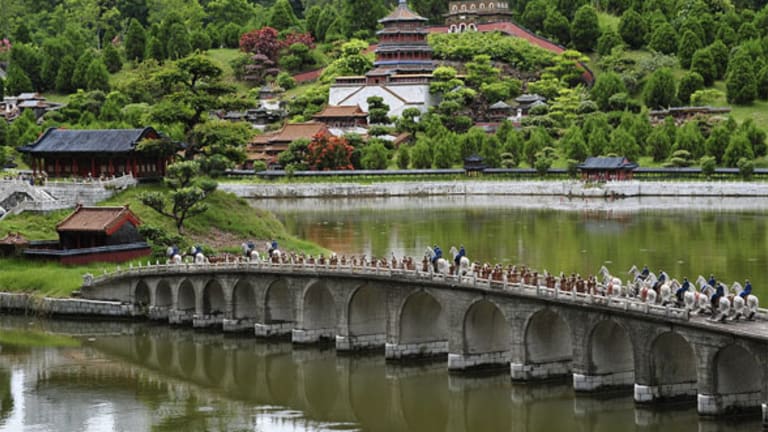 China's Stock Market Is About to Crash -- Sell Before It's Too Late
Comprehensive technical analysis shows that right now is the best opportunity to sell Chinese stocks since December.
Editors' pick: Originally published March 22.
Chinese stocks are poised to collapse, comprehensive technical analysis reveals. 
For the Shanghai Composite index, risk has returned to the highest level since at least December, when the index finished a four-month corrective rise to 3650 that saw it gain about 25% from the August low. That rise is labeled as wave (B) in this daily bar chart, and it took the index right into the pink selling oval that was forecast at the August green-circle low.
Click here to see the following chart in a new window
Note how the up/down/up rise off the recent January low appears as a smaller version of the pattern from August to December. This corrective form is about to lead to new lows in the Shanghai Composite, with an initial target of 2000 +/-250, and even more bearish potential to eventual support near 1250 +/-100.
This lower zone has been forecast by the decision support engine since last summer, when we warned that the rise in Chinese stocks was about to end. In that analysis, on July 6, we looked at the iShares FTSE/Xinhua China 25 Index (FXI) , which tracks shares of the largest Chinese companies, and warned investors to exit all Chinese stocks before they made an eventual test or break of the 2008 lows.
The iShares FTSE/Xinhua China 25 Index closed July 6 at $43.84. By the time it hit its February low close of $28.44, it had lost 35%. It is likely to lose much more value from recent levels of more than $33. It's likely to target the $14 +/-$2 zone, which would end the entire corrective pattern from the 2007 peak. This would coincide with a reading of 1250 +/-100 on the Shanghai Composite.
All of this means it's time for investors to exit all long exposure to China, especially any positions using leverage or margin, as the daily stochastics have just crossed down, triggering a new sell signal. Another indicator of imminent decline is the present struggle at the upper Bollinger Band (purple dashed line at 3000).
As mentioned above, the 2000 area is where initial target support awaits, but depending on the decision support engine's analysis at that time, buying might not be indicated at that round-number psychological level.
So, don't lock your sights on any exact price. Rather, stay tuned for further updates in these pages, or by joining us in our live-market Trading Room, where we keep members up to date on all markets in real time. 
This second chart is the monthly bar duration of the chart above, showing a similar picture as the iShares FTSE/Xinhua China 25 Index chart in the July article.  
Click here to see the following chart in a new window
The huge crash into the 2008 low has been followed by only an up/down/up rise. The decline since last spring is only part, but not all, of the final wave of selling, as the crowd of Chinese speculators get wiped from what they believed to be easy money markets. Do yourself the same favor you could have done at the decision support engine's July warning: Exit all Chinese stocks now. 
Interested in this kind of market analysis? Sign up today for a FREE 7-day trial of our Decision Support Engine Premium Service at no obligation. Inquire about special pricing for TheStreet.com readers after your complimentary trial.
This article is commentary by an independent contributor. At the time of publication, the author held no positions in the stocks mentioned.