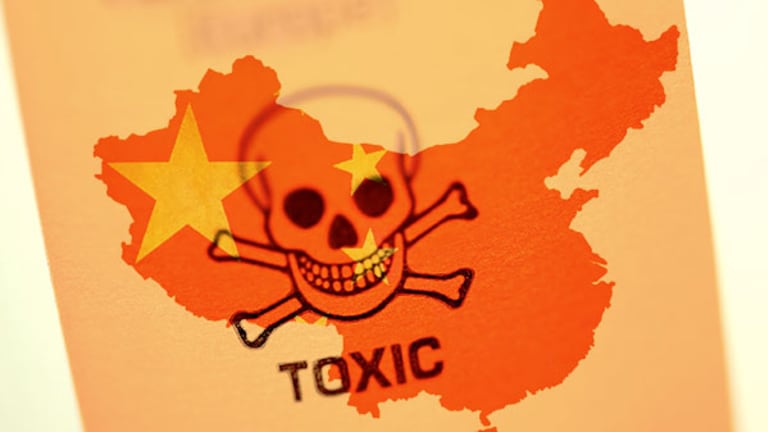 China's $5 Trillion in Toxic Bank Debt Is About to Collapse -- Here's How to Profit
The bad news for the world's second-largest economy just won't quit. As China's troubled financial services sector teeters on collapse, here's the best way to pocket gains.
China's financial services sector is a bubble in search of a pin. Toxic assets on the balance sheets of global banks have been a plague since the financial meltdown of 2008, but in recent months the specter of bad loans has been casting a darkening shadow over not just China's troubled economy but also the entire world.
The debt bubble in China is one of the biggest threats facing global stability today. According to some estimates, China's troubled credit could exceed $5 trillion, a mind-boggling sum that's roughly 50% of the country's annual gross domestic product. It puts China's bank stocks firmly onto a list of the most dangerous equities in the world.
China incurred this mountain of debt by lavishly spending on infrastructure projects (many of dubious value) to stimulate the flagging economy, as well as by propping up scores of state-subsidized "zombie" corporations deemed too big to fail.
The country's banks also lent generously to emerging markets that are now slowing, putting those loans at serious risk. Exacerbating the crisis is the country's persistent lack of accounting transparency, which at best can amount to "creative accounting" and at worst constitute outright fraud.
Adding pressure to China's overextended banking sector is the country's devaluing currency, declining stock markets and flagging GDP. A "perfect storm" is brewing for a banking collapse in the Middle Kingdom.
As an opportunistic investor, how can you profit from the mess that is China's banking sector? By selling short the Global X China Financials ETF (CHIX) - Get Global X MSCI China Financials ETF Report . With net assets of $42.04 million, this exchange-traded fund is a proxy for China's financial sector (see chart below).
Data courtesy of Yahoo! Finance
The Global X China Financials ETFfocuses most of its portfolio on financial services stocks, such as China Construction Bank (CICHF) , Industrial and Commercial Bank of China (IDCBF) , Bank of China (BACHF)   and Agricultural Bank of China (ACGBF) . These huge financial entities will face serious headwinds if, as is expected, China's banking sector stumbles this year.
The Global X China Financials ETF is down 19% year to date and 29% over the past year. The expense ratio is 0.65%.
As you contemplate China's worsening woes this year, remember this time-proven investment rule: Bull markets don't die of old age; they die of excess.
As we've explained, China's banking bubble is probably about to burst. In a similar vein, if you want to see a list of the absolute worst stocks you can own right now, I urge you to take a look at this report called 29 Dangerous Stocks: Sell Now! Inside, you'll see a full list of the market's most overvalued stocks, and learn the process you can use to keep avoiding them in the future. Click here now for a copy. If you own any of these stocks, dump them now, or get left holding the bag.
John Persinos is editorial manager and investment analyst at Investing Daily. At the time of publication, the author held no positions in the stocks mentioned.