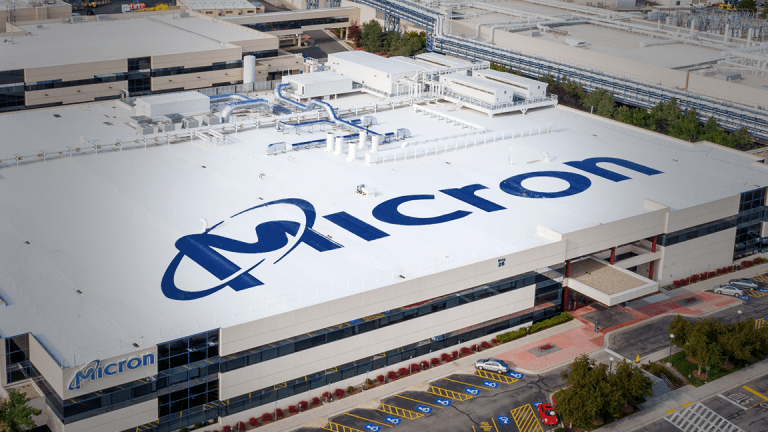 What China's Move to Ban Micron's Chips Means for the Chipmaker
Though the ban placed by a Chinese court on Micron's local memory sales might not last, Beijing's memory ambitions are a long-term threat.
It's unlikely that the memory chip sale ban just imposed by a Chinese court will do sustained damage to Micron's (MU) - Get Micron Technology Inc. Report memory sales within China.
Indeed, it doesn't look as if the ban will do major short-term damage either, given that Micron stated on Thursday morning the products account for just slightly over 1% of its annualized revenue.
Nonetheless, the current political environment could prevent a quick resolution of the underlying dispute that caused the ban. And the battle acts as a fresh reminder of the long-term threat posed to Micron, as well as South Korea's Samsung and SK Hynix, by China's memory ambitions.
This column has been updated from July 3rd to mention Micron's official response to the Chinese court's ruling.
Micron shares fell 5.5% on Tuesday after a court in the Chinese city of Fuzhou slapped a preliminary injunction on the company's sale of 26 DRAM and NAND flash memory products within China. The products were deemed to be infringing patents held by Taiwanese chip contract manufacturer (foundry) United Microelectronics (UMC) - Get United Microelectronics Corporation (NEW) Report . In a suit filed in January, UMC and Chinese chipmaker Fujian Jinhua (JHICC) had accused Micron on infringing IP it declared to be relevant to DDR4 DRAM, graphics DRAM and solid-state drives (SSD).
Shares are up about 1.5% in early trading on Thursday after Micron responded to the injunction by noting the affected products only account for a small fraction of its sales. The company also claims the Fuzhou court issued its ruling before giving Micron a chance to present its defense, and that UMC and JHICC "rely on distorted interpretations of [their] patents and improper evidence to support their false allegations that Micron infringes [their] patents." It promises to comply with the ruling "while requesting the Fuzhou Court to reconsider or stay its decision."
UMC's suit, it should be noted, came a month after Micron sued UMC and JHICC in a Northern California federal court over alleged trade secret theft and RICO violations. As detailed in a recent New York Times report, Micron alleges UMC and JHICC stole memory chip designs with the help of Taiwanese Micron engineers that UMC had poached. The case is still pending.
The UMC dispute isn't the only fight Micron has on its hands in China. In early June, Chinese regulators paid visits to Micron, Samsung and Hynix's local offices as part of a price-fixing probe.
The injunction imposed by the Fuzhou court represents a temporary ban rather than a permanent one. And given both the DRAM industry's current supply-demand balance and Micron's estimated 20%-plus market share, Chinese manufacturers relying on Micron's DRAM simply can't afford to see a major disruption to their DRAM supplies. Moreover, if Micron's DRAM sales to China were disrupted for any significant amount of time and Samsung/Hynix had to try and fill the void, the industry's supply situation could allow Micron to offset some of the impact by upping its shipments to other markets.
In addition, judging by what Micron has shared in its court filing against UMC and JHICC, as well as what was shared in the NYT's report, Micron's odds for a favorable ruling for its California suit look pretty good. Such a ruling could motivate UMC, which like other foundries depends heavily on sales to fabless U.S. chip developers, to seek a settlement.
On the other hand, as the Trump Administration imposes tariffs on a number of Chinese goods (including some semiconductors), and as China responds with tariffs of its own, Beijing might feel little motivation to make life easy for Micron until trade tensions ease. Just ask Qualcomm (QCOM) - Get QUALCOMM Incorporated Report , whose $44 billion deal to buy NXP Semiconductors (NXPI) - Get NXP Semiconductors N.V. Report remains stalled by Chinese antitrust regulators.
And from a long-term perspective, it's hard not to wonder if China will try to use the Micron-UMC dispute and/or the price-fixing probe to further its goal of building up a giant local memory industry. One that could eventually upend the favorable DRAM supply/demand and pricing environment that Micron, Samsung and Hynix hope to maintain.
JHICC and fellow Chinese chipmaker Innotron plan to start DRAM volume production in late 2018 and early 2019, respectively. Both firms' initial DRAM volumes will be relatively limited, and each still has a lot of catching up to do relative to Micron, Samsung and Hynix from a technology standpoint. However, both have big long-term ambitions, and it wouldn't be shocking to see Beijing try to help make those ambitions a reality by pushing Micron and its Korean rivals for technology transfers in return for ending their local legal problems.
Even with a healthy dose of Chinese uncertainty, Micron's stock looks too cheap at a current valuation of about 5 times expected fiscal 2019 (ends in August 2019) EPS, assuming the DRAM industry's big-3 do nothing foolish with regards to supply growth. But the injunction just won by UMC, and the selloff in Micron's stock that followed, does serve as fresh proof that Micron investors need to pay close heed to potential Chinese risks.