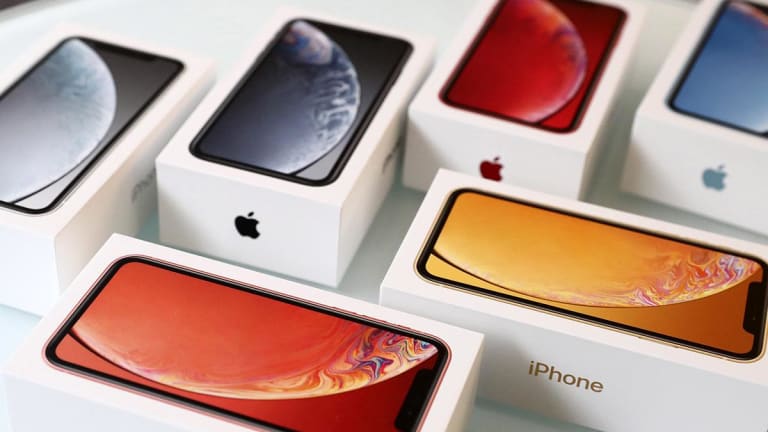 China's Ban on Apple's Older iPhones Is Deeply Ironic -- and Unsettling
The ban, which is related to Apple's alleged infringement of two Qualcomm software patents, only affects a small percentage of Apple's global revenue. But its timing speaks volumes.
China just imposed preliminary injunctions on the sale of older iPhones, and if the move turns out to be politically motivated, there would be multiple layers of irony to it.
First, Beijing would be seeking to hurt one U.S. company, Apple (AAPL) - Get Report , by granting the wish of another U.S. company, Qualcomm (QCOM) - Get Report . Second, Qualcomm happens to be a company that was hurt earlier this year by an adverse decision by Chinese regulators -- namely, their unwillingness to approve Qualcomm's $44 billion deal to buy NXP Semiconductors (NXPI) - Get Report , which led Qualcomm to abandon the deal and pay NXP a $2 billion termination fee.
And to top it all off, in addition to being in a patent-licensing dispute with Apple, Qualcomm is also currently in a patent dispute with Huawei, the Chinese tech giant whose CFO was recently arrested in Canada over the alleged violation of U.S. trade sanctions against Iran.
Irony aside, the injunctions, which were imposed by a court in the Chinese city of Fuzhou over the alleged infringement of two Qualcomm software patents, serve as a fresh sign of how unpredictable U.S. and China's actions towards each other have become as trade tensions continue simmering. If Chinese authorities are willing to sign off on a legal ruling that could hurt the local sales of Apple -- a company that (with the help of its contract manufacturers) is responsible for hundreds of thousands of  jobs in China -- just about any U.S. multinational could be fair game. And equity markets, needless to say, hate that kind of uncertainty.
Nonetheless, Apple's stock edged up slightly Monday, after opening lower on news of the Chinese injunctions. Apple closed up .66% at $169.60. Qualcomm, meanwhile, closed up 2.2% to close at $57.24.
Aside from the fact that its stock has already been beaten up a lot over the last two months on concerns about sales for the latest iPhones, there are a couple of reasons why Apple is brushing off the injunction news. Namely:
The injunctions don't cover the iPhone XS and XR. Of the various older iPhones it does cover, only the iPhone 7/7 Plus and 8/8Plus are still being sold.
Apple says that all iPhone models currently remain available in China. The company has also, unsurprisingly, filed an appeal against the Fuzhou court's ruling.
It's also worth noting that Apple claims the patents it has been ruled to infringe -- one covers the managing of apps on a touchscreen UI, and the other is related to photo-editing -- are only relevant to devices running iOS 11, and that all iPhones sold today ship with iOS 12 installed.
Qualcomm, however, states the injunction covers older iPhones regardless of what OS they run. The company also insists the bans on older iPhones are in place immediately, and that Apple is violating them if it continues to sell the iPhones in question within China.
Apple is a holding in Jim Cramer's Action Alerts PLUS member club. Want to be alerted before Jim Cramer buys or sells AAPL? Learn more now.
Bernstein's Stacy Rasgon estimates that 20% to 30% of Apple's Chinese iPhone sales involve the products covered by the injunctions. This, he adds, suggests the ban impacts 3% to 4% of Apple's global revenue at most.
However, the injunction does come less than a week after iPhone chip supplier Broadcom  (AVGO) - Get Report indicated stronger-than-expected demand for "legacy generation" iPhones gave a lift to its October quarter sales, and about three weeks after The Wall Street Journal reported Apple has resumed producing the iPhone X, which is covered by the injunctions.
Also, since Qualcomm sued Apple in Fuzhou before the iPhone XS and XR were launched, it's possible that the company will eventually seek a Chinese ban on those devices as well. And looking at the iPhone bans from the perspective of Apple's services revenue streams, it can't be ignored that a disproportionate share of Apple's iPhone installed base growth in emerging markets is believed to come from sales of older iPhones.
Certainly, if the Fuzhou court's injunctions are enforced, it gives Qualcomm some leverage in its patent battle with Apple, which covers numerous fights with Apple and its contract manufacturers across the U.S., Europe and Asia. In late November, Qualcomm CEO Steve Mollenkopf said on an airing of Jim Cramer's Mad Money that Qualcomm and Apple are "on the doorstep" of a resolution. Not long afterwards, President Cristiano Amon predicted 2019 will yield "events that will drive resolution one way or another."
Qualcomm's trade secret theft lawsuit against Apple, in which the company alleges Apple "engaged in a years-long campaign of false promises, stealth and subterfuge" to obtain the company's IP and trade secrets to allow it to stop using Qualcomm's modems in favor of Intel's (INTC) - Get Report , could also give it some leverage.
On the other hand, a recent ruling in Qualcomm's battle with the FTC -- it calls on Qualcomm to license its standards-essential mobile patents to rival modem suppliers -- could motivate Apple to keep fighting. So might the fact that, in contrast to the Fuzhou court, an ITC administrative law judge declined in September to call for a U.S. import ban on iPhones ruled to be infringing a Qualcomm patent.
From Apple's perspective, the larger concern with the Fuzhou ruling is what it possibly signals about Beijing's stance towards the company going forward following the arrest of Huawei's CFO. If local authorities are willing to enforce a sales ban that covers more than a fifth of Apple's Chinese iPhone sales, after a U.S. judge declined to call for a similar ban, it's impossible to predict exactly where things go from here.