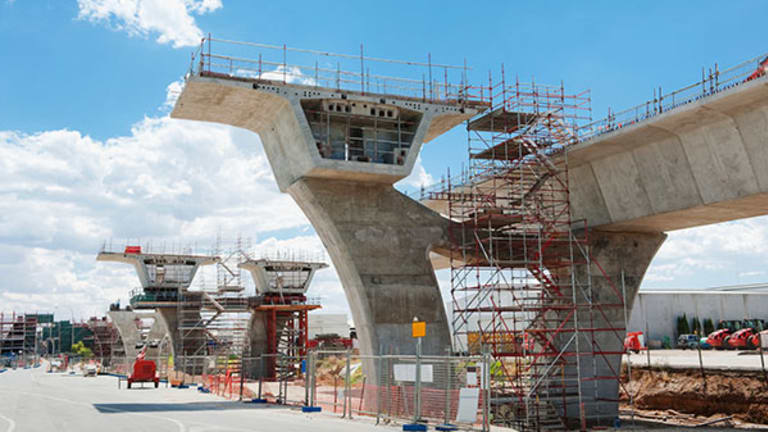 Chicago Bridge & Iron Building on Growth Foundation With More Deals
The multinational engineering and construction company is favored by the current business environment.
NEW YORK (TheStreet) -- After spectacular performance in 2013, including triple-digit growth in revenue, Chicago Bridge & IronCompany (CBI) recently announced new contracts worth more than $6 billion.
Building on its strong foundation, the company is also in a good position for growth thanks to its massive $27 billion backlog and a favorable business environment. Its shares, currently trading around $83, have risen by 42% in the last 12 months, easily outperforming its peers in the broader Engineering and Construction industry ETF (FLM) - Get First Trust Global Engineering and Construction ETF Report, which has risen by 19% in the same period.
The company's performance las year included record revenue that more than doubled to $11.09 billion from $5.48 billion in the prior year. Meanwhile, CB&I's net income increased to $454 million in 2013 from $301 million in 2012.
Read: New ETF Lets You Collect Highway Tolls
CB&I earnings have risen from $1.79 per share in 2009 to $4.23 per share in the previous fiscal year. Analysts think CB&I's earnings could grow to $5.96 per share in 2015.
Although the company reported a drop in gross profit margin in its previous quarter -- from 12.9% in 2012 to 11.3% in 2013 -- the company's margins have improved by 70 basis points sequentially. Moreover, CB&I is far more profitable than its peers Fluor Corporation (FLR) - Get Fluor Corporation Report and KBR (KBR) - Get KBR, Inc. Report, which reported gross margins of 5.34% and 4.87%, respectively.
CB&I's backlog has risen by a massive 154% $27.8 billion by the end of 2013 after it received new contracts worth $12.3 billion. Some of the new projects include the Freeport LNG plant, construction on ethylene plant for Occidental Petroleum (OXY) - Get Occidental Petroleum Corporation Report and a nuclear power generation project in China.
The huge increase in CB&I's backlog is in stark contrast to its competitors Fluor and KBR. By the end of 2013, Fluor's backlog shrunk 3.5% from the prior year to $14.4 billion while the size of KBR's backlog fell by 8.6% to $34.9 billion.
In short, this was the best year for the CB&I in its 125 years of operations.
Read: Ukraine's Economy Caught Between East and West
On March 18, CB&I announced two new contracts, worth more than $725 million, with the oil pipeline companyEnterprise Product Partners (EPD) - Get Enterprise Products Partners L.P. Report and with the construction companyBechtel. The contract with Enterprise is worth more than $100 million and involves fabrication of a new propane dehydrogenation unit in Mont Belvieu, Texas. The contract with Bechtel, valued at $625 million, is related to the Wheatstone Project in Western Australia operated by Chevron (CVX) - Get Chevron Corporation Report.
These contracts came just a day after a massive $6 billion deal in which CB&I, working with Japanese engineering giant Chiyoda Corp. (CHYCY) , will construct Cameron LNG's Cameron Liquefaction Project in Hackberry, Louisiana. This deal will significantly enhance the company's footprint at the Gulf Coast.

The LNG projects are being developed around the world to fulfill the ever increasing demand from Asia Pacific nations including Malaysia and Indonesia, as well as Australia.
In the U.S., the shale gas boom has created an excess supply of LNG, which has dragged down prices. As a result, the exploration and production companies turned towards international markets where LNG commands a higher price. This led to an increase in demand for construction of LNG export facilities, which bodes well for CB&I.
Read: Here's My ETF Strategy to Minimize Market Turmoil
Meanwhile, the Obama administration has been busy giving approvals to LNG export projects. A new LNG export project byVeresen (VSN) has recently received the green light from the U.S. government. The leading U.S. oil majors, including Exxon Mobil (XOM) - Get Exxon Mobil Corporation Report and Chevron, are also tapping into this demand by investing in these projects.
CB&I is bidding for several major projects that could be awarded through 2015. These include the $10 billion Golden Pass LNG project by Exxon Mobil and Qatar Petroleum, the $15 billion Mozambique LNG project by AnadarkoPetroleum (APC) - Get Anadarko Petroleum Corporation Report and the $15 billion Russian Far East LNG project by Exxon Mobil and Rosneft.
At the time of publication, the author held no positions in any of the stocks mentioned.
This article represents the opinion of a contributor and not necessarily that of TheStreet or its editorial staff.