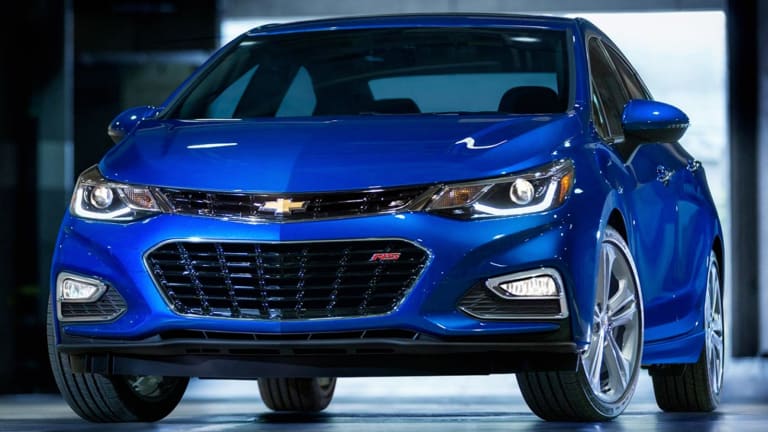 Chevy's New Cruze Could Bolster Profit and GM CEO's Standing
The profit improvement for the Chevy Cruze will interest General Motors investors. GM CEO Mary Barra is eager to show her company's offerings are varied and appealing to consumers.
The profit improvement for the Chevy Cruze will interest General Motors investors. GM CEO Mary Barra is eager to show her company's offerings are varied and appealing to consumers.
NEW YORK (TheStreet) -- When General Motors' (GM) - Get Report next-gen 2016 Chevrolet Cruze compact family sedan reaches dealer showrooms early next year, it will offer Apple (AAPL) - Get Report CarPlay and Google (GOOG) - Get Report Android Auto dashboard mirroring formats for smartphones.
In a briefing in Detroit last week, GM also announced 40-mile-per-gallon efficiency from Cruze's most fuel-thrifty engine, more interior space, advanced safety features like frontal crash alert and cutting edge infotainment features that could justify higher prices and generate up to $2,000 more operating profit per Cruze.
The profit improvement for Cruze will interest investors the most, as Mary Barra, GM's CEO, pushes toward the goal laid out last fall to achieve a 10% profit margin in North America on an earnings before interest and tax-adjusted basis in 2016.
In the first quarter of 2015, GM's adjusted profit margin for North America was 8.8% -- reflecting a record adjusted profit for the period.
Six years after GM's bankruptcy and reorganization by the U.S. Treasury, the automaker's shares remain stuck at roughly the price of their initial public offering in 2010. Barra has rejected discussing a potential alliance or merger with Fiat Chrysler Automobiles (FCAU) - Get Report, which adds to the pressure to notch investment results by going it alone.
GM's profitability rests disproportionately on full-size pickups like the Chevrolet Silverado and variants such as Chevrolet Tahoe. A "win" in financial terms for the 2016 Cruze against competitors such as Honda's  (HMC) - Get Report Civic and Toyota's  (TM) - Get Report Corolla could reinforce her argument that GM's vehicle portfolio is becoming more balanced and sustainable than the one that collapsed in the last recession.
Barra also highlighted GM's development of a battery-powered subcompact Chevrolet Bolt "for the masses, not just for the elite," a barelyconcealed dig atTesla (TSLA) - Get Report. Tesla's least expensive battery-powered car sells for about $75,000. Bolt is scheduled to enter production by 2017, about the same time as a $35,000 Tesla battery-powered car will be introduced.
In GM's annual sustainability report, released in May, the automaker said it believes "the future is electric, with billions [of dollars] of investment to support an all-in-house approach to the development and manufacturing of electrified vehicles." For now, battery technology represents a massive cost, producing what analysts estimate are steep losses on models like Chevrolet's Volt, a gas-electric hybrid that GM labels "an extended-range electric."
Given moderate gasoline prices and broad consumer indifference to EVs, GM has acknowledged that it won't reach its goal of 500,000 electric vehicles on the road by 2017. Toyota, which is unenthusiastic about EVs, has turned to hydrogen fuel cells as a technology that can meet with clean-air regulations.
Governments nevertheless are raising pressure to reduce emissions from cars and other sources. GM and other carmakers thus must tackle tougher technical hurdles to create vehicles that satisfy consumers, are affordable and can comply with regulations. The auto industry is quietly campaigning in the U.S. for regulatory relief.
But for now, the immediate imperative for GM is to create cars like the 2016 Cruze and its larger cousin, the Chevrolet Malibu, to satisfy consumers in a way that will attract them away from the Corollas, Accords and Hyundai (HYMLF) Sonatas that have dominated the family sedan market.
This article is commentary by an independent contributor. At the time of publication, the author held no position in the stocks mentioned.