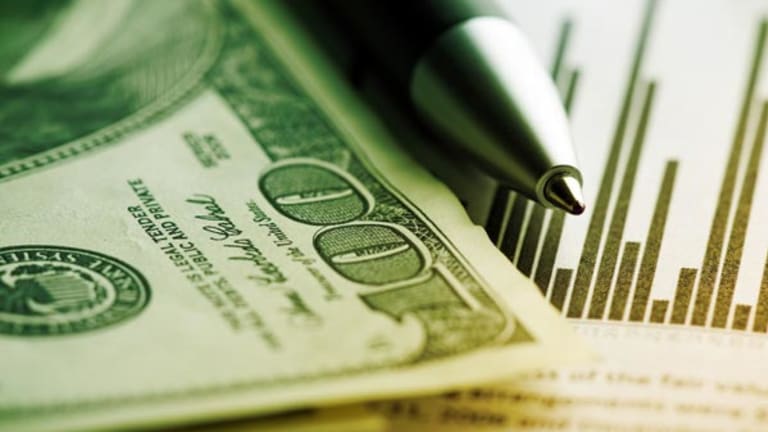 Publish date:
Chesapeake Energy: When Does the Stock Become a Buy?
Chesapeake Energy shares have to be a buy at some point, right?
Chesapeake Energy shares have to be a buy at some point, right?
NEW YORK (
) -- I'm not the biggest fan of crowd-sourcing as a means of reaching stock investing decisions, but I do think in the case of controversial U.S. oil and gas company
Chesapeake Energy
(CHK) - Get Report
, it's worth putting the simply question to investors:
Does this stock deserve a look after its recent slide?
Shares of Chesapeake are down 20% year-to-date, trading at a share price the company hasn't visited since the financial crisis.
Sub-$2 natural gas is part of the story, but the company's balance sheet issues and the lightning rod represented by CEO Aubrey McClendon have also helped to push - and keep - shares in the penalty box.
The most categorical way to answer this question in the negative -- while still finding a basis for investment -- is to argue, as
RealMoney
columnist Dan Dicker did this week, that there are plenty of other natural gas stocks beaten down to bottom out share values because of the sub-$2 natural gas pricing environment that don't have the
baggage of Chesapeake .
For example, do you trust McClendon to right the ship at Chesapeake or would you prefer to bank on distressed investing specialist Wilbur Ross to generate value for shareholders of
Exco Resources
(XCO)
? If you are a big believer in the
natural gas renaissance long-term and are a patient investor, why not place a wager on
Ultra Petroleum
?
In the past, McClendon has at least made Chesapeake into a great stock for trading on M&A headlines. But that
old magic trick hasn't worked out so well of late.
In fact, on the same day that
Reuters
recently reported on the personal loans that McClendon has tied to holdings in Chesapeake wells, McClendon was telling an industry conference that the company's big sale of its Permian assets should be completed in the third quarter, but that headline was buried by the negativity surrounding the stock.
The company says the board and its shareholders have long approved the program through which McClendon invests in Chesapeake wells -- wells he has tied personal loans to -- and that the personal loans are no business for the company or board to review.
Frankly, it's no surprise that a board that many think is in the back pocket of the CEO would approve this plan year in, year out.
But the company's rationale can't explain away a very basic conflict: If the CEO's personal loans are tied to company wells, how can any shareholder ever be sure a decision to sell company properties won't be conflicted by the CEO's personal finances?
JPMorgan came out with a $14.50 price target on Chesapeake Energy earlier this year, citing the funding gap that the company faces -- though it's $10 billion to $12 billion in planned asset sales are intended to put those concerns to rest. Chesapeake is getting ever closer to that price target.
Last week, an analyst at Citigroup who
personally owns Chesapeake shares lowered his rating from a buy to a hold. Sterne Agee analyst Tim Rezvan also went to a hold after the revelations about the CEO's personal loans, arguing that management reputation will continue to weigh on shares.
What moves Chesapeake shares in the other direction? If M&A headlines can't do it, does a Chesapeake rally rest on a rebound in natural gas prices? McClendon said last week that unusually warm winters are typically followed by unusually hot summers, his point being that air conditioners will be running 24/7 this summer and the electricity use will push natural gas prices higher.
Betting on the weather, though, doesn't seem like a good way to go: In fact, it seems somewhat desperate.
With some now calling for the ouster of McClendon, if not
the entire Chesapeake board as well, such an action would likely be a major catalyst for the shares. But it seems unlikely that could happen any time soon.
Even though Chesapeake is a company complicated by a web of joint ventures and financing arrangements that make it difficult to view as a true takeout candidate for an oil major, it does have a great collection of oil and gas assets.
As an oil and gas old hand in Louisiana recently said to me discussing the local view of Chesapeake, "It's the Peach Queen as far as the Exxons of the world are concerned." Maybe so, but it seems unlikely that an
Exxon Mobil
(XOM) - Get Report
would move on an acquisition of Chesapeake anytime soon. Why wouldn't Exxon Mobil bide its time and wait until the company
has
to sell?
Even Phil Weiss, Argus Research analyst and long-time critic of Chesapeake Energy and McClendon specifically, believes at some point the question of a "bottoming out" in Chesapeake shares will become relevant.
Indeed, all the attention stemming from the recent loan controversy raises the straightforward question,
At what share price does a company with a great collection of oil and gas assets reach a bottom-out buy level?
-- Written by Eric Rosenbaum from New York.
>To contact the writer of this article, click here:
Eric Rosenbaum
.
>To follow the writer on Twitter, go to
.
Follow
TheStreet
on
and become a fan on