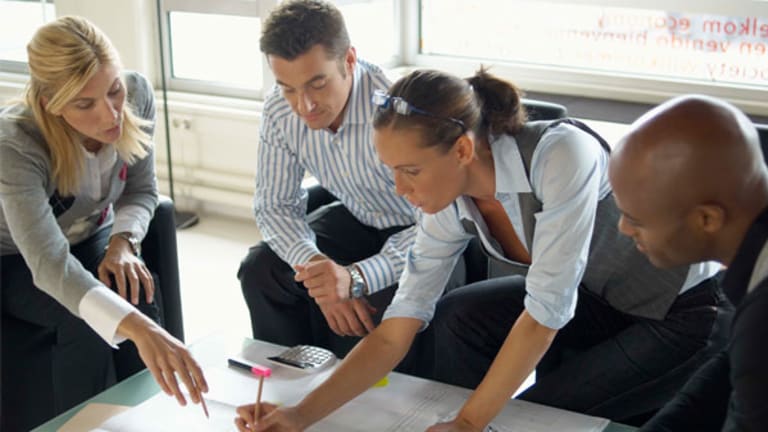 Publish date:
Chesapeake Energy Takes Its Head Out of the Sand
Chesapeake Energy's latest attempt to fend off criticism isn't a reason to buy the company's stock.
Chesapeake Energy's latest attempt to fend off criticism isn't a reason to buy the company's stock.
NEW YORK (
) --
Chesapeake Energy's
(CHK) - Get Report
board of directors has finally taken its head out of the sand.
The basis for the board's decision to not renew CEO Aubrey McClendon's controversial ownership interest in company wells (once its first ten-year term ends in 2015) and set to work now on negotiating an early termination can best be described this way. It's one part the directors trying to cover their butts, one part Chesapeake acknowledging (at least for a day) just how tone deaf it has been when it comes to criticism, and one part hope that the continued descent in its shares can be reversed and shareholder confidence restored.
It's not a coincidence that the company released the announcement on the same day that press reports indicated the
Securities and Exchange Commission
has launched an informal investigation into Chesapeake's Founder Well Participation Program. It was also no coincidence that Chesapeake stressed in its press release today that the board had not reviewed McClendon's personal loans, a statement that the board seemingly included to counter what the company's general counsel said in a press release last week.
The release also raised as many questions as it sought to answer on the board's behalf. The language was tortured, in the opinion of Argus Research analyst Phil Weiss, a long time critic of Chesapeake's management. Chesapeake wrote in the release, "The statement that 'the Board of Directors is fully aware of the existence of Mr. McClendon's financing transactions' was intended to convey the fact that the Board of Directors is generally aware that Mr. McClendon used interests acquired through his participation in the FWPP as security in personal financing transactions."
"Fully and generally are not the same things. I don't think this is the end of the issue," Weiss said.
A Chesapeake shareholder could still ask today, after the board finally got the message, "Why did the board approve this well participation plan in the first place?"
Same board, same CEO, and the
same problems for Chesapeake -- problems more fundamental than the controversial compensation program for the CEO -- still exist.
The company is still levered to the hilt - two times the size of Exxon Mobil's debt at a size 27 times smaller than Exxon. Natural gas prices are still at
a decade low, and Chesapeake removed all of its hedges headed into 2013, leaving its cash flow exposed to the depressed spot market.
Chesapeake's balance sheet and ability to fund its far flung asset development is still in question. Its ability to monetize assets as a way to stay ahead of its funding gap and pay down debt is as complicated as the volumetric production payments and preferred share offerings in which it has tied up much of its assets.
Chesapeake has legitimate catalysts for its shares, from a deal to sell its Permian basin assets and joint venture its Mississippian Lime shale, to an eventual IPO of its oil services business, but recently, McClendon has not been able to work his usual
headline-rally magic by talking up the company's ability to monetize assets. It was a fitting irony that on the same day last week that McClendon said at a conference a deal for the Permian assets should be completed in the third quarter,
Reuters
published its investigative piece on the links between the well investment program and the CEO's personal loans.
In addition, it's hoping to IPO the oil services company at a time when oil services is going through a pricing and margin downturn. And did we mention it's still the same CEO and same board running the shop?
Just because the Chesapeake board took its head out of the sand and removed the ear plugs doesn't mean all that much has changed for the stock.
Meanwhile, some independent exploration and production stocks tied to the natural gas story are rallying on Thursday as earnings season begins.
Cabot Oil & Gas
(COG) - Get Report
is up by close to 7%.
Exco Resources
(XCO)
, one of the most beaten up natural gas stocks is up by 6% on Thursday.
Range Resources
(RRC) - Get Report
was up close to 5%.
If there's a call to make on Thursday it's that maybe a bottom in natural gas stocks is near and earnings season could serve as a means to get more constructive on what's been a frustrating sector. I would hesitate to call an all-clear on natural gas stocks - after all, stocks could be rallying on nothing more than a temporary rise in spot pricing of natural gas, and natural gas is likely headed even lower this summer, and that will in the least put a lid on any rally in stocks that trade based on the strip price - but it's at least worth nothing that Chesapeake is not among the natural gas stocks moving up on Thursday, a move that even included near-bankruptcy priced Exco Resources.
There's a good reason why Chesapeake Energy shares were moving down after the board decision, in contrast to other natural gas stocks on Thursday: It was the bare minimum acknowledgment of how bad the situation is and how far the board has
let the situation go before stepping in.
It's not the first time that Chesapeake has conceded a battle, either: a year ago, Chesapeake agreed to hire an independent compensation consultant to review McClendon's compensation package as the clock ticked closer to an annual meeting where shareholders were expected to make a major issue of the CEO's pay package. Indeed, the more things change at Chesapeake, the more they stay the same.
As the situation stands now, good luck calling a bottom.
-- Written by Eric Rosenbaum from New York.
>To contact the writer of this article, click here:
Eric Rosenbaum
.
>To follow the writer on Twitter, go to
.
Follow
TheStreet
on
and become a fan on