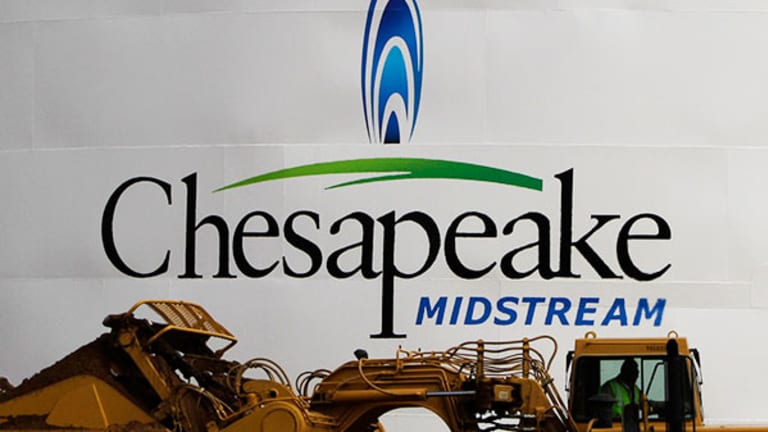 Publish date:
Chesapeake Energy Still Working to Overcome Doubts
Even with only moderate improvements in U.S. natural gas prices, Chesapeake Energy shares should reach $30 by the first quarter of 2014.
Even with only moderate improvements in U.S. natural gas prices, Chesapeake Energy shares should reach $30 by the first quarter of 2014.
NEW YORK (TheStreet) - Since reaching a low of $19.32 in June, shares of Chesapeake Energy (CHK) - Get Report have been on fire, soaring over 30% and outpacing rivals including Anadarko (APC) - Get Report and Apache (APA) - Get Report, two energy giants that have been perceived as better-managed natural gas producers.
While Chesapeake seems like a different company today, helped (in part) by the arrival of a new CEO, Chesapeake is still working to shed its former image of a "high-risk gambler." But as cavalier as the company might have been perceived to be with past capital spending, Chesapeake has won way more than it has lost. Like it or not, this is a fact the Street needs to accept.
It's true that the company is no longer wielding its large checkbook trying to outbid rivals for natural gas. But the company is still capable of producing decent returns, given that management's capital allocation and divestment goals are ahead of schedule. So, despite Chesapeake's strong gains over the past four months, I still believe these shares present strong long-term value on the basis of improved profitability.
[Read: The Future of the ETF Industry and Why It Matters to You]
The natural gas industry is still marred by weak prices and limited reserves, so not much was expected from Chesapeake in the third quarter. Although revenue growth is one of the key performance indicators for most sectors, that's not the case for energy and gas. Important to consider before discussing Chesapeake's impressive revenue number, which jumped 64% year over year.
I don't want to downplay the significant of the revenue results, which beat Street estimates by a convincing margin. What matters more in this sector is production growth. This is where I believe the new management team is beginning to make a difference. Chesapeake opponents will look at the company's report and raise an eyebrow, especially given Anadarko's 12% production output. Still, it takes more than just a casual glance to appreciate Chesapeake's results.

It's true that overall production was down by 2% to 4 billion cubic feet (bcfe) per day. The new management team, led by CEO Al Walker, has been trying to get Chesapeake in a better financial position so that the company can meet its near-term and long-term debts. To that end, management has been selling off assets to raise capital. These asset sales contributed to the production decline.
When factoring the negative impact of these sales, Chesapeake's production was more respectable at 8% year-over-year growth, which compares more favorably with Anadarko's 12%. The main driver of Chesapeake's strong revenue number was a 23% production increase in oil. It's not as exciting as if this were a spike in natural gas growth, but nonetheless an encouraging sign that the worst could be over for this company.
Chesapeake retains some risk. While it's clear that management is making great strides, Chesapeake's future -- akin to Apache and Anadarko -- is still highly leveraged to a better-performing natural gas industry.
But what I like about this situation is the continued progress of asset sales and what suddenly seems a more "mature company," given that remaining underlings of former CEO Aubrey McClendon are slowly being shed. It helps that Carl Icahn, who has a reputation for having the magic touch, is interested in the company.
[Read: To Get Lower Fees, Hire a Female Financial Advisor]
All told, it was good-not-great quarter. But it didn't have to be extraordinary. Management only needed to show that asset sales were making progress and that the company was moving in the right direction towards long-term financial health. But investors shouldn't expect quick returns here. The good news, though, is that even with only moderate improvements in U.S. natural gas prices, Chesapeake shares should reach $30 a share by the first quarter of 2014.
At the time of publication, the author held no position in any of the stocks mentioned.
Follow @saintssense
This article was written by an independent contributor, separate from TheStreet's regular news coverage.