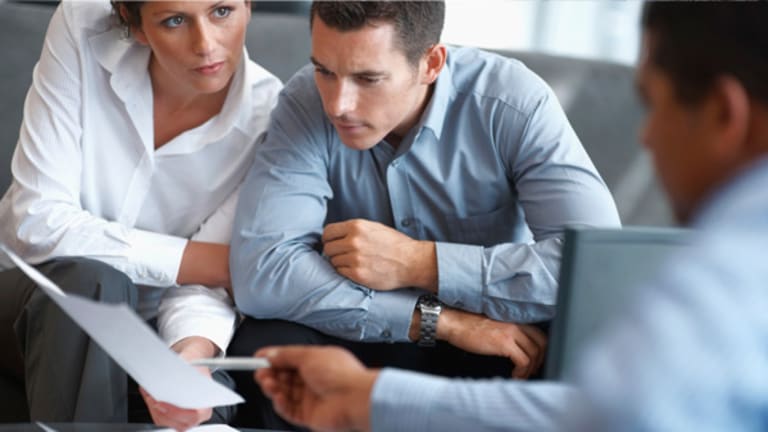 Publish date:
Chesapeake Energy Can't Get the Chinese to Overpay for Every Acre
Chesapeake Energy's short-of-expectations Permian Basin sales shows that when push comes to shove, foreign buyer premiums for shale aren't guaranteed.
Chesapeake Energy's short-of-expectations Permian Basin sales shows that when push comes to shove, foreign buyer premiums for shale aren't guaranteed.
NEW YORK (
) -- Back in June, the
Financial Times
spurred M&A chatter about
Chesapeake Energy
(CHK) - Get Report
with a report that Chinese oil giant Sinopec was working on a deal for Chesapeake assets. With Chesapeake already openly trying to sell its Permian Basin acreage, the interest of a Chinese buyer (read "big premium payer") stoked market expectations that Chesapeake could raise as much as $6 billion from the Permian wheeling and dealing.
On Wednesday Chesapeake announced that it has sold the Permian assets, but not to Sinopec.
In fact, the assets were not even sold to a Chinese company like Sinopec or
CNOOC
(CEO) - Get Report
or any foreign state-controlled oil company (NOC). In addition, Chesapeake sold its Permian Basin interests -- roughly 6% of its production with a tilt to all-important liquids -- at a price that didn't just come below $6 billion, but below a previous Chesapeake estimate that the Permian could raise $4 billion to $6 billion.
With $3.3 billion in Permian assets deemed as "non-core," being sold off to oil giants like
Royal Dutch Shell
(RDS.A)
and
Chevron
(CVX) - Get Report
as they push further into promising shale basins, the lack of a big premium from a foreign NOC reminds energy investors betting on Chesapeake's monetization strategy that when push comes to shove, a foreign buyer -- in particular a Chinese national oil company -- would raise so many political red flags it's hard to imagine an outright sale could be made.
All the M&A chatter about the foreign NOCs driving up values for shale acreage doesn't have much weight when the Chevrons and Shells of the world know that the U.S. government would never remain quiet on Chesapeake selling assets outright to a Chinese company. They also know that Chesapeake needs cash right now, not a fight.
When it first announced the planned sales, Chesapeake said it would raise $6 billion to $8 billion from Permian sales, a joint venture in the Mississippian Lime, and other miscellaneous transactions. Later, the company talked about a $4 billion to $6 billion value for the Permian alone.
Though, on its most recent earnings conference call, Chesapeake CEO Aubrey McClendon declined a request from Bank of America Merrill Lynch analyst Doug Leggate to update the outlook on deal value. "Aubrey, I don't suppose you would care to comment on the $4 billion to $6 billion original range that you gave relative to what you think you are going to realize?," Leggate asked, with McClendon replying that when the company had final numbers to report it would do so.
Wells Fargo analyst David Tameron was one of the analysts to write on Wednesday that the Permian deal
came up short of expectations.
Phil Weiss, analyst at Argus Research, said the Permian brought in less than expected and yet the midstream sales raised more money than expected, so there's a tradeoff and Chesapeake continues to dig itself out of the hole it dug for itself. Nevertheless, "The price looks more reasonable for the buyers than seller," Weiss said, adding "This is U.S. property, so you cant get the same
NOC premium."
There are plenty of caveats to the market's read on the deal as slightly disappointing.
For one, the Permian is the size of some states, at 250 miles by 300 miles. The Permian is also a 100-year old drilling region where not all wells are producing equally or on the same life cycle -- it's essentially a legacy of the Texas vertical drilling boom of a century ago that has found new life in the age of horizontal, hydraulic fracturing.
Also, Chesapeake still holds roughly 470,000 net undeveloped acres in the Midland section of the Permian that can still be sold, and at an average of $3,000 per acre, for example, that would bridge a significant part of the gap in the expected deal pricing.
RBC estimates that the Shell acreage was sold at sub-$3,000 and the Chevron acreage around $3,000. Either way, it's a "blunt" valuation instrument that does seem low compared with other Permian deals ranging from $5,000 per acre to as much as $10,000 per acre. Even if RBC Capital Markets analyst Scott Hanold thinks the "blunt" approach got too much market attention on Wednesday, he said even if the market had a perfect formula for assessing the deal, it would probably seem "light" on price.
That's no surprise given the position of weakness that everyone should have known Chesapeake was negotiating from. It's not simply the cash crunch but the specific short-term loan from Goldman Sachs and Jefferies provided earlier this year when Chesapeake was facing market fears it was in a "death spiral," a loan it now needs to use the deal proceeds to pay off.
Chesapeake may still get the NOC premium with the Mississippian Lime joint venture, and the Sinopec chatter may yet be right if it is Chesapeake's JV partner. Though Chesapeake has also floated the possibility that Mississippian assets could be sold outright.
Chesapeake also had the problem of defining value for assets within its larger publicly traded business. Selling shale boom drilling businesses outright to mining giant
BHP Billiton
(BHP) - Get Report
, as
Petrohawk
did, or to
Statoil
(STO)
, as in the case of
Brigham Exploration
, is a type of foreign buyer that won't raise the political rhetoric to a decibel level. It's also selling a publicly traded company where the premium is transparent being tied to existing stock value, rather than assets within a far-flung land drilling regime like Chesapeake's.
When McClendon initially presented the Permian sales plan, he said, "I think the returns from our projects in the Permian are first-rate, and I think that is why you see so much industry interest in the Permian, and frankly why you see so much investor interest. Just looking at the valuation of some companies that are pure Permian basin players, we are tempted to spin out our Permian asset and just make it a separate company. But at the end of the day, it is probably best for our overall goals this year to work the JV approach and also to work the 100% approach as well."
Chesapeake's ace-in-the-hole is that it can always sell something. If it got into its current mess by buying too much on leverage, it can always sell when push comes to shove as it has had to do in 2012. But you can't get the Chinese to pay up for every acre when the "national interest" trumps your need to raise cash. The best, or at least most aggressive buyers, don't even have a seat at the table when the "100% approach" is required.
Chesapeake said it went with the 100% approach because it wants out of the Permian for good, as it focuses on basins where it has No. 1 or No. 2 positions. So the Permian may be the exception to the rule in terms of the "big premium" shale M&A story pumped by bankers and supported by foreign state-run oil companies.
Hopefully for the sake of Chesapeake shareholders, the company won't put itself in the position again where it has to sell, rather than JV, any assets in those No. 1 or No. 2 positions that run across land masses as big as some Eastern seaboard states and run into the billions of dollars of acreage value, which immediately limits the number of potential buyers. If it does, the same "a little light" of expectations reaction can be expected from the market, and there's nothing Sinopec, or Chesapeake, can do about it.So let's hope Aubrey learned his lesson this time. The Chesapeake CEO has had a history of needing to learn the same lesson too many times in the past.
--By Eric Rosenbaum