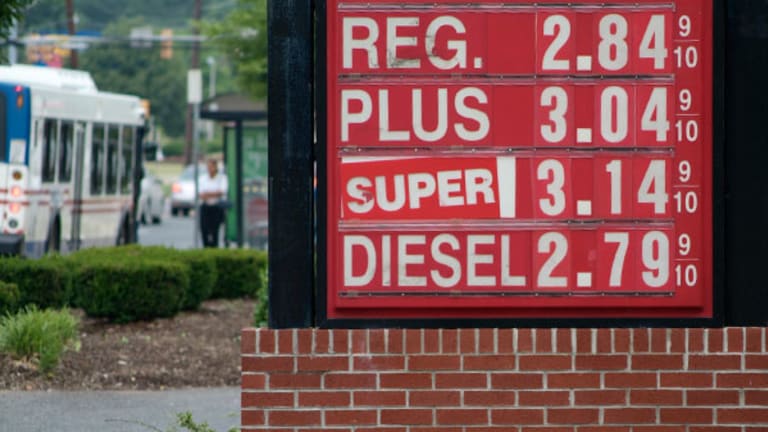 Cheap Oil Is Dangerous for America Despite Consumer Savings
Cheap oil saves you money at the gas pump but it will cost the American economy in other ways.
Cheap oil saves you money at the gas pump but it will cost the American economy in other ways.
NEW YORK (TheStreet) -- I filled my gas tank last week. Cost me $26.35 for 13.3 gallons of regular unleaded -- $1.999 per gallon. Last summer, I was typically paying $47 per fill-up. Today's oil prices have saved me $20 a tank at the gas station.
I see no reason to crow, however, and no reason to trumpet, as CNBC did last week with a story line that happily insists that "Oil's fall could make you $700 better off this year." In making that case, CNBC quoted a Societe Generale report claiming earnestly that "We think investors may not fully appreciate the extent to which cheaper gasoline should boost U.S. consumer spending this year."
I think Societe Generale does not fully appreciate the chink in their analysis. Namely, falling gas prices do not happen in a vacuum. And just because we're not paying more at the gas station, doesn't mean we're not paying for it elsewhere.
As the trite saying goes, push on a balloon in one place and you create a bulge somewhere else. And that bulge, we are beginning to learn, is not sunshine and happiness for the U.S. economy, despite motorists' savings.
Some other headlines for you to consider:
• ConocoPhillips Cuts Drilling Budget by 20% -- Oil major ConocoPhillips (COP) - Get Report slashed $3.38 billion from its capital-spending budget for 2015 because low oil prices make looking for and drilling new reserves un-economic.
• Hercules Offshore a First Mover with Mass Layoffs - More to Come? -- Hercules (HERO) , an offshore driller, laid off 324 people, 15% of its workforce, because companies like ConocoPhillips have reduced spending, thus reducing the need for drilling services.
• Rig Count Shows Big Weekly Drop as Oil Price Fall Continues -- Rig counts in Texas, the nation's oil-drilling leader, fell by the largest amount since 2009 as drillers like Hercules have reduced drilling.
• Oil Price Plunge Means Layoffs for US Steel Workers -- US Steel (X) - Get Report laid off more than 600 workers because demand for the steel tubing that goes into drilling rigs has plunged.
• Cheap Oil's Victims: Civeo Slashes Hundreds of Jobs -- Civeo (CVEO) - Get Report provides housing for oil workers in the field, and with fewer workers working on rigs in the field, Civeo needs fewer of its own workers to manage the housing.
And those are just a few of the knock-on effects.
In the first week of January alone, the number of active drilling rigs in America fell by 61. Each rig employs, generally, 50 to 60 people. That's more than 3,000 potential job losses right there.
Since rig count peaked in late September, drillers have idled about 180 rigs, something on the order of 9,000 or more jobs, and that's just jobs directly tied to the process of drilling. (And lots of those rig losses have occurred in big shale-oil basins, America's supposed energy savior, including Niobara in Colorado, Eagle Ford and Permian, both in Texas, Granite Wash in Oklahoma and Texas, Mississippian in Oklahoma and Kansas and Williston in the Dakotas and Montana.)
In all, nine million Americans earn their livelihood in industries tied to oil and gas, not just in drilling but in all the ancillary services that support drilling and production. That wraps in jobs in finance, transportation, cement making, helicoptering, welding, geology, engineering -- it's a long list.
By the way, those are well-paying jobs. In North Dakota, for instance, the average salary in the oil and gas industry was $111,000 in 2013, more than double the state average, which itself was goosed higher by those high oil and gas wages. They are the kinds of jobs America desperately needs, when you consider the tragedy hidden in plain sight in last week's unemployment report that had the media so childishly giddy.
Our economy added 252,000 jobs in December, and unemployment fell to a 6½-year low. But nearly 60% of the jobs were in low-pay industries such as auto-parts salesman, home-health assistant and hotel worker. 17.5% of America's new hires were in food-service -- waiters, cooks and bartenders.
So while I saved $20 at the pump, my "windfall" - a word used by the media and Wall Street analysts - means America is losing six-figures-per-year jobs (with good benefits) in the oil patch, for $10-per-hour jobs (with little to no benefits) in the service economy.
If you add a million such jobs, that is not a good trade!
Profit From the Oil Rebound
Of course, this will not last. Low oil prices are transitory.
You and I can profit when the inevitable rebound comes; we can own oilfield service stocks or big energy companies such as ConocoPhillips, Exxon Mobil (XOM) - Get Report and others that will rally (and I'll tell you that is exactly where you should be concerting some of your investment cash these days).
But will the U.S. oil patch rebound as quickly? Will companies be quick to rehire workers and restart projects that demand higher oil prices to turn a profit? Will they spend on developing new and expensive reserves with fears so fresh of the speed with which oil prices can be manipulated lower?
My bet: America's much-vaunted annual increase in oil output will begin to slip as 2015 rolls on.
Shale-oil wells are notorious for their shooting-star production profile -- they produce 70% to 80% of all the oil they will ever produce in the first year or two, and by year three most have pretty much flamed out. Traditional wells produce for two or three decades.
With the "all-in" cost of drilling new shale wells running between $65 and $90 a barrel, existing shale-oil production, which has been the single reason for America's boom in production, will naturally die away and not be replaced.
And that is one of the reasons I will soon enough be paying $47 again to fill my car's gas tank, and why cheap oilfield stocks will make you very good money.
This article is commentary by an independent contributor. At the time of publication, the author held no positions in the stocks mentioned.