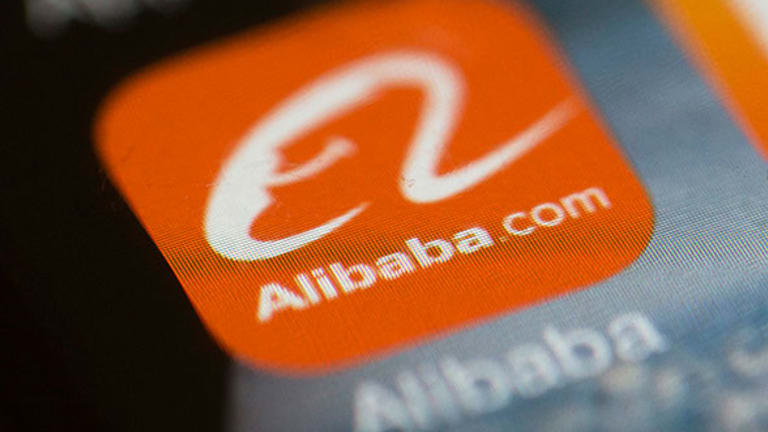 Charts Say Take Profits in Alibaba Stock
It's the smart play to take Alibaba profits now and waiting for another pullback.
Since May 4, shares of Alibaba (BABA) - Get Alibaba Group Holding Ltd. Report have risen some 7%, from around $75 per share to a high of $80.20 this past Tuesday. At that time I discussed a possible 4% bounce to around $78 per share. My prior thesis was:
"From a technical view, the chart says Alibaba stock should reclaim its 20-day average of around $78 on decent results. Alibaba has beaten on both the top and the bottom lines in three out of four quarters. If it does so again, the stock could reclaim its April 20 high of $81."
In less than two weeks, Alibaba stock has delivered those gains and then some. The shares closed Thursday at $78.32. Though shares are down 3.63% so far on the year, compared with a 0.19% rise in the S&P 500 (SPX) index, this includes a 31% surge from its February low of $59.85.
Given Alibaba's fundamental improvements, including a fourth-quarter 24% rise in merchandise volume and its mobile penetrations rate of 73%, the company looks like it's heading in the right direction.
But the chart below, courtesy of TradingView, says it's time to take profits. And it's now take to walk away and wait for possible correction.
Technically, Alibaba stock has strong resistance at around $80 (short red arrow). The stock has tested that area three times in the past week, and has failed to break that threshold with any conviction. While the shares have consolidated between $77 and 78, there is no near-term catalyst to push Alibaba stock higher in the near term.
On the bright side, the stock has shown solid support at around $75.82 (blue arrow). But with the market now fearing a possible interest rate hike, among other factors, Alibaba stock has a greater chance of testing that support and failing before it heads higher, suggesting a pullback to around $74, or 5.5% lower, is now in the cards.
The stock's 100-day average of $73.70 is the next target to watch.
This article is commentary by an independent contributor. At the time of publication, the author held no positions in the stocks mentioned.