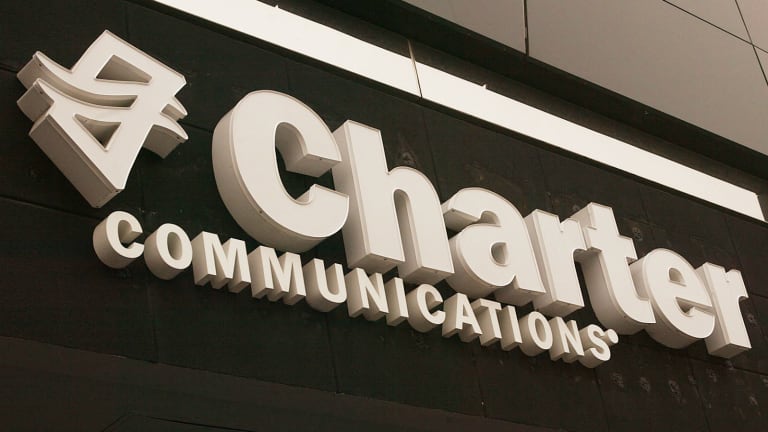 Charter Expected to Have Easier Time Buying Time Warner Than Comcast
Regulatory pressure squashed Comcast's $45 billion takeover bid for Time Warner Cable, but smaller Charter Communications would face less skepticism.
Regulatory pressure squashed Comcast's $45 billion takeover bid for Time Warner Cable, but smaller Charter Communications would face less skepticism.
NEW YORK (TheStreet) -- Charter Communications (CHTR) - Get Report, which is said to be working on a formal bid for Time Warner Cable (TWC) , can bank on a much smoother regulatory process than the long, arduous road that Comcast (CMCSA) - Get Report traveled in its failed attempt to buy the broadband operator, analysts say.
Comcast withdrew its $45 billion bid for Time Warner Cable last week after regulators said the proposed merger wasn't in the best interest of consumers. Waiting in the wings, St. Louis-based Charter promptly initiated its own takeover conversations with the country's second-largest cable-TV operator, according to reports.
Time Warner Cable, in an apparent effort to play the field, approached Cox Communications, the privately held Atlanta-based cable-TV provider about a potential merger, Dow Jones Business News reported. Cox, however, wasn't interested.
Charter, meanwhile, would like to buy Time Warner Cable as quickly and efficiently as possible, and has already approached banks about financing, according to a Bloomberg report. But regardless of the money involved, if Charter and Time Warner Cable do agree to merge it's likely to present far fewer concerns for regulators than having Comcast in the mix.
For one, the Federal Communications Commission and the Department of Justice balked at Comcast's takeover plans because it would have made an already dominant company even stronger. In the case of Charter combining with Time Warner Cable, neither is the country's largest broadband provider or cable-TV operator. Instead, a more robust rival to Comcast would be created, said Paul Gallant, a media analyst at Guggenheim Securities.
"We think this bodes well for Charter-Time Warner Cable by creating a company with sufficient scale to rival Comcast in how it deals with subscribers, competitors and others," Gallant said in an April 27 investor note.
Also working in Charter's favor are compliance issues. Regulators were concerned about being able to police Comcast, having raised questions about its compliance with previous deals, including its acquisition of NBC/Universal. Charter, on the other hand, "doesn't have that history," Gallant said.
At only 70% the size of Comcast, the combined Charter-Time Warner company would also have less leverage to curb its rival's online video offerings, known in the industry as "over-the-top," or OTT, programming.
"Promoting OTT was the FCC/DOJ's top focus in Comcast-Time Warner Cable," Gallant said. "But Charter was not involved in the Netflix (NFLX) - Get Reportinterconnection dispute and hasn't had the friction."
Charter is the fourth-largest U.S. cable operator by revenue with 5.9 million customers. Its largest shareholder is Liberty Media (LMCA) with a roughly 26% stake.
Had the Comcast deal gone through, Charter would have acquired 1.4 million subscribers from the resulting company as part of the plan, which also included swapping another 1.4 million subscribers for a smooth geographic market share. Charter would have also spun off 2.5 million subscribers into a separate, publicly traded company in which it would hold a 33% stake and former Time Warner Cable shareholders would have held 67%.
On March 31, Charter announced it will snap up Syracuse, N.Y.-based Bright House Networks, the sixth-largest cable operator with 2.5 million subscribers, for about $10.4 billion. With Bright House, Charter will become the second-largest cable operator in the U.S. behind Comcast.
Charter has tried several times to acquire and merge with Time Warner. Most recently, in January 2014, its $132.50 per share bid was rejected. Investors won't likely give Charter the roughly 14-month time frame Comcast took in its failed attempt.
While a Charter deal does appear to be in better regulatory shape, it's not free of challenges. Regulators may be hesitant to allow another cable company of Comcast's behemoth size, Gallant said. Also, consumers may have set a difficult anti-merger backdrop with their push against Comcast's proposal.
Finally, regulators still have much to learn and decide about Charter, Gallant said, including logistics on its approach to how it would handle the merger for consumers.
This article is commentary by an independent contributor. At the time of publication, the author held no positions in the stocks mentioned.