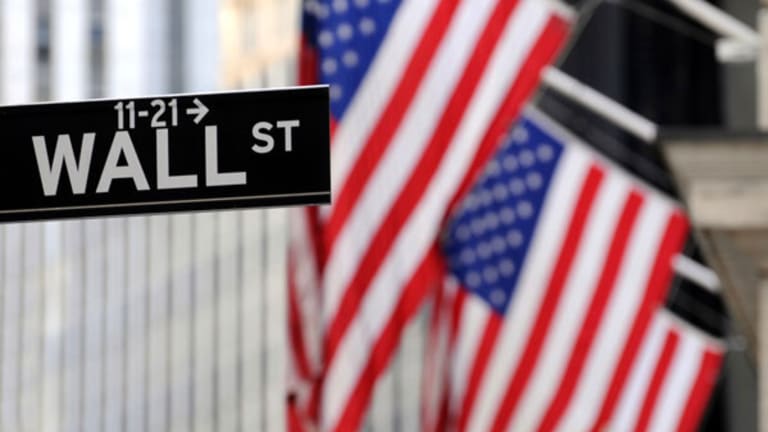 Charging Into Visa
Why did it take so long to add Visa to the Dow?
Why did it take so long to add Visa to the Dow?
NEW YORK (TheStreet) -- I have written many articles about what a great stock Visa (V) - Get Report is. Well, somebody else must also think it is a great company because it was added to the Dow Jones Industrial Average Tuesday alongside Nike (NKE) - Get Report and Goldman Sachs (GS) - Get Report.
Data from
It isn't everyday a company gets to join the DJIA. If it does, it means that another company must go. After all, there is only room for 30 companies.
With Visa, Nike and Goldman Sachs added,
Alcoa
(AA) - Get Report
,
Bank of America
(BAC) - Get Report
and
Hewlett-Packard
(HPQ) - Get Report
have been kicked to the curb. This is the biggest DJIA membership change to take place in almost 10 years. Alcoa has been a member for 54 years, HP for 16 Bank of America for five.
What took so long?
In my opinion, these stocks are getting kicked out because of their lousy performance against the market over many years. Again, what took so long?
Let's begin with Alcoa.
Data from
Alcoa has returned an average of negative 10% per year over the last 10 years.
Over the last five years, it has done even worse than that. The stock has averaged negative 20% per year. It sounds like the folks at Dow Jones are picking stocks for their index just like many individual investors pick their own. Buy big, stodgy, old company of yesteryear with good name recognition-
Microsoft
(MSFT) - Get Report
,
Cisco
(CSCO) - Get Report
, Hewlett-Packard, etc. etc. etc.
It makes you wonder where the Dow would be today had it kept its index a little more current.
Let's next check out another exile: Bank of America.
Data from
The shares have done a little bit better than Alcoa, but not by much. Shares have averaged negative 6.4% per year over the last 10 years, and that includes the dividends. The stock has delivered an average negative 14% per year over the last five years. In addition, the stock was down a gut-wrenching 63% in 2008! This is hardly normal "blue-chip" behavior.
Would Bank of America still be around today if it were not for the U.S. taxpayer?
Again, it makes one wonder where the Dow would be today if it had managed companies in it as opposed to mismanaged companies like Bank of America.
Two duds in a row. What about Hewlett-Packard?
Data from
While the performance of Hewlett has not been as bad as the other two stinkers, it has not been very good either. Shareholders cannot be too happy with the previous three- and five-year returns. Maybe CEO Meg Whitman should sell her shares on
eBay
(EBAY) - Get Report
.
Again, Dow Jones, what took so long?
Visa
: So what makes Visa so lucky to have been crowned one of the newest Dow members? Let's take a look.
Visa is a San Francisco-based company that provides global payment solutions in support of the credit and debit payment programs of financial institutions. It is a $115 billion large-cap company to which I give a conservative risk profile.
Therefore, it is a stock that I own in my conservative growth accounts as opposed to my aggressive growth accounts because this is not the kind of stock that has the potential to double in a few months. It is also not a high-risk stock either.
Rather, Visa is a good company that has continued to plow along steadily over the years, and there's nothing wrong with that. Visa first went public in 2008 at $45 per share and today it ispriced at $182 per share. Visa also pays shareholders a tiny dividend 0.7%. So it pays about what you would get on a one-year CD right now.
Data from
Over the last five years, Visa has run circles around the
S&P 500
, delivering 22% per year while the market has delivered an average of only 6.5%.
Over the last three years, Visa has been averaging a 40% return per year while the market has been averaging 14.9% per year -- Visa has almost tripled the returns of the market.
Over the last 12 months, Visa is up 44.6% while market is up 17.2% -- it has more than doubled the returns of the market.
Visa currently passes my performance test. The performance is there, at least for now. Will it continue in the future? Of course, nobody knows for sure, but we can look to its current valuation for some valuable clues.
Valuation
: When I write articles on Visa, I write about both the performance and valuation of the stock. I am not a pure value investor, nor am I a pure performance investor--I like to combine them both.
There are a lot of seemingly cheap stocks out there that are nothing more than value traps.There are also numerous "hot" performers that are way overvalued that investors need to be careful with.
I like to combine both of these investment styles in the stocks that I invest in.
So now let's look at the valuation of Visa.
Data from
Visa is currently trading at 20.7 times forward earnings. This number sounds a bit rich, but Visa has been growing its earnings over the past five years at almost 30% per year so it is still trading at a discount to its past growth rate.
Furthermore, Visa is expected to grow its earnings by 18.6% per year over the next five years, so it is trading at a PEG ratio of 1.11. This is not an outrageous valuation nor is it the cheapest stock in the world.
When I carry out Visa's earnings estimates over the next five years and I apply a multiple that I think is appropriate for a credit card company, I come up with a valuation of $355 per share. The stock is currently trading at only $182.
Visa currently passes my valuation test.
Stock chart
: In addition to performance and valuation, I also like a good, healthy stock chart. When I bought Visa last June, it had a great chart. I am up 45% since that purchase. While Visa has had a very dull chart recently. It has not been bad enough to cause me to sell the stock
And Visa's stock chart is really perking up again!
Courtesy of StockCharts.com
Well, getting added to Dow is quite a feather in the cap, Visa. In fact, I bet they have been high-fiving each other over there in San Francisco at Visa headquarters.
Visa is a stock that I currently own in my portfolio as it has the performance that I like, the valuation I require, and a healthy stock chart. You know sometimes they say that becoming a DJIA member is a curse (Cisco and Microsoft haven't done so well since they were added), so, as always, I will continue to monitor Visa's performance, valuation and stock chart via my
.
After all, who knows -- maybe I'll have to get rid of it one day now that it has been added to the DJIA!
Data from
At the time of publication the author had a position in V.
This article was written by an independent contributor, separate from TheStreet's regular news coverage.