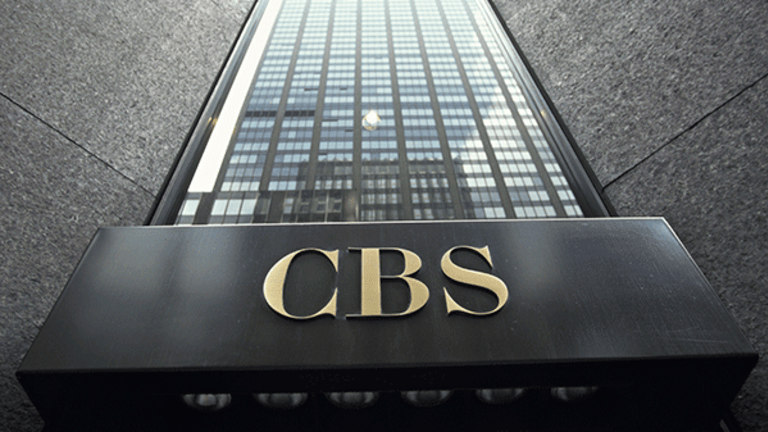 CBS Moves to Replace Pelley as Network Tries to Defend Its Media Perch
CBS has shifted the news anchor solely to '60 Minutes' as it changes leadership at its broadcast network.
CBS (CBS) CEO Leslie Moonves was only half-joking two weeks ago when he told a Carnegie Hall audience of advertising executives that he liked The Late Show host Stephen Colbert better than ever since he took over first place against rivals Jimmy Fallon and Jimmy Kimmel.
Judging by recent ratings for CBS Evening News, Moonves' affection for Scott Pelley seems to have tapered. Pelley will be replaced and focus solely on 60 Minutes, the network announced on Wednesday. Anthony Mason, co-anchor of CBS This Morning: Saturday, will be interim anchor.
CBS declined to comment beyond the statement.
In a somewhat related move, Moonves on Tuesday promoted longtime scheduling chief Kelly Kahl to oversee the network's daily operations. Kahl replaces Glenn Geller, who suffered a mild heart attack in March and is expected to take a producer role under Kahl within the company's entertainment division. Additionally, Thom Sherman, a longtime TV executive, was moved from the creative side at the CW network to the loftier position of the network's programming director. The CW is a joint venture of CBS and Time Warner's (TWX) Warner Bros.
The series of changes come as CBS seeks to defend its position atop a media industry increasingly under pressure as pay-TV providers look to cut costs amid an accelerating decline in subscribers.
That CBS continues to extract significant increases in the fees it charges pay-TV providers to carry its programming speaks to the enduring popularity of programs such as The Big Bang Theory,NCIS and its long-term deal with the National Football League.
As Moonves never tires of saying, CBS's strength as a media company and a stock has been its programming. For 14 of the past 15 years, CBS has held the mantle of the country's most-watched network. Over the past five years, shares have outpaced the broad market, gaining 95%, compared with the S&P 500, which has risen 83%.
CBS shares on Wednesday afternoon were down 0.6% to $61.18.
In a testament to that popularity, CBS, for the first time in company history, posted higher quarterly revenue from fees related to pay-TV operators and network TV affiliates than it did from advertising sales in the first quarter. Combined, those fee totaled $1.69 billion, compared with ad sales of $1.6 billion.
Though the difference is slight, the trend is illuminating. Advertising accounted for 48% of total revenue in the quarter. (Total revenue actually slipped from the same period a year ago, when CBS televised the Super Bowl, annually the country's most-watched program.)
That nonadvertising fees supplied the majority of CBS's sales demonstrated that the company continues to extract double-digit percentage increases from pay-TV operators and network affiliates. Revenue from those fees grew 17% in the quarter. Additionally, revenue from syndicating its shows after they've debuted on the network, to Netflix (NFLX) , Hulu and elsewhere, grew by 16%.
Kahl is being asked to maintain that programming pipeline. In 21 years at the network, he's credited with helping to develop Survivor, Everybody Loves Raymond, Two and a Half Men, The Big Bang Theory and three editions of the NCIS franchise. The popularity of those long-running serials allows Moonves to extract high fees from pay-TV operators that want to carry a network that the company recently said has a larger audience across all viewing platforms than it did it 15 years ago.
Kahl's first chore will be figuring out how the next lead anchor at CBS Evening News can become Moonves' newest best friend.