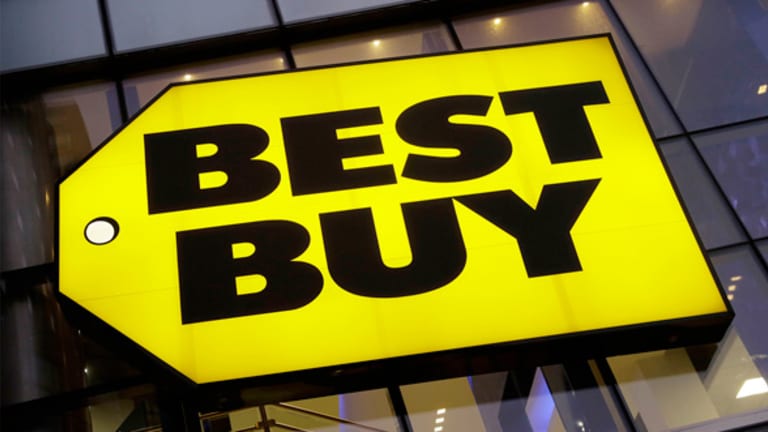 CFO Departure Is Just One Reason Why Best Buy Is Getting Rocked After a Good Quarter
Best Buy sidestepped the brutal first-quarter results posted by other bricks-and-mortar retailers. But there were a few concerns.
Updated to include comments from earnings call.
Best Buy (BBY) - Get Best Buy Co., Inc. Report  delivered on several fronts in its second quarter but came up short in a couple areas.
Shares of the Minneapolis-based electronics retailer fell about 5% in premarket trading Tuesday despite first-quarter earnings coming in at 44 cents a share, up 19% year over year, and easily ahead of Wall Street estimates for 35 cents. Total revenue fell 1.3% from the prior year to $8.44 billion, but surpassed forecasts for $8.29 billion.
Overall, Best Buy's latest results were a rare bright spot in a retail sector that continued to be upended in the first quarter due to sluggish consumer spending and fierce competition from Amazon (AMZN) - Get Amazon.com, Inc. Report . Domestic same-store sales fell 0.1%, better than Best Buy's guidance for a 1% to 2% decline. The company credited sales momentum in TVs, home theater, appliances and wearable devices, which helped to mostly counteract weakness in Geek Squad services and tablets.
Sales online from Best Buy's domestic business spiked 23.9% from the prior year, a quicker pace than the 5.3% increase seen a year earlier. Traffic to Best Buy's website and its conversion rate improved, said Best Buy. 
Still, despite the wins in the first quarter, Best Buy did have a few areas of concern that investors seem to be fixating on. TheStreet took a look at three.
1. Weak Second-Quarter Guidance
Best Buy sees second-quarter same-store sales unchanged and earnings of 38 cents to 42 cents a share. Wall Street expected 50 cents a share. The tepid outlook from Best Buy comes after similarly downbeat forecasts from bricks-and-mortar retailers such as Target (TGT) - Get Target Corporation Report that have seen a spending slowdown post-Easter.
Best Buy did reiterate that it expects full year sales and operating profit margin to remain unchanged from the prior year, as sales pick up in the second half likely due to new iPhone and Apple Watch from tech giant Apple (AAPL) - Get Apple Inc. (AAPL) Report . 
TheStreet's Jim Cramer touched on the issue while at the New York Stock Exchange on Tuesday.
"Best Buy has an Apple problem," said Cramer, who owns Apple and Target in his Action Alerts PLUS portfolio. "There's a goal, but they kept their full-year. And the [iPhone 7], which comes out at the end, I think they'll do very well. But Best Buy is a company that, like Target, this is an area that's very challenged, this electronics and home area. But I do think that you're going to want to buy Best Buy as we get closer to the end of the year."
2. Quality of the Quarter
Best Buy noted that the calendar shift of the Super Bowl into the first quarter benefited its domestic segment's same-store sales by 70 basis points. Exclude that shift, and it becomes pretty clear that the company continues to struggle to get traffic into its stores and is being hurt by online price competition.
3. CFO Transition
It's never good when a public company unexpectedly loses a well-respected chief financial officer. But that is about to happen to Best Buy, which in no way telegraphed to investors the sudden departure of CFO Sharon McCollam who has been leading the company's organizational overhaul.
In what Best Buy describes as a transition plan, McCollam will step down on June 14 and be replaced by Corie Barry, a 16-year veteran of Best Buy and its current chief strategic growth officer. "In every person's career, there are moments when their heart is filled with emotion, today is one of those moments for me. I cannot express deeply enough what an immense privilege it has been to be a part of this remarkable company and exciting transformation," said McCollam in a statement. McCollam will be retiring to spend more time with her husband.
McCollam's departure may spark concern, at least initially, that Best Buy could stumble on delivering the cost cuts it has promised to investors that are designed to offset weak sales.