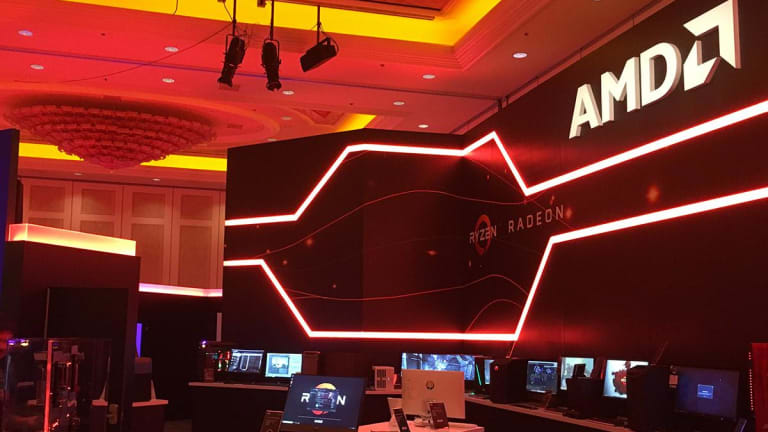 CES Takeaways for AMD and Intel, Alibaba and JD.com and Augmented Reality
The year's biggest tech trade show featured eye-opening exhibits and announcements from a wide variety of companies.
Here's a look at some of the most significant trends and news I observed while attending the Consumer Electronics Show (CES) in Las Vegas last week. Prior takeaways columns covered the arrival of next-gen car interfaces, the growth of IoT niche markets and the near-term impact of 5G.
1. Intel and AMD Have Very Different Near-Term Strengths in the PC CPU Wars
During its Monday CES press event, Intel (INTC) - Get Intel Corporation (INTC) Report  reiterated that PCs containing CPUs relying on its delayed 10-nanometer (10nm) manufacturing process will be available in volume during the 2019 holiday season. The company also signaled that the 10nm CPUs arriving this year, which are based on a new microarchitecture called Ice Lake, will target thin-and-light notebooks and convertibles.
For its part, just before CES, AMD unveiled second-gen Ryzen Mobile notebook processors that rely on a 12nm manufacturing process. And during her Wednesday CES keynote, AMD CEO Lisa Su disclosed that the company's first third-gen Ryzen desktop CPUs, which rely on a 7nm process (seen as competitive with Intel's 10nm process), and AMD's next-gen Zen 2 CPU core architecture will arrive in mid-2019.
Though there was some disappointment among PC enthusiasts that 7nm Ryzen CPUs won't be arriving sooner, a mid-2019 launch still positions AMD well to take share in the desktop and workstation CPU markets in late 2019 and early 2020. From the looks of things, Intel's desktop lineup will continue relying on the company's 14nm process node, which is getting long in the tooth, until 2020.
However, with Ice Lake arriving in volume in Q4 and AMD taking a desktop-first strategy to launching 7nm PC CPUs, Intel appears to be on better near-term footing in the notebook processor market. Moreover, ahead of Ice Lake, Intel's planned Q2 launch of 9th-gen (14nm) Core notebook processors should help it stay competitive with AMD's 12nm Ryzen Mobile chips -- at least outside consumers for whom the superior performance of AMD's integrated GPUs is a major selling point.
2. Augmented Reality Headsets Are Getting Much Better
We're still not at the point where a mass-market for AR headsets is ready to emerge. But considering how much better the state of the art looks relative to 2016 or 2017, the arrival of one in a couple years' time doesn't seem so far-fetched.
I'll second much of The Verge's praise for Chinese startup Nreal's Nreal Light headsets: With the help of Qualcomm's  (QCOM) - Get QUALCOMM Incorporated Report  Snapdragon 845 processor (launched in 2018), a relatively large 52-degree field of view (FOV) and lenses projecting content at a 1080p resolution per eye at 60 frames per second (fps), the Nreal Light's visuals easily topped those of startup Magic Leap's One headset as well as Microsoft's (MSFT) - Get Microsoft Corporation (MSFT) Report first-gen HoloLens, which features a relatively modest 35-degree FOV and a resolution of 1268x720 per eye.
Also deserving attention: Hong Kong startup RealMax's Qian headset, which runs on a Snapdragon 835 and supports an impressive 100-degree diagonal FOV to go with a resolution of 1080p per eye. With an FOV similar to that of many VR headsets, RealMax states Qian users can switch between AR and VR modes.
Neither headset is perfect. The Nreal Light's processor is housed in a separate processor pack that gets placed in a user pocket, and an Nreal rep indicated the headset will have a battery life of only about three hours. The Qian doesn't have a processor pack, but the fact that its processor is housed above its lenses makes it bulkier than the Nreal Light. Perhaps more importantly, its image quality isn't as good -- the larger a headset's FOV, the higher the resolution needs to be for quality visuals. In addition, reps for both companies suggested that their firms' headsets will feature pricing on par with that of high-end smartphones.
Still, a lot of progress has clearly been made in recent years, and it could pave the way for bigger things as Microsoft preps a second-gen HoloLens and Apple (AAPL) - Get Apple Inc. (AAPL) Report  and Alphabet/Google (GOOGL) - Get Alphabet Inc. Class A Report reportedly push ahead with AR hardware projects of their own. VR hardware quality is gradually improving as well, but AR headsets, with their potential to be paired with smartphones, worn outside and help users engage with -- rather than shut themselves off from -- their physical surroundings, arguably have an easier path to forming a mass-market.
3. 3D Printing's Use Cases Are Still Expanding
It's been a few years now since the 3D printing bubble burst, doing quite a number on the shares of publicly-traded printer makers such as 3D Systems (DDD) - Get 3D Systems Corporation Report  and Stratasys (SSYS) - Get Stratasys Ltd. Report . But as the CES booths of various privately-held printer makers demonstrated, the industry hasn't stopped evolving, as newer printers support more materials, print objects at higher resolutions and/or bring prices for printing techniques that once required expensive hardware to more affordable levels.
Companies relying on resin or filament-based materials for printing, such as Formlabs, Polymaker and XYZprinting, showed off a number of printed objects featuring an impressive level of detail and accuracy. Meanwhile, Markforged, a company whose printers rely on materials such as stainless steel and carbon fiber, showed off a large robotic arm that relies heavily on 3D-printed parts.

3D-printed objects displayed by printer maker XYZprinting.
Formlabs, whose printers delivered a cheaper approach to a type of high-resolution 3D printing known as stereolithography (SLA), was valued at $1 billion in a 2018 funding round and has reeled in clients such as Google, Boeing and Tesla. During a brief talk, CEO Max Lobovsky argued the flexibility and (thanks in part to their software) accessibility of Formlabs' systems were key selling points. He also highlighted Formlabs' plans to enter the selective laser sintering (SLS) printing market with a $10,000 solution (the Fuse 1) that's declared to easily undercut traditional SLS offerings.
4. Alibaba and JD.com's Tech Investments Are Not Being Fully Appreciated
China's online retailers were both eager to use CES to show off tech strengths that U.S. tech observers might not be familiar with. Alibaba  (BABA) - Get Alibaba Group Holding Ltd. Sponsored ADR Report dedicated plenty of space to devices supporting its AliGenie personal assistant, and also had a Volvo S60 featuring an infotainment system powered by its YunOS operating system.
And at a conference where Google unveiled a new interpreter mode for Assistant, Alibaba ran a video call demo in which participants speaking different languages automatically had their remarks translated and shown in the other participant's language. The company promises the feature will soon be available on the app for its Alibaba.com international e-commerce platform.
Rival JD.com (JD) - Get JD.com, Inc. (JD) Report , meanwhile, showcased its extensive use of robots to handle picking and packing activity at its warehouses, as well as its budding efforts to use drones and small self-driving vehicles to help with package delivery. JD's augmented reality "styling stations" and "dressing stations" were also shown off -- they're placed at physical retail stores, feature large touchscreens and let users place clothes or makeup on a digital avatar of themselves (and then buy the items afterwards if they wish).
Interestingly, JD also highlighted its use of shopping data not just for internal decision-making, but to assist consumer brands with product development. An HP gaming notebook and a Logitech wireless mouse are among the products that JD says were designed with the help of its input about what features its customers were interested in.
Apple, Alphabet and Microsoft are holdings in Jim Cramer'sAction Alerts PLUS Charitable Trust Portfolio. Want to be alerted before Cramer buys or sells AAPL, GOOGL or MSFT? Learn more now.