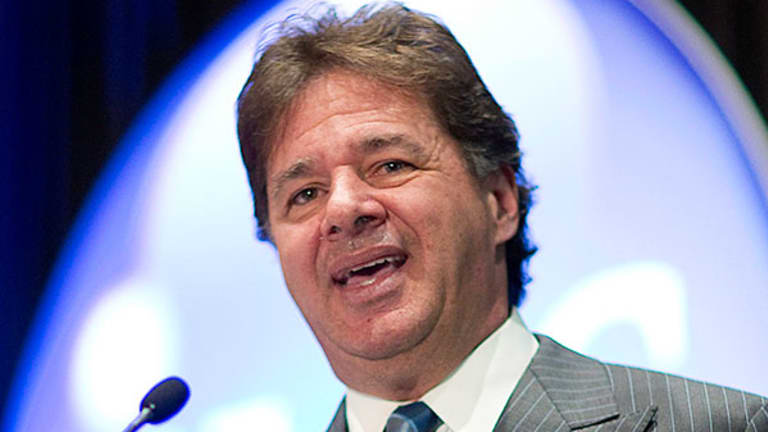 CEO Pay Destroys Companies, Communities, Countries and Capitalism
Research shows that stock prices decline when CEOs are highly paid. Companies are suffering in other ways.
NEW YORK (TheStreet) -- Shareholders at Cheniere Energy (LNG) - Get Cheniere Energy, Inc. Report, Gamco Investors (GBL) - Get GAMCO Investors, Inc. Class A Report, Oracle (ORCL) - Get Oracle Corporation Report, Sandridge Energy (SD) - Get SandRidge Energy, Inc. Report and other firms with the highest paid chief executive officers might want to sell based on a study that shows that "CEOs' pay is negatively related to future stock returns for periods up to three years after sorting on pay."
However, many times the reason for the outsized pay package for a CEO is based on outsized performance by the stock price. In that case, the CEO might well deserve every penny (or every million). This article is part of a two-part series examining the issue of CEO compensation and its impact.
There are many who would agree with the study by Professor Michael Cooper from the University of Utah, Huseyin Gulen from Purdue University, and P. Raghavenda Rau with the University of Cambridge, and the University of California at Berkeley contend that excessive CEO compensation can damage or destroy companies, communities, countries, and the culture of capitalism. Much of what drives the stock price of a company has nothing to do with its management. How a sector is doing determines much of the share price level of a publicly traded company. That in itself should bring a CEO's compensation into question, reducing the emphasis on share price.
If the study is correct, stakeholders are the first to suffer, as excessive CEO compensation weakens companies.
Charif Souki, the CEO of Cheniere Energy, made nearly $142 million last year. That is nearly 14 times the average compensation of $10.5 million for a CEO of a member of the Standard & Poor's 500 Index. The average CEO makes 257 times the national average for a worker (almost $41,000). That means that Chrif Souki made 3463 times what the average worker did last year in America. At Cheniere Energy, the revenue per employee is almost $636,000.
If Cheniere Energy used some of Souki's 11-figure paycheck to hire more workers, it could ideally gain about $2.2 billion more in revenue. The company currently has annual sales of less than $270 million.
Obviously a company can't ramp revenue simply by adding employees. However, comparing the degree of above-average pay of a CEO with the revenue for employee figure, we can project an ideal revenue figure that serves as an indicator of how much earnings potential a company like Cheniere is leaving on the table.
CEO compensation can, in fact, be seen as a zero sum proposition. Every dollar that goes to the CEO for millions in pay or perks such as a private jet is one less that goes to sales personnel to sell more, to business development staff to develop more business, and to researchers to research more ways to sell more and develop more business. There are less funds available to hire consultants, buy more advertising to sell products, or buy advanced software programs to operate the company more efficiently and more effectively, as just some examples.  
The money that goes to CEOs inevitably shortchanges many other vital corporate functions. That misallocation of resources can only weaken a company, especially a smaller one with fewer resources, and dilute the stock performance over the long term.
| | | | | |
| --- | --- | --- | --- | --- |
| Company | CEO Compensation* | Revenue Per Employee | Number of employees that could have been hired at the S&P average CEO pay of $10.5 million | Potential revenue lost**  |
| Cheniere Energy | $142 million* | $635,596 | 3430 | $ 2.2 billion |
| Gameco Investors | $85 million | $2 million | 1717 | $3.4 billion |
| Oracle Corp. | $78.4 million | $313,730 | 1658 | $520 million |
| Sandridge Energy | $71 million | $1 million | 1467 | $1.467 billion |
Sources: ALF CIO Corporate Paywatch and financial websites; *CEO compensation and other figures are approximated; **lost revenue is calculated by taking the number of employees that could have been hired based on average S&P pay and then multiplying that times the average revenue per employee for that company.
This concentrated wealth degrades the communities in which corporations exist, too.
It is difficult for communities to flourish or even exist for long when the executives are grossly overpaid. Worker ranks suffer. In 1982, CEOs made 42 times more than the average worker; now the ratio is nearly seven times higher. That distribution of corporate proceeds does not lead to healthy communities as it is too concentrated. Workers are fewer and being paid less as more goes to the CEO: what community can ever gain from that over the long term?
At the national level, income inequality deepens, which is never in the best interests of a country.
It's great that Larry Ellison, CEO of Oracle, spent $200 million on the America's Cup. But that money could have created a lot of different jobs in a much more productive manner if Oracle had hired more workers with an average revenue of $313,730 each. From that, there is the multiplier effect in economic development across a country from a wide diffusion of wealth. That does not happen when too much of it is concentrated so narrowly in winning a yacht race.
Eventually this will degrade the culture of capitalism.
If there is any doubt as to that ever happening just look at the bailout of Wall Street that started during The Great Recession and still continues. The American taxpayer has spent trillions due to the folly of highly paid financial CEOs at Wall Street firms. Mario Gabelli of Gameco Investors made over $85 million last year thanks to the bull market, courtesy of the American taxpayer who is financing the quantitative easing policies of the Federal Reserve.
Needless to say, these trillions from the American taxpayer would have created far more jobs and produced far greater economic growth in many, many other ways rather than underwriting million- and billion-dollar pay packages for high-ranking executives.
There is no free market when it comes to CEO compensation. Pay packages are set by boards of directors, which are allied to the CEO. In addition, the more a CEO makes, the more the members of the boards of director get paid. Furthering this system of "corporate governance" are highly paid "compensation consultants" who naturally recommend ever-increasing levels of CEO remuneration. That can hardly be considered capitalism, which is supposed to focus on enhancing shareholder value.
So where does it all end? In the falling stock prices of the publicly traded companies with the highest paid CEOs, according to the research by Cooper, Gulen, and Rau.
At the time of publication the author held no positions in any of the stocks mentioned.
This article represents the opinion of a contributor and not necessarily that of TheStreet or its editorial staff.