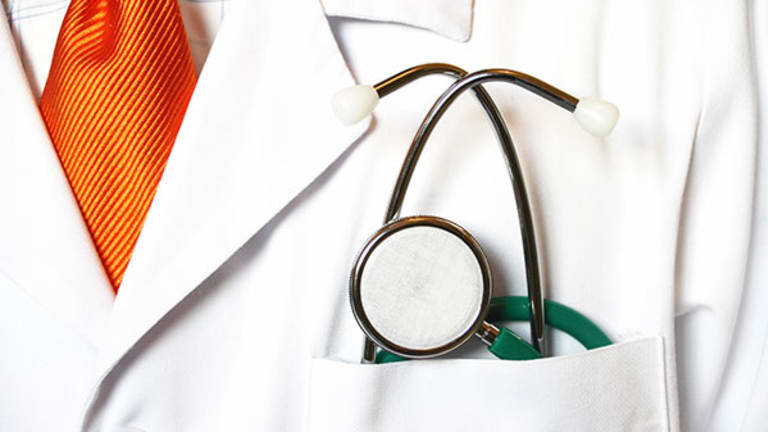 Celgene to Rise Like a Phoenix: Opinion
Celgene's share price offers both growth and value investors something to like.
NEW YORK (TheStreet) -- It's time for Celgene's (CELG) share price to reverse a year-to-date down trend.
Shares have tanked over 13% since January as of the Tuesday close of $146.64 on nothing more than hot air: Momentum traders rotating out of high-growth biotech names.
The company reports first-quarter earnings before the open on Thursday. If results meet expectations, investors should look for it to mark the end of a bad run for a good stock. The shares are too cheap. 
Jim Cramer and Stephanie Link purchased more shares of Celgene on Tuesday for their Action Alerts PLUS portfolio. They share the risks and reasons behind the buy here.
Growth investors will like Celgene for its sky-high forward growth. Value investors can move in as the forward price-to-earnings and PEG ratios signal a bargain's at hand. The charts indicate a bottom is nigh.
The Growth Story
Celgene is a dyed-in-the-wool growth story. The five-year consensus EPS growth is pegged at 26%. While that's a pretty stout number, the estimates do not appear to be overly aggressive. The company has a distinguished track record of outstanding earning growth.
Management's confidence in the franchise remains upbeat, and Celgene's pipeline is deep and strong. Over the past 16 quarters, the company has not missed any Street estimate forecasts. None. Management has beat Wall Street consensus quarterly estimates three times over that period, during which overall operating earnings have grown by around 30% a year. Here's a presentation from Cowen's annual health care conference in March, where management outlined sales and earnings expectations through 2017.
The Value Story
CELG shares are cheap and the value investment crowd is watching. The current operating P/E is about 24 times. Based upon management's 2015 projected earnings per share, the forward multiple is only 15 times. The two-year PEG ratio is 0.9; anything below 1.0 typically spells discount. 
When a well-managed, high-growth company with a good balance sheet and superior margins comes in at today's prices and associated metrics, it's typically just a matter of time before there's a snap-back effect. Currently, Celgene carries little headline risk, the underlying story line remains sound and the fundamentals are good.
Value investors seek such opportunities and there's not too many looking like this in today's market. Celgene isn't a one-trick biotech pony, either. The company has a core stable of medications, including Revlimid and Abraxane, that generate real cash in the here and now. On tap are at least 130 compounds and drugs planned or already under way for Phase II and Phase III clinical trials.
Here's more perspective: Why would a large-cap biotech company sporting a sustained 31% growth rate trade at roughly the same P/E ratio as compatriot Big Pharma companies like Bristol-Myers (BMY) or Pfizer (PFE) ? These drug manufacturers are growing earnings in the mid-single digits. Value investors like disconnects just like this, and the Celgene story has rounded into shape as one.
The Last Piece of the Puzzle
Aforementioned data points aside, the shooting isn't over until the recent bouts of selling have subsided and the shares begin to catch a bid. Fortuitously, this may have started right before this week's upcoming earnings announcement.
Between the weeks of Feb. 17 and April 7, Celgene's weekly chart logged eight consecutive weeks of ever-declining stock prices on ever-increasing volume. However, last week the pattern broke: The shares rallied green on average volume. Seller fatigue may have set in.
We've started this week on a positive note, the shares moving north of $145 for the first time in two weeks. A good earnings report coupled with a continued technical rebound could bring in buyers from both the value and growth camps, spelling a share price uplift that may make everyone happy.

Note: Please do you own careful due diligence before making any investment. This article is not a recommendation to buy or sell any securities. Good luck on all your 2014 investments.
At the time of publication, Merola was long CELG, although positions may change at any time.
This article represents the opinion of a contributor and not necessarily that of TheStreet or its editorial staff.
It is important to do you own careful due diligence before making any investment. My articles are for information purposes only, and are not a recommendation to buy or sell any securities. Good luck on all your 2014 investments. Ray Merola has over 30 years' practical investment experience. Ray is a "buy and homework" investor, generally seeking securities that trade below fair value, then holding until he believes price and earnings indicate limited future upside potential. Mr. Merola favors stocks of well-managed companies that possess a good balance sheet, generate real cash, own a strong franchise, and are shareholder-friendly. He prefers stocks that pay growing dividends. Ray uses options to generate additional income or hedge a position. Mr. Merola is an individual investor with a passion for learning and writing about stocks.