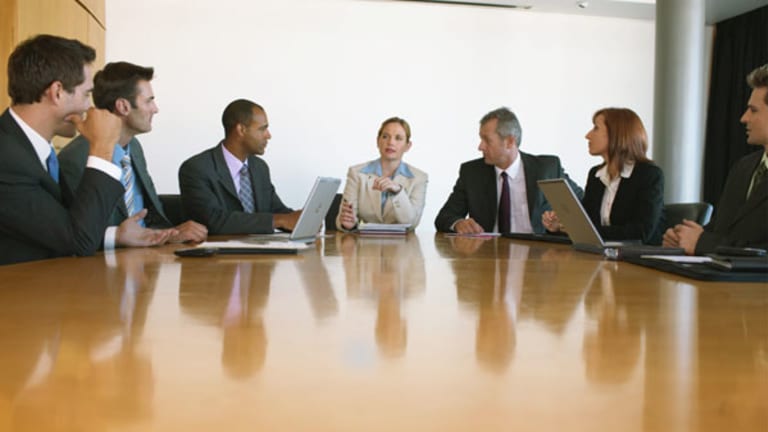 Celebrity Ex-Cons: America's Amoral Fascination
It is wrong to make celebrities out of Americans who abuse freedoms.
The following commentary comes from an independent investor or market observer as part of TheStreet's guest contributor program, which is separate from the company's news coverage.
NEW YORK (
) -- What do Jack Abramoff, Vaclav Havel, Nelson Mandela and Aung-San-Suu-Kyi have in common? To start, they are all ex-con celebrities who have written books with a political freedom theme.For all of them, prison followed their perspectives on political freedoms. Only Jack Abramoff was jailed for abusing these freedoms, for example by teaching his clients "how Washington worked." The others wanted to sample freedoms, like those Americans take for granted. They would never have thought of perverting the precious gift of protected freedoms.
All too were obsessed with political corruption, but it was only Abramoff that was obsessed with profiting from corruption. The others lived to tell the sordid tale of politicians who placed personal wealth ahead of national wealth.
>> Allowing Crime to Pay Again and Again: Opinion
They all saw American-style democracy and free markets as the ticket to eliminating human rights abuses, except Jack. The devoutly religious Abramoff demonstrated that he could corrupt the democratic process to preserve unconscionable human rights abuses in sweatshops run on a U.S. territory.
After prison, all made it to the national stage. Havel, Mandela and Aung-San-Suu-Kyi became national political leaders who delivered to their nation the freedoms they had fought for. This has brought prosperity to their nations. (The jury is still not out in Burma.) These three also won or were nominated for the Nobel Peace Prize. They are people everyone should want to be like.
Abramoff once said, "Tom DeLay is the man we all want to be when we grow up." For national stage appearances Abramoff testified on his illicit dealings before the Senate Indian Affairs Division. Two Casino Jack movies have also given Abramoff and "how Washington works" national and even international recognition. More recently he has been on the national talk show circuit promoting his new book where he reveals that Washington is teeming with amoral folks like himself. The book is selling like hotcakes.
The recent death of former Czech president Vaclav Havel made the national news, too, as world leaders and thousands of mourners paid their respect to a man described as having a powerful moral compass. Havel spent many years in and out of prison. His crime was that he wrote about the absurdities of communism. One of his books is,
The Art of the Impossible: Politics as Morality in Practice
.
Havel's book written in 1997 seems to say that Abramoff's book
Capitol Punishment: The Hard Truth about Washington Corruption from America's Most Notorious Lobbyist
, is old news. But Havel's subject matter was different. Havel was writing about the challenges of transitioning from a corrupt communist system, where atheism was the official religion, to one like America's where freedoms, like freedom of religion help to encourage morality as a guiding pillar of the behaviors of politicians.
In South Africa's first multi-racial elections, Mandela after spending 27 years in prison became the nation's first black president. What was Mandela's crime? "I have cherished the ideal of a democratic and free society in which all persons live together in harmony and with equal opportunities....It is an ideal I am prepared to die for."
Jack Abramoff was chairman of the International Freedom Foundation. According to Harpers "much of the group's energy was spent attempting to discredit Nelson Mandela and the global anti-apartheid movement." So while Mandela was prepared to die for freedom, Abramoff was prepared to lower the guillotine in order to get money to get a movie produced.
After fifty years of totalitarian rule, Burma/Myanmar is now dancing with the messiness of multiple parties and freedoms found in a democracy. This turn of events was greatly influenced by Aung-San-Suu-Kyi, a woman who was recently released from fifteen years of house arrest. Her crime was founding a party for democracy to form an opposition party in a single party state. Abramoff, the former chairman of the College Republicans, had a mission to eliminate the opposition. He said, "Our job is not to seek peaceful coexistence with the Left, our job is to remove them from power completely.
Abramoff won't be America's last ex-con author celebrity. Madoff won't be an ex-con celebrity but books about him by family members are making the entire family celebrities and millionaires too. Abramoff's ticket-to-millions Tom DeLay who once said he was "on a mission from God to promote a biblical worldview" is waiting in line for a possible prison sentence. But, he already has his book in print,
No Retreat, No Surrender: One American's Fight.
One of DeLay's quotes after being sentenced was, "This is an abuse of power." He would know, but then again Americans loved him on Dancing with the Stars.
Vaclav Havel, Nelson Mandela and Aung-San-Suu-Kyi are principled people who risked life and limb so their nations could sample American-like freedoms. Abramoff, Madoff and DeLay abused their freedoms. This has discredited Americans globally and subjected them to new regulations and reduced freedoms. Why then are Americans fascinated with these amoral people?
It is wrong to make celebrities out of Americans who abuse these freedoms and portray America as a land of amoral thieves no different than the devilish ones that seem to thrive in unfree countries. This does a disservice to all Americans and particularly those that have died to preserve and permit freedoms throughout the world.
Maybe America's fascination is more evidence that Jeffrey Sachs' recent article "Self-interest, without morals, leads to capitalism's self-destruction" is on target. "Unless we regain our moral bearings our scope for collective action will be lost." But we cannot do this by making celebrities out of criminals who pervert national freedoms for personal gain.